Do you want to be the next Lynda?
Lynda.com has been revolutionary for the subscription economy.
Though it started as a free online resource dedicated to helping others improve basic computer skills, it has since evolved to be the go-to hub of online interactive learning.
Lynda now teaches everything from Microsoft Word to 3D animation — accessible to members through monthly and annual subscription-based plans, of course.
Its rise to fame has been nothing short of amazing. In fact, LinkedIn recognized its potential to transform the way we learn to the point that they acquired it in 2015 for $150 million.
Other membership-based sites like Udemy, Codeschool, and Learnable have been quick to follow suit, each succeeding in their own niche of online training.
Considering the demand for online courses has increased 900% in the last decade and a half, it's clear that investing in online learning is the right move.
So how do content creators that want to capitalize on Lynda's model do it, exactly?
Grab Our Free Download
25 Resources to Help You Build Subscription Online Courses
Creating a Subscription-Based Learning Site with WordPress
When you think of online learning portals, WordPress is probably not the first thing to come to mind. Training courses are vastly different from blogging, so why would you use a blogging platform to build an elearning platform?
WordPress is cheap, it's easy to use, and it's incredibly powerful as an online learning platform with the right add-ons and plugins.
Vitruvian Studio, for example, uses WordPress to offer online art courses like Drawing Basics.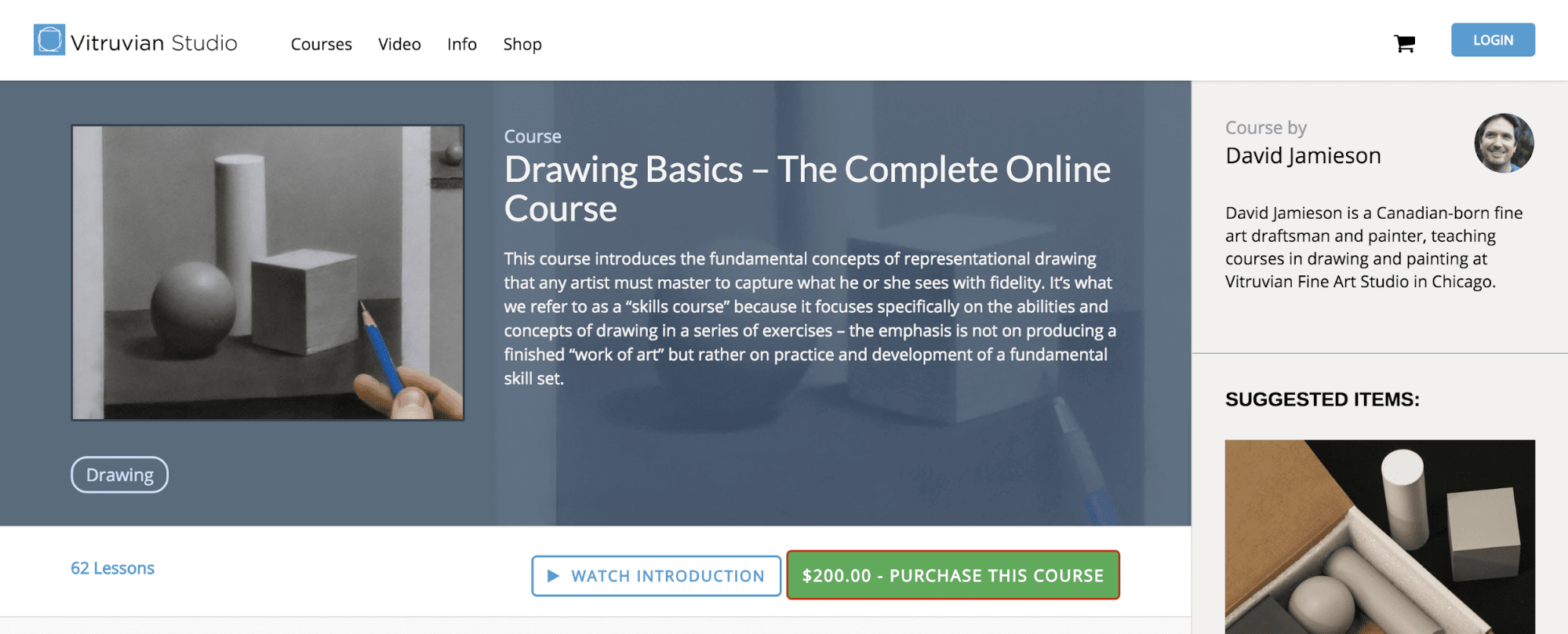 WP101 uses WordPress for their training courses teaching WordPress for Beginners.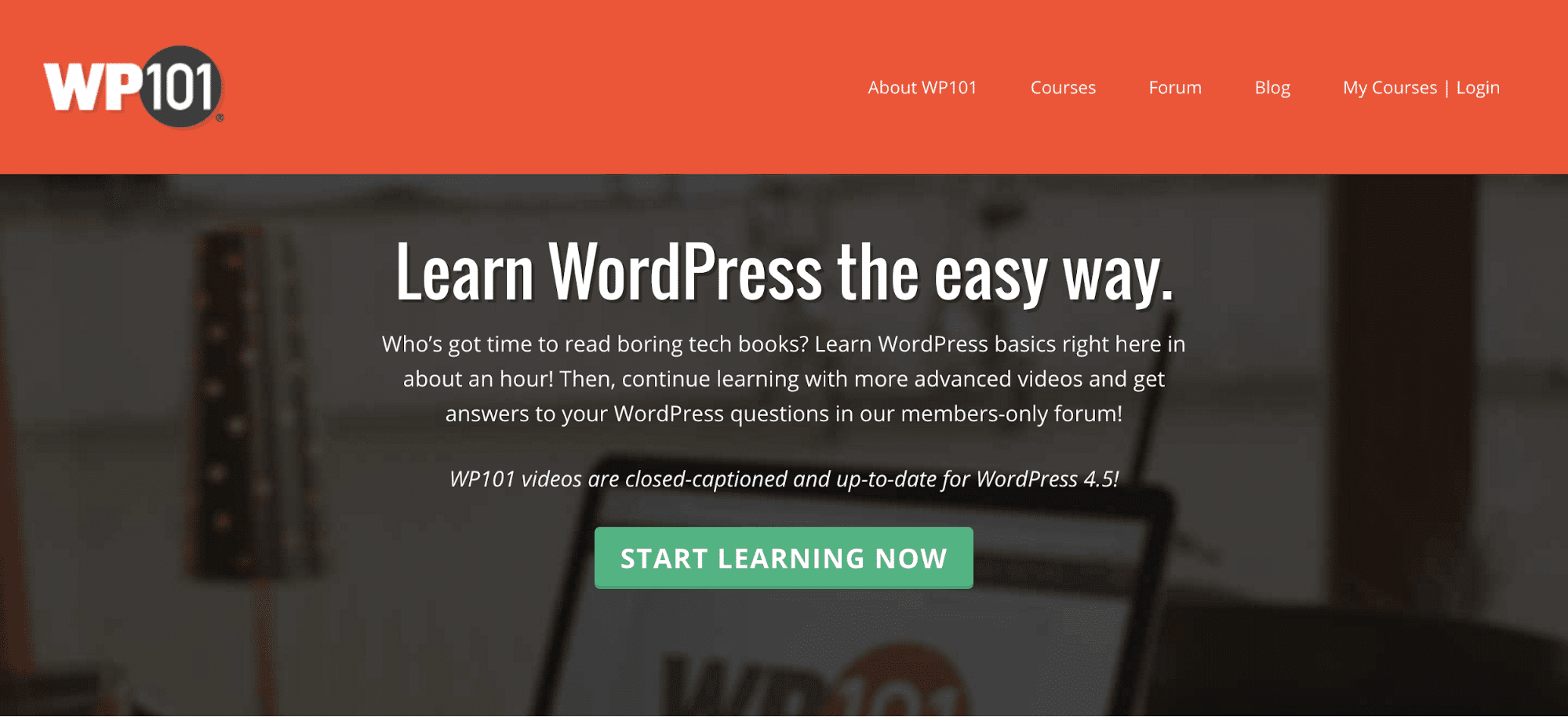 Creating online courses using WordPress is completely do-able for you, too.
There are five(ish) things you need to turn WordPress into a membership-based online learning platform:
A good Learning Management System (LMS) — optional
A membership plugin
A payment gateway
An email marketing tool
A video hosting service — optional
Here's a look at each tool.
---
Do You Need a WordPress LMS Plugin?
The most popular way to build an online training course is with an LMS.
Online courses require a set module and lesson-based structure that users will progress through in a specific order. Additionally, there may be added assessments, quizzes, or interactive elements that accompany each lesson.
An LMS can help you create and manage course structures as well as track course completions, offer certificates, add interactive learning (quizzes, etc.) and provide other user statistics.
There are several plugins that will turn WordPress into an LMS relatively easily. LearnPress, for example, is a free LMS plugin that adds course-building functionality to your site with very little coding.

Other LMS plugins include:
You don't need an LMS to create online courses, but they can be very helpful when you're starting out or if you have complicated courses. They can assist with things like adding pre-requisites or certificates, creating unique course structures, and progress tracking.
But an LMS will NOT help you with things like accepting recurring payments, managing memberships, or (in most cases) adding additional content or tie-in resources like member forums or social networking features.
If you want to gate your courses via a membership like Lynda.com, you need a membership management tool in addition to an LMS.
---
WordPress Member Plugins for Building Online Courses
Membership plugins add membership and subscription features that you won't find in an LMS, like:
Member accounts
Protected or members-only pages
Accepting recurring payments
Adding multiple courses under one membership
Offering free trials or courses for certain member types
As with LMS plugins, there are plenty of membership plugins out on the market, particularly for WordPress. Some are designed to add basic functionality while others will give you more of a full membership management experience.
We use MemberMouse to power all our membership sites.
It's a great option — especially for online learning — because it comes out-of-the-box with features that you will need to gate your courses as well as other features not found in other plugins, like one-click upsells.

Lynda.com didn't get to be as popular as it is without providing a great member experience.
It's not just about creating training course — having a strong email list, being able to sell and re-sell memberships, and being able to support members when they run into technical issues are all essential for building an online learning course.
MemberMouse gives you all of that and more, which is why it's the perfect companion to any LMS.
Even if you're not using an LMS, it still allows you to gate content like training videos on member-only landing pages and do things like offer free courses or free trials to prospective members.
---
Adding Recurring Payments via Payment Gateways
Lynda.com also became successful because it pivoted from the free model to the subscription model. By adding recurring payments, it was able to generate revenue and become a business rather than a free resource.
If you're looking to do the same, you'll need to choose a payment gateway.
As with any service, each gateway will have associated fees for processing transactions. Most gateways have a standard 2.9% fee on every transaction, plus an additional amount for domestic vs. international transactions (typically $0.30 for domestic).
The most common choices for gateways include:
Some options allow you to accept limited forms of payment (credit card only, PayPal only, etc.) while others run the gamut from credit cards to checks and even digital currency.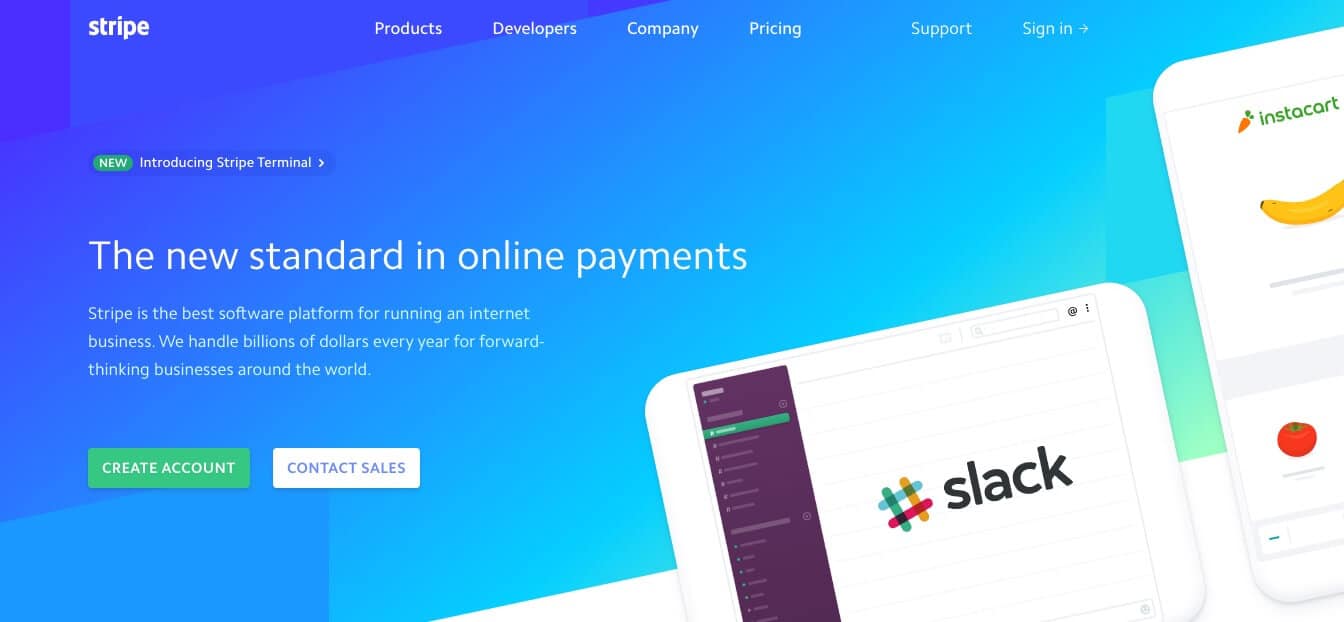 Because so many of them have the same transaction fees, choosing the right one ultimately comes down to what types of payments you want to accept and whether or not the gateway integrates with your current membership plugin and/or LMS.
As a note: MemberMouse integrates with PayPal, Authorize.net, Stripe, Braintree, ClickBank and more, and helps you with billing issues, like automatically updating member accounts if payments decline.
Take your time researching and choosing the right gateway for your members.
---
Drip Email Campaigns for Online Learning
Creating online learning courses involves marketing and plenty of communication.
While you'll most likely be able to grow a decent-sized email list as members sign up for your courses, you still need a plan of attack for prospective member campaigns, new member onboarding (how to start your course, how to find your certifications, etc.) and even new courses launch announcements.
You may even release your online courses in the form of drip email campaigns.
Either way, you need to choose the right email marketing tools. You'll need something that:
Helps you easily build emails from scratch
Integrates with WordPress and/or your membership plugin/LMS
Can segment communications based on member types
Create lead generating opt-ins
Send notifications to users after completing an action (like completing a course or course registration)
Gives you the option of releasing drip emails with a link or video embed
We recommend ActiveCampaign, but there are plenty of other free tools out there, like CakeMail. We have a full list of email marketing tools and tips here.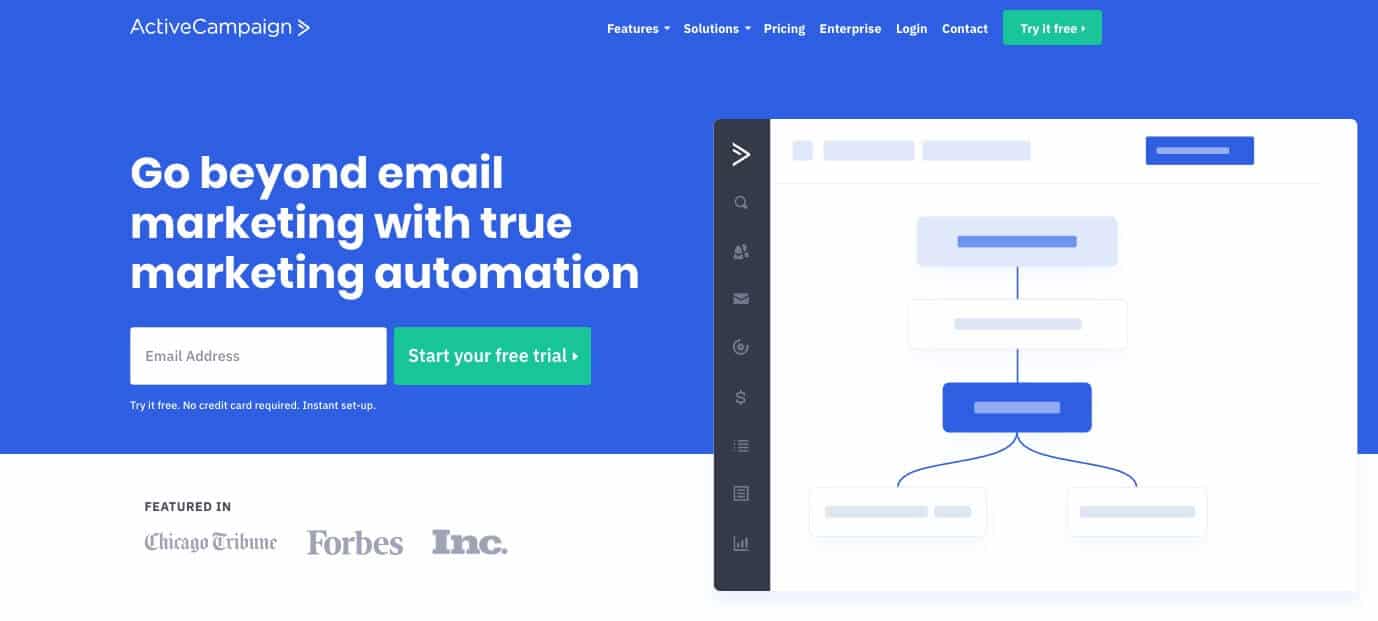 Teachable also has a free guide for creating marketing campaigns for your online courses here.
---
Choosing the Right Hosting Service for Video Training Courses
Lynda's primary training method is video, so if you want to be the next Lynda you will have to capitalize on video hosting.
You don't want to host videos on your WordPress site. Not only will it bog down your site speed, making it slow to load, but it will inevitably degrade the user experience. You're better off hosting your videos on third-party platforms and embedding them or linking to them on your site.
When it comes to choosing the right host, you want to consider things like bandwidth, storage limit, analytics, branding, and integration.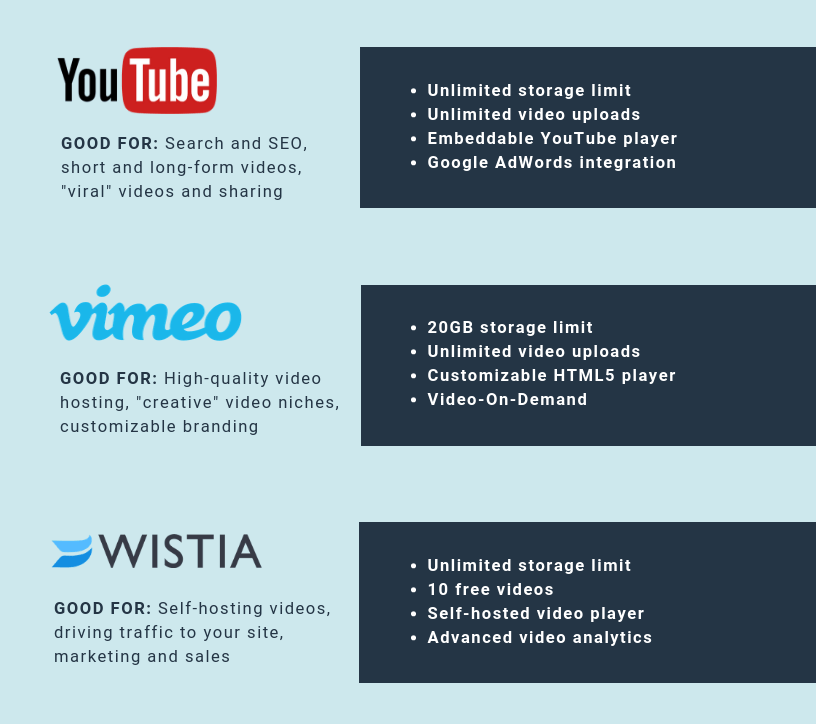 Some hosting services, like YouTube, offer unlimited bandwidth and storage as well as easy-to-embed links, but at the cost of using their branding. In other words, everyone will know you're using YouTube.
If you want to custom build your videos, something like Vimeo or Wistia will give you more options, but you'll have to pay to host a large number of videos on their site, so it's a trade-off.
Depending on which service you use, you can embed videos back on your site. WordPress expert Chris Lima uses all three for his site, though his combines Wistia and Vimeo Pro to host his online courses via an LMS.
If you're not sure which video hosting service to use, be sure to check out our review of YouTube, Vimeo and Wistia here.
Grab Our Free Download
25 Resources to Help You Build Subscription Online Courses
Final Thoughts
If you want to become the next online course-creating guru, you can. All you need is WordPress and a few other plugins to make it happen (and a compelling course, but we'll leave that up to you).
To start, decide whether or not you need an LMS. If you need help organizing your modules and adding in bonus content like quizzes and interactive assessments, you'll probably need to choose a good LMS like LearnPress. If you just want to host videos, you can probably skip the LMS.
Next, choose a good WordPress membership plugin. We recommend MemberMouse for its membership functionality, as well as its ability to integrate with LMS plugins and other tools (and its low cost).
Finally, consider the other elements you will need to market and sustain your courses. This includes a payment gateway, a good email marketing tool for creating email notifications and helping get users started on their courses, and a decent video host.
Take your time and research the best options for you and your members. After all, you're not Lynda.com, so you don't have to do it exactly as they do.
And that's a good thing.