Video is an incredibly powerful medium for online learning.
Studies show that video can improve the brain's ability to remember concepts better in the short term as well as increase retention rates over time; it's no surprise that companies are using it more frequently.
But when it comes to hosting those videos online — which can include dozens or even hundreds of hours of digital content — things can get a bit tricky.
Most sites use a third-party hosting service like YouTube, Vimeo or Wistia (you generally don't want to host videos on your own site), but it's important to know which of those hosting service will work best for your specific needs and audience.
Here's a quick breakdown of the pros and cons of the biggest hosting platforms out there — YouTube, Vimeo and Wistia.
Grab Our Free Download
8 Powerful Tools to Create and Edit Your Online Training Videos
What to Look for in a Video Hosting Service
Before we dive into the comparisons and features of each service, we need to talk about your goals.
Not all video hosting services are equal when it comes to getting you what you want, and there are several variables to consider when choosing the right one.
In addition to having a service that can optimize your view count, you want to consider things like:
Bandwidth — Some video services limit the amount of bandwidth (traffic data between host and browser) you have available. The higher the bandwidth, the better your videos will perform.
Storage limit — How many videos do you need to upload? Some services offer a limited amount of videos hosted on their servers for free.
Branding — Some services require you to use their branding while others give you fully customizable players that can be branded to look like they belong to you.
Analytics  — Will you need access to a plethora of analytic data about your videos or do you just need a basic hosting service? Some analytic data is better than others depending on the platform.
Integration  — Can you embed videos on your own site to drive leads or do you have to link back to the hosting site for views? Consider how important it will be to host videos other places around the web and not just on that service's platform.
Cost  — You can host videos for free, but that doesn't mean that you're getting the most for your money. You will need to consider the features you get versus costs.
You will also need to consider how easy the service is to use for you and your team, especially if you have less technical knowledge.
Here's how YouTube, Vimeo and Wistia stack up based on the variables listed above.
---
YouTube
Chances are good that when you think of video hosting, YouTube is the first platform that comes to mind.
YouTube is the world's second largest search engine and third most visited site after Google and Facebook.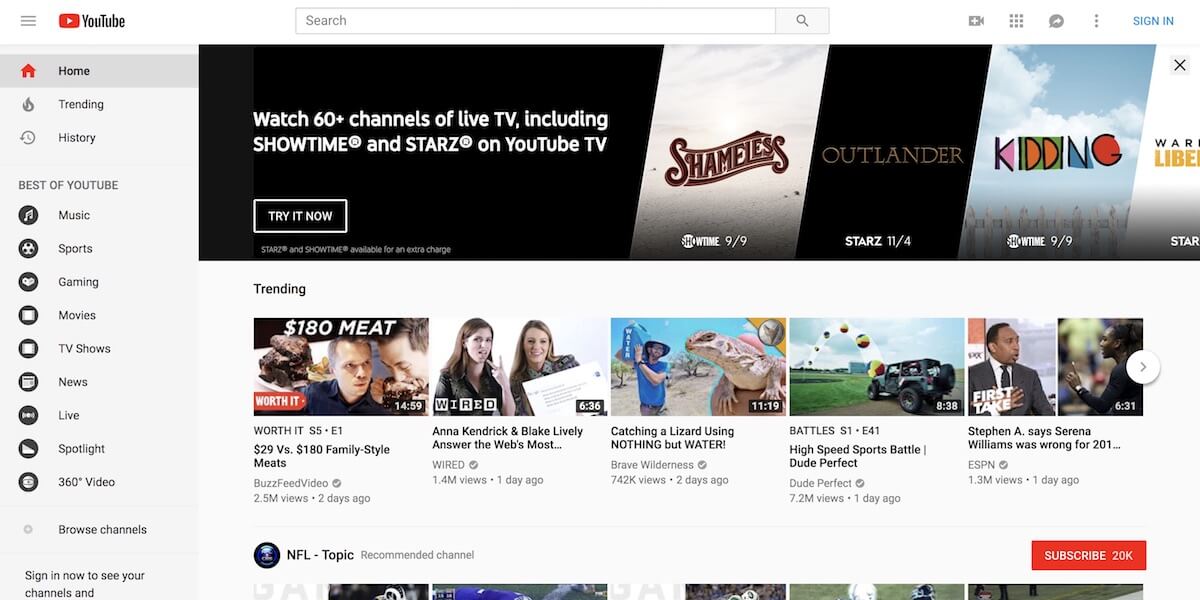 In terms of sheer volume, YouTube outranks the pack with over 400 hours of video uploaded every minute and over 1 billion hours of videos viewed each day (for perspective, that's more than Facebook and Netflix combined).
The best part is that YouTube is a free service.
Because they make money off of ad revenue and user subscriptions to YouTube Premium, they can offer more features for no cost to the users. But the tradeoff is that you're stuck with YouTube's branding and platform restrictions.
Here's a look at the variables:
| | |
| --- | --- |
| Bandwidth: | Unlimited |
| Storage limit: | 20 GB/week |
| Branding: | YouTube's logo, links and colors are displayed on all players |
| Analytics: | Includes basic audience analytics like watch time, video duration, likes, dislikes, shares, and so on. |
| Integration: | Videos can be easily embedded on any landing page or shared on social media with little technical knowledge. |
| Cost: | Free |
YouTube Benefits
YouTube is geared toward entertainment, favoring both long and short form video content (the average length of a YouTube video is 10-18 minutes), which makes it great for a variety of content.
It's owned by Google, meaning that YouTube videos get priority in search results over other video hosting platforms.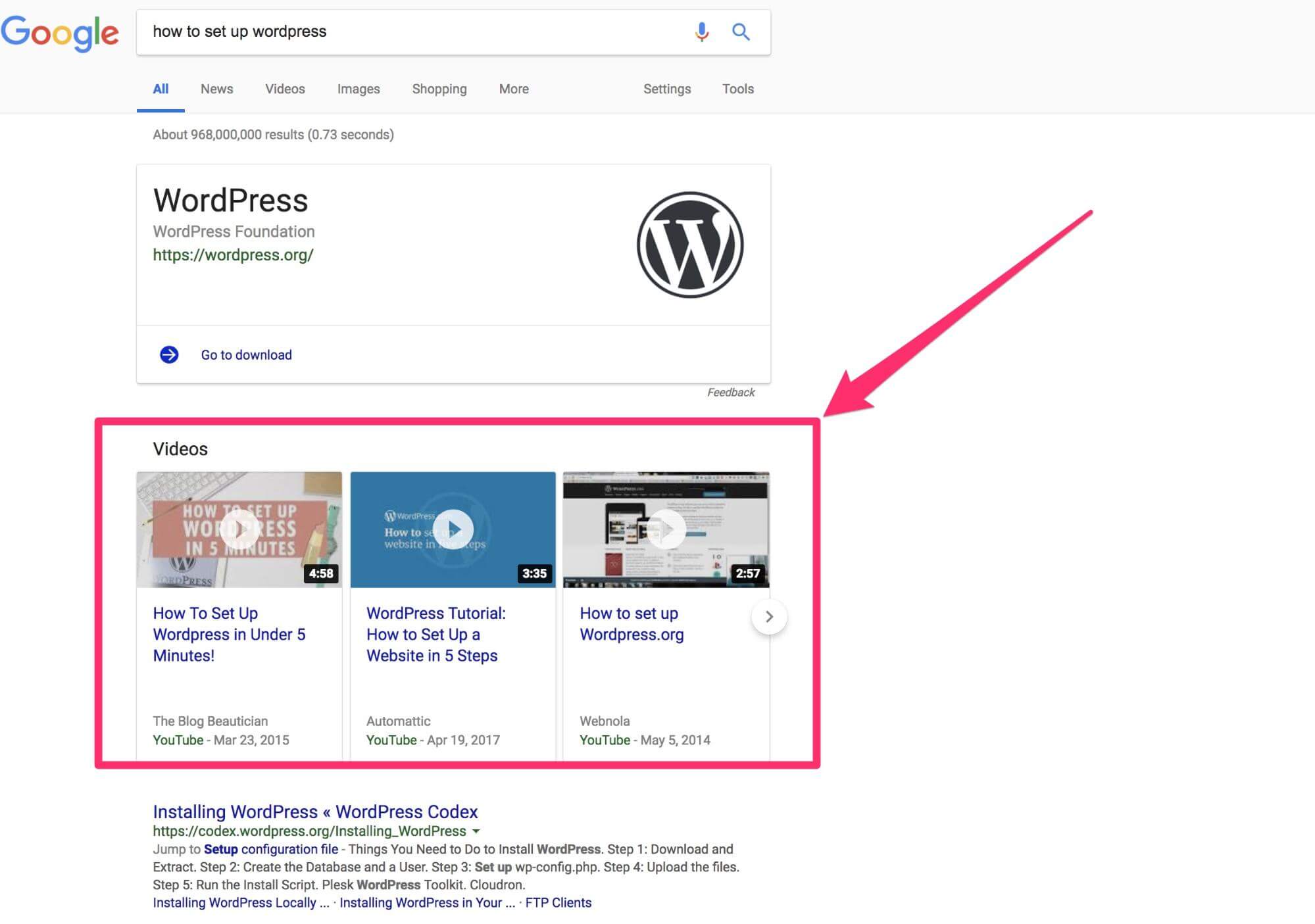 It's also a great option for affiliate and/or influencer marketing, as there are plenty of other users on the platform that may be willing to trade links with you for more views on their own content.
YouTube Drawbacks
On the other hand, a big drawback to YouTube is that the competition for views is high. You're unlikely to rank on "page one" of YouTube search results unless you're already bringing in big viewing numbers.
And while it's possible to generate revenue off of your videos, YouTube's ad revenue algorithm is a bit controversial and disappointing for most businesses.
You may also find YouTube's pre-roll ads to be a deterrent for your audience. If your focus is on creating online training videos, an ad for the latest-and-greatest cosmetic line might not "mesh" well with your audience.
You Should Pick YouTube If…
If you don't care about the drawbacks of having to use YouTube's branding or dealing with their pre-roll ads, YouTube is the perfect platform. Use it if you need to host a large number of high-quality videos and you need the option of embedding them back on to your site.
---
Vimeo
Vimeo is the second largest video hosting platform next to YouTube.
Though it doesn't boast the same numbers as it's larger predecessor, it still manages to get about 715 million monthly video views and 300 hours of content uploaded every minute, which is nothing to sneer at.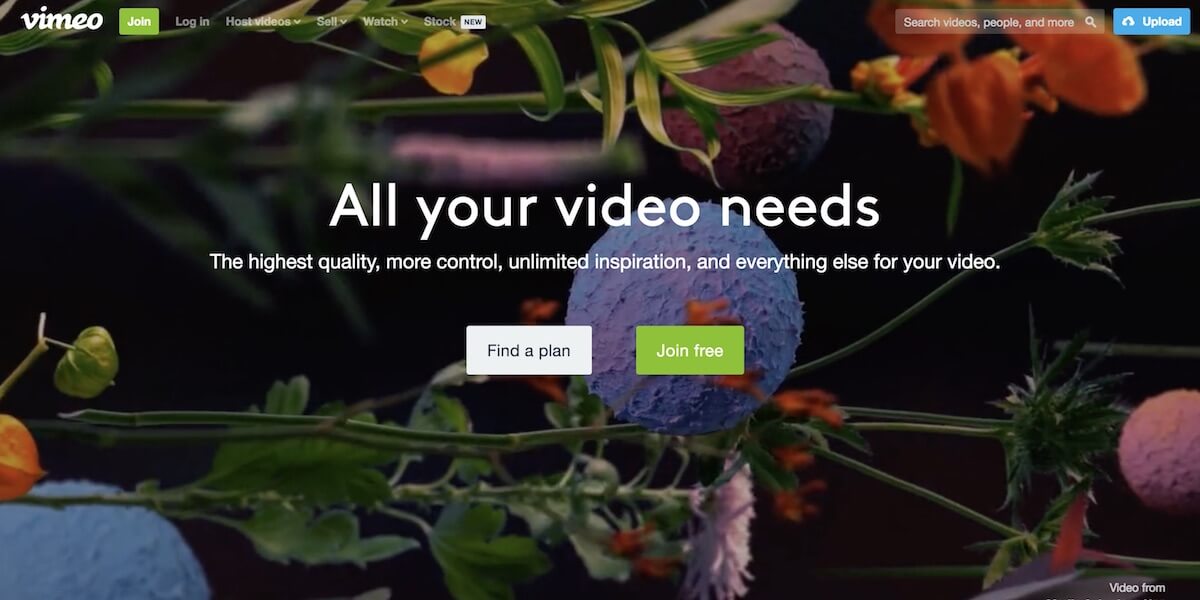 It particularly beats out its competition in the B2B market. Over 20% of all B2B businesses in North America use Vimeo to distribute content.
Vimeo also has a farther reach, with access to 150 countries (YouTube reaches only 88).
Vimeo's main draw is in its "creative" influencer. It was originally founded by filmmakers as a way to help them make more money than they would on YouTube, which at the time had no advertising revenue opportunities for users.
Since then, Vimeo has become a go-to option for many independent filmmakers and business owners for high-quality video hosting with less "spammy" content.
Here's a look at the variables:
| | |
| --- | --- |
| Bandwidth: | Unlimited |
| Storage limit: | 20 GB/week |
| Branding: | Fully customizable HTML5 player (you can use your own branding, colors and video player features) |
| Analytics: | Powerful analytics including "advanced stats" like engagement metrics and customizable reporting |
| Integration: | Videos can be accessed on Vimeo, but not easily embedded elsewhere (they support URL links embedded back to their site) |
| Cost: | Free (Basic); $5/month (Plus); $17/month (Pro); $50/month (Business) |
Vimeo Benefits
What makes Vimeo unique among other hosting services is that it offers marketers a more professional community of viewers.
The platform is much less saturated than YouTube, making search visibility much higher.
It gives you the added bonus of a fully customizable player, so if branding is a big concern for your training videos, you can mask Vimeo's influence behind your own logo and color schemes.
Another bonus is that Vimeo has partnered with both Dropbox and VHX, giving you seamless uploads directly from Dropbox and a the ability to promote your content using On-Demand services.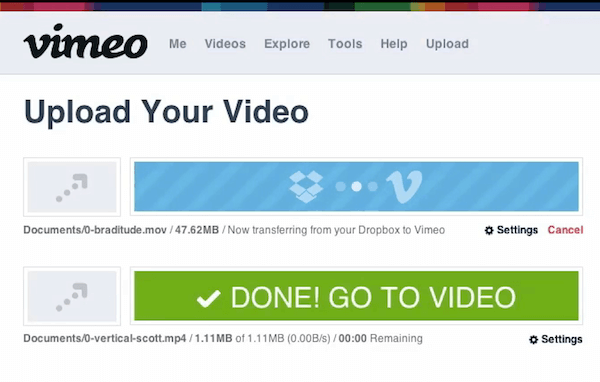 Vimeo Drawbacks
Vimeo is more limited than YouTube in terms of storage limit and accessibility, however.
You have around 5GB of total storage on the free plan, though upgrading your plan can get you up to 20GB per week. It's not a problem if you only want to host a small number of training videos. But you'll be out of luck if you need to host more.
And you can't easily embed videos on your own landing pages, which may be a deal breaker for some users.
Another consideration is Vimeo's audience.
Vimeo is often referred  to as "the creative person's video hosting platform," and the most popular videos include music videos, documentaries, and feature-length films. This may not make it the ideal platform for your audience if you're more concerned with quantity over quality.
You Should Pick Vimeo If…
If you want to host a smaller set of high quality or creative training videos with a wider reach to other creative types (designers, artists, producers, filmmakers, etc.), Vimeo is the perfect place to do so. You also have access to a higher quality of talent for influencer marketing, as well as a fully customizable player to make it feel more like your own.
---
Wistia
Last but certainly not least is Wistia.
Wistia is a video hosting platform that is "specifically designed for marketing professionals to get viewers back to their website and converted into customers."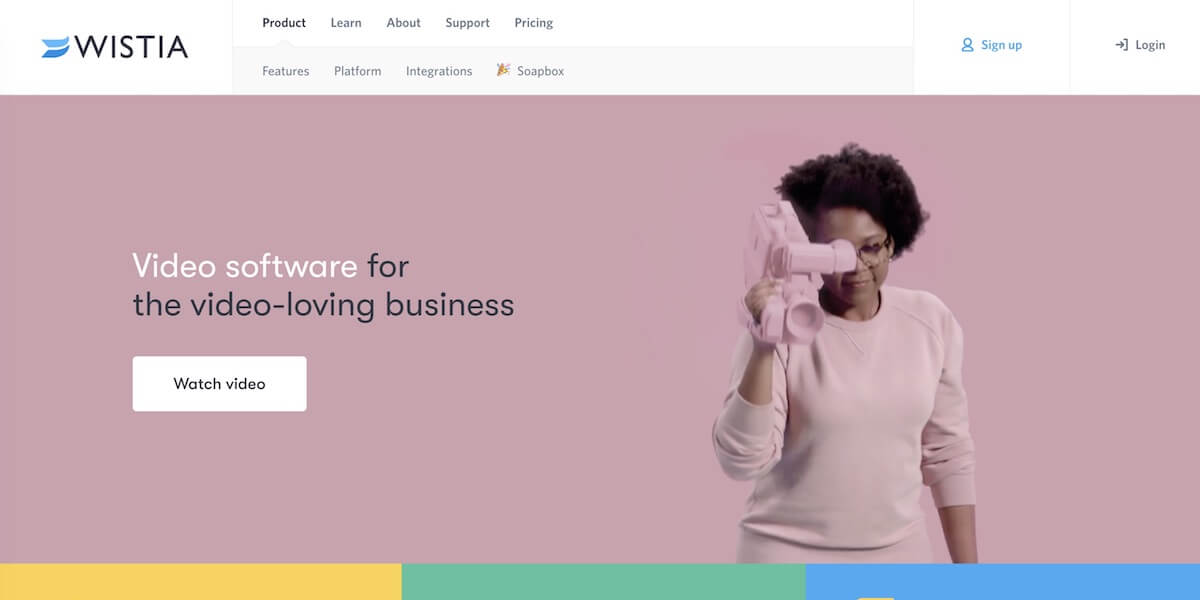 If lead generation is a goal of your training videos, Wistia has both YouTube and Vimeo beat.
In terms of usability, their platform is the most similar to Vimeo, only more heavily focused on business-minded users.
Their ultimate goal is to bring YouTube-level stats directly to your site, not theirs, which makes them the best platform for hosting if you're focused on growing your audience directly from your website.
Here's a look at the variables:
| | |
| --- | --- |
| Bandwidth: | 200 GB/month for free, plus $0.33 GB for additional bandwidth as needed |
| Storage limit: | Unlimited |
| Branding: | Customizable colors and video player controls, but Wistia logo is still present |
| Analytics: | Advanced video analytics that pairs with your site to give you a complete overview of traffic, leads and other engagement metrics |
| Integration: | Videos can be embedded ("self-hosted") on your own site and integrated with marketing software |
| Cost: | Free (Basic); $100/month (Pro); $300/month (Premium) |
Wistia Benefits
Though the priciest of the three options, Wistia is one of the more powerful video hosts, especially for small businesses. They put a lot of thought into helping marketers and business owners maximize viewability and reach.
They also offer much deeper levels of analytics than either Vimeo or YouTube, including viewer history, video heat maps, engagement graphs and a turnstile feature for lead generation.

Wistia has the added bonus of integrating with most marketing softwares like HubSpot, Marketo and Pardot, which makes it perfect for those that want to not only create training video, but market them to a specific audience.
Wistia Drawbacks
The downside to Wistia is that their not quite as versatile as Vimeo when it comes to customizing your video player. While they're more flexible, they won't give you everything unless you upgrade to the Pro plan (which removes branding restrictions).
They're also a much pricier option than YouTube and Vimeo, with Premium features (for those that need millions of views every month) ranging in the hundreds each month.
They also will charge for bandwidth after a certain point, which means only a certain percentage of your audience will get access to faster speeds and better video performance.
You Should Pick Wistia If…
If one of your goals is to generate leads and grow an audience, Wistia is the right choice. They put a heavy emphasis on marketing and outreach, so if you have a select number of training videos that you want to "go the distance," choose Wistia.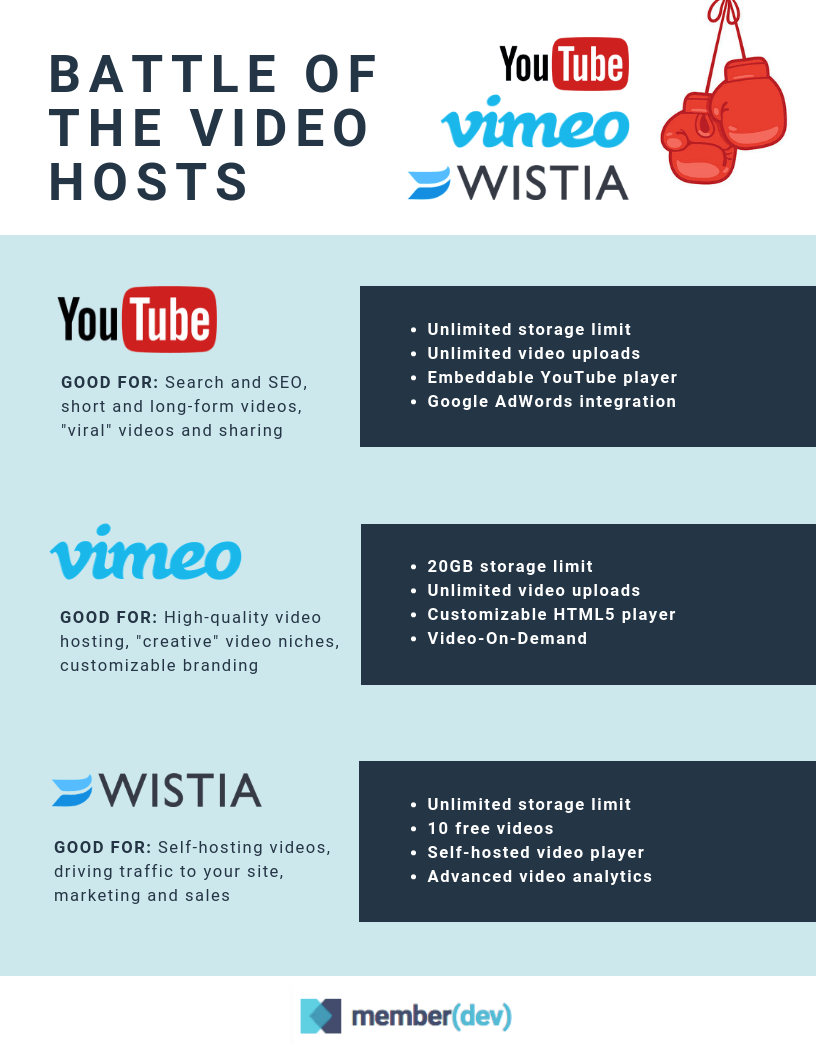 Grab Our Free Download
8 Powerful Tools to Create and Edit Your Online Training Videos
Final Thoughts
The choice between YouTube, Vimeo and Wistia comes down to your goals.
If you're looking for an inexpensive way to host a variety of videos and you don't care about branding or competition, YouTube is great.
If you want to connect with a higher caliber audience or your focus is on artistry and you want full control over how your player looks, Vimeo has you covered.
On the other hand, if your main objective is marketing and reach and you want to do a deeper dive into your analytics, Wistia is the best option.
Consider the type of videos you want to produce, the cost you want to pay to host them, and the audience you want to see them. This should lead you to the right choice.