Platform
The member(dev) platform gives you all the tools and support needed to launch your online memberships, courses and a private community.
---
Finally...
The all-in-one platform you've been searching for.
The member(dev) platform comes pre-built with all the essential features and user experience you need.
Membership
Content + Courses
Community
Events
Custom Branding
Mobile Optimized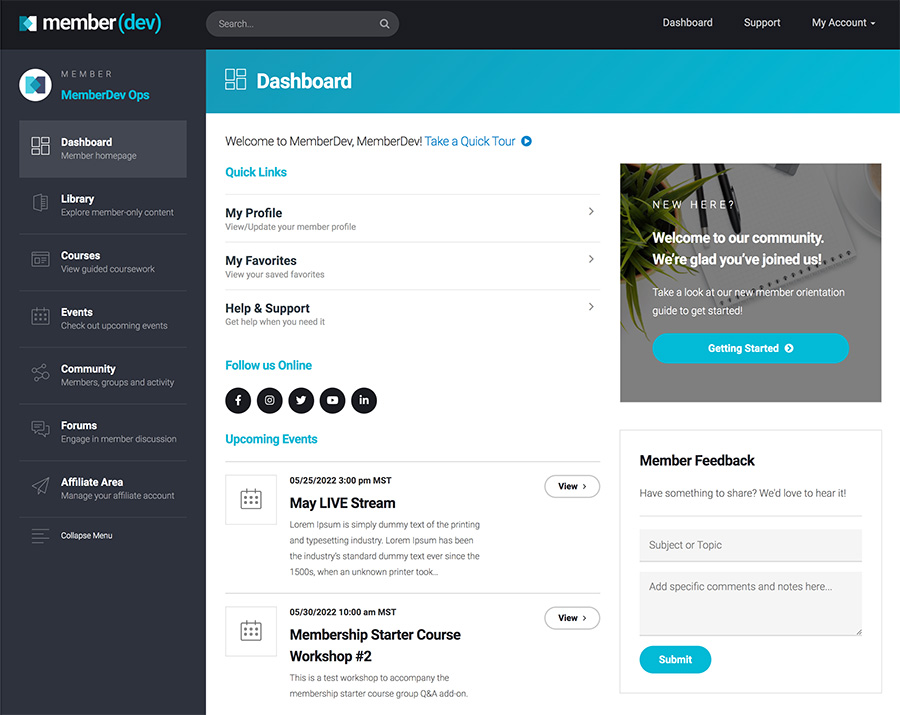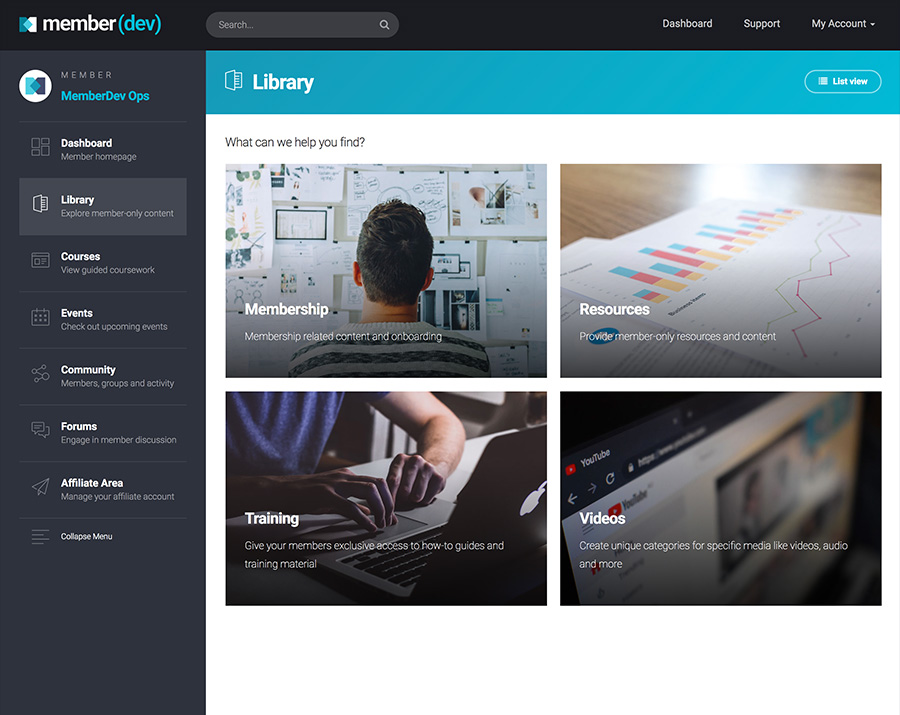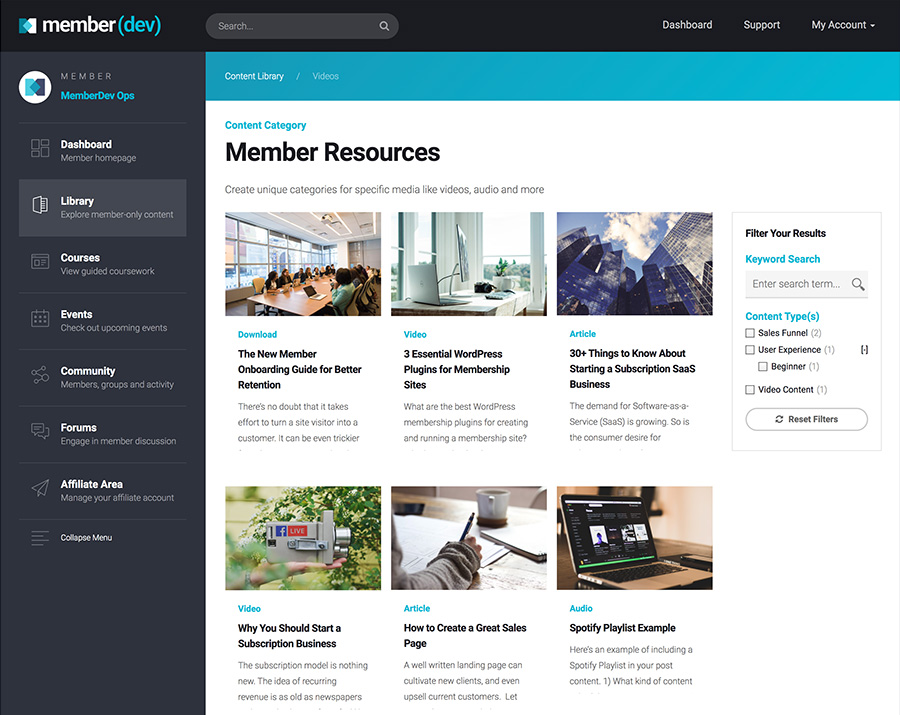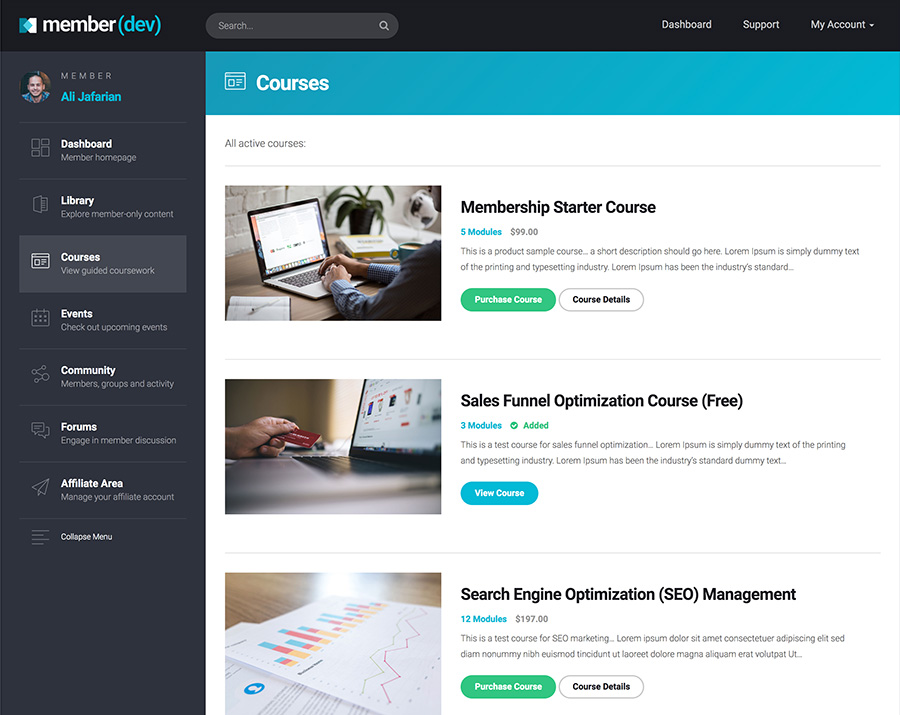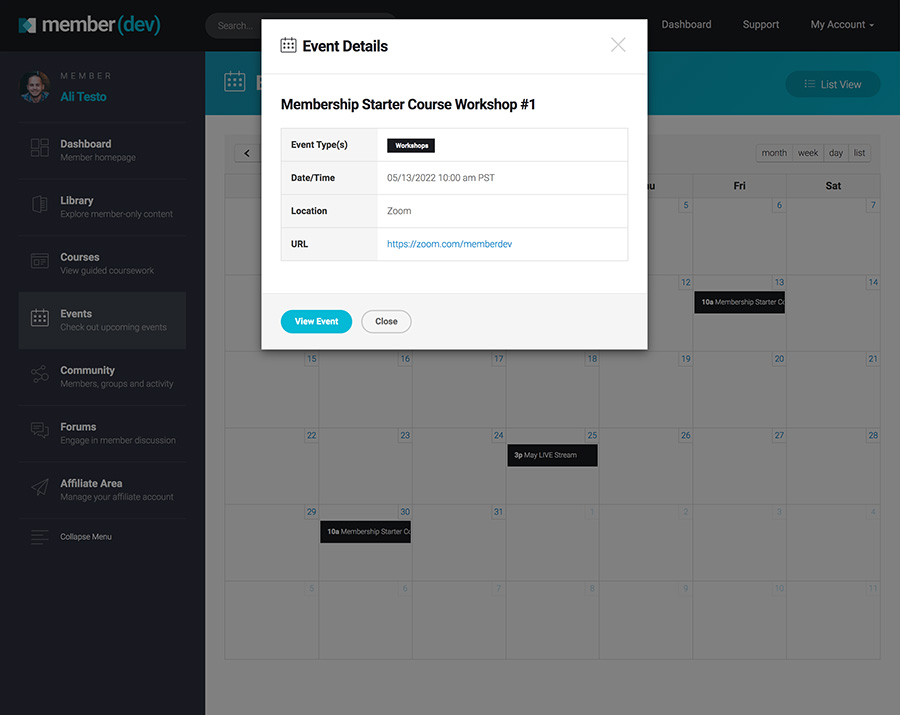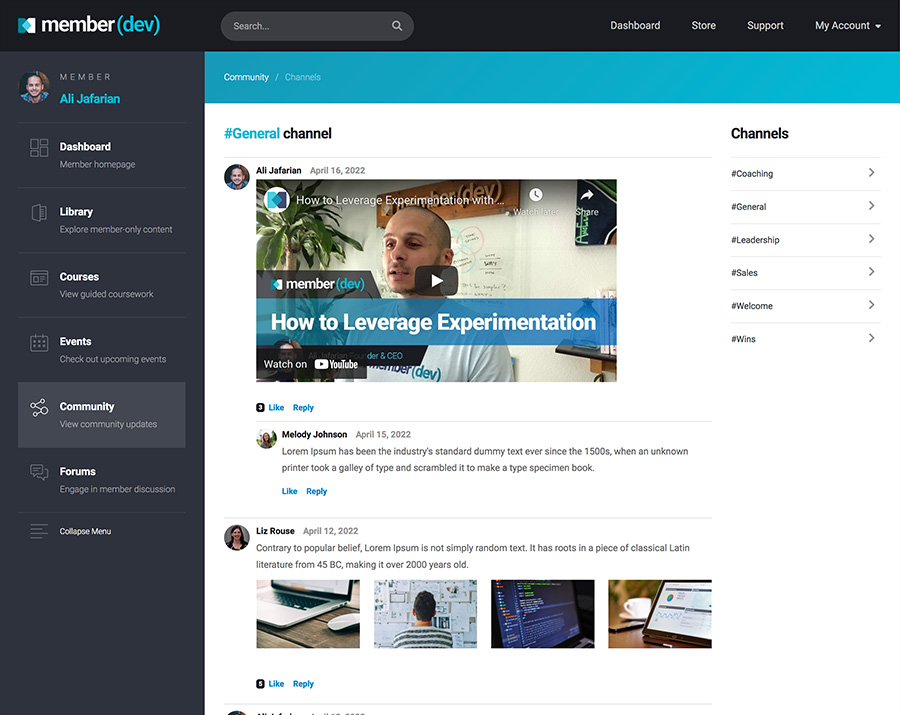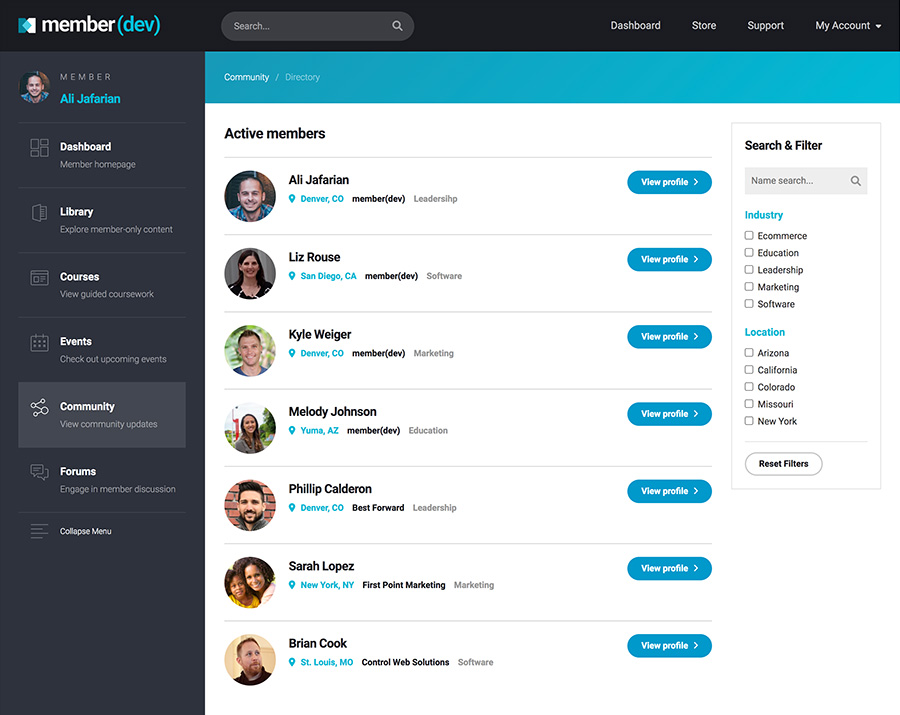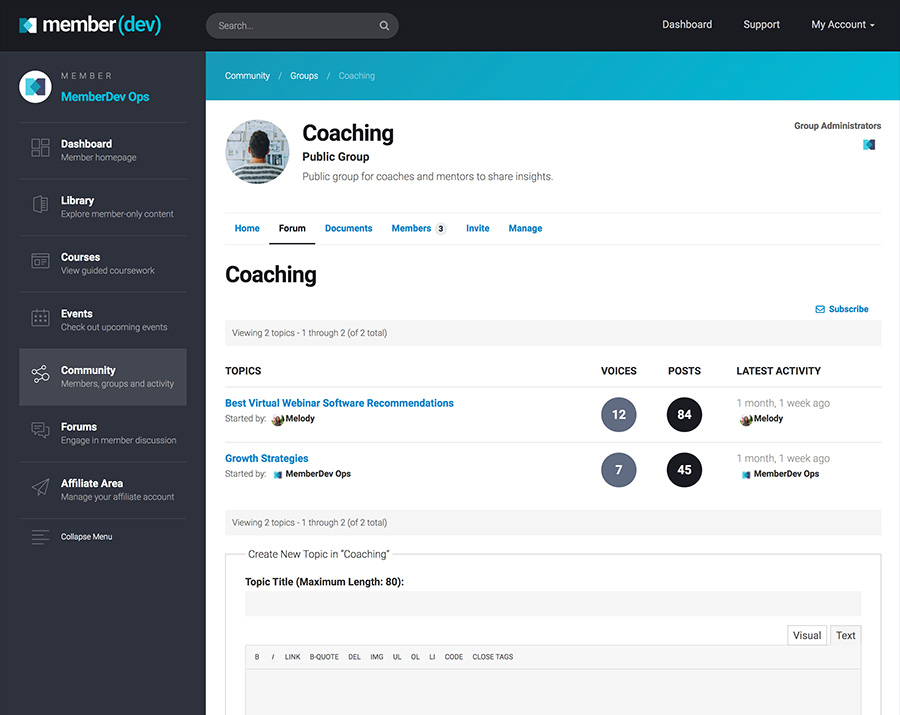 Membership Features
Our base platform features include all the essentials for jump starting your membership business.
Membership Website + UX
Your platform comes with a fully responsive website and world class user experience. This includes back-end admin tools to manage all your features.
Content Library
Build member content your way with a flexible library. This includes articles, video, audio and more. Our library provides you with categorization tools and flexibility as you grow your content offering.
Events
Manage member-only events via a simple and flexible event calendar. This gives you a private area to create and post any member related event functions, including "LIVE" simulated features.
Memberships & Subscriptions
Create endless membership plans with any type of billing profile - from recurring subscriptions to one-time purchases. You also get access to free trials, coupon codes, upsells and more.
Sales Funnel
End-to-end user registration and checkout flow for your products or service. Use our proven funnels for optimized conversion.
Member CRM
View and edit all your member info from a powerful dashboard. This includes activity tracking, transaction history, and much more.
Reporting & Analytics
We provide in-depth reporting on all your critical metrics - CLV, recurring revenue, average churn/retention and more.
Zapier Integration
Connect with Zapier to run integrations on all major functions. This includes membership transactions, member subscription updates, and much more.
Email Integration
Integrate with one of our email marketing providers to keep your members synced with your email lists and campaigns.
Course Features
Take your platform to the next level with powerful course features.
Course Content
Create and manage your course offering with various media like detailed articles, video training, downloadable content and more.
Course Subscriptions
Price your courses as one-time or recurring fees with tie in to your memberships and subscriptions.
Course Tracking
See who's purchased your courses, what content they've completed, and how this plays into your customer reporting.
Community Features
Develop a full-blown membership community with social features and profiles.
Member Profiles & Directory
Give your members access to personal profile creation and search abilities, offering your private member network.
Forums / Messaging
Engage your members through private messaging, community forums and topic threads with full control over discussion moderation.
Groups & Social Feeds
Organize your community into groups with invite systems, social feeds, and private vs public settings.
Hybrid Features
Extend your platform with our custom hybrid features.
Affiliate Management
Grow revenue and incentivize your members with affiliate tools and tracking features.
Group Accounts
Enable group accounts with defined seat limits and admin capabilities. Increase your revenue potential and let members take over sub-account management with this feature.
Custom Modules
Looking for something completely custom? No problem. Our team can scope and integrate custom functionality and/or API integrations.
---
Looking for something else? We do customizations as well.
Coaches, Educators & Thought Leaders
An all-in-one platform designed for online creators and growing communities.
Coaches
Groups and Organizations
Educators
Course Creators
Thought Leaders
Entrepreneurs
---
Looking for something else? We do customizations as well.
What makes us different?
Platform + Process
Since 2012 we've designed, developed and grown custom membership platforms. We've coached everyone from startups to multi-million dollar online businesses.
Our team has extensive experience in design, development and customer acquisition for membership properties. In short, we know what it takes to build and grow a membership business. That's how the platform was born.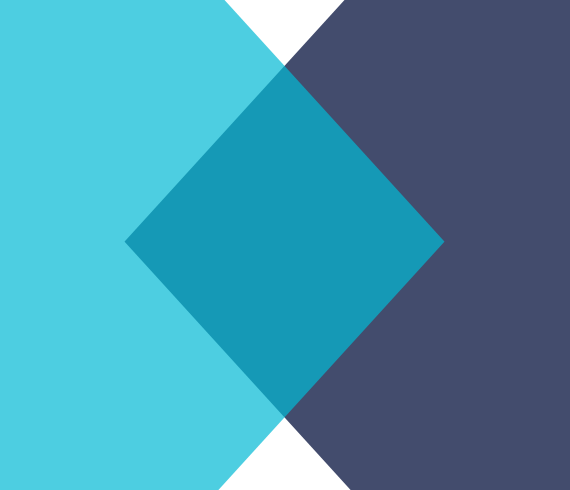 Our proven process takes you from start to finish.
1
Plan
First, we listen and learn to help you create the right plan for your platform.
2
Develop
Next, we build your platform with your unique features, content and user experience.
3
Launch
Then it's time to launch! We take care of everything technical while you focus on marketing.
Support
After launch we support you as you grow. We're an extension of your team in the background.
---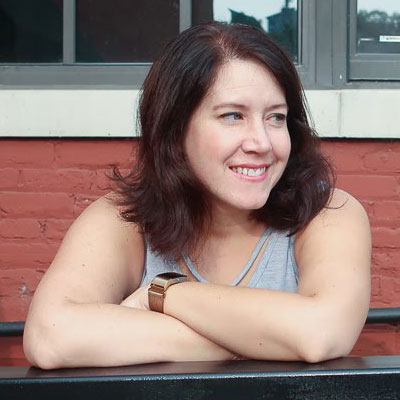 "We had a great experience setting up our new member site with Ali and the MemberDev team. They were very responsive, stuck to deadlines, great communication and support. And we love our new site - it has all the functionality we needed and looks amazing. Our members can't stop raving about it. And I know we have the flexibility we need to grow our business. Would 100% recommend MemberDev."
Heather Wells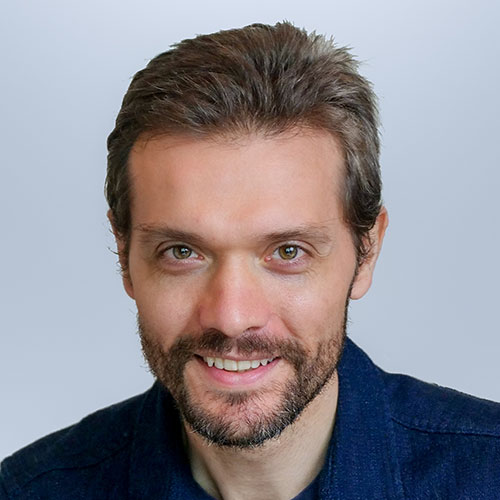 "I love sending our customers to MemberDev because years of experience has shown me that these customers are always happy with the results, and what they get is the best possible foundation for long-term success in their business."
Eric Turnnessen