Our team works hard behind the scenes to deliver some of the best online membership site experiences. Here's a recent customer success story from one of our clients Chirag Shah Coaching.
Here's some detail around their business and why they chose to work with member(dev).

Chirag Shah Coaching

Real Estate

2020

We help people succeed on their terms, exactly as they were meant to do.

Real estate agents of all levels

Our platform really differentiates us! We make it easy by centralizing all of the resources and events in one place. We have a "do it for you" mentality. A typical coach tells you what to do, we tell you how to do it and give you actual resources to do so. We consider ourselves "coach-sultants" a mix between a coach and a business consultant.
Our founder had a great experience in a program that used MemberDev, and saw it as a potentially great solution for our business model as well.
Think about your client experience in its current state AND where it needs to be in the future. The way you give access to your clients (users) in the platform needs to be able to scale with your product/service roadmap. We learned this the hard way! We made a ton of changes to how we map out our clients and we are able to confidently grow our product suite without having to do any funky workarounds.
Think outside of the box and be collaborative! The MemberDev team is full of wizards who can really make your dream a reality. They were able to customize so much more than we originally knew. They really care about your vision, so give them your wishlist and see what they can make happen.
MemberDev notes
The CSC Team has an incredible mission to help real estate agents find their unique position in the market and achieve their growth goals with the right tools and support. Our team has worked closely with the CSC team to achieve streamlined membership site platform that helps reach hundreds of members so they keep coming back for more.
Check out their membership site platform!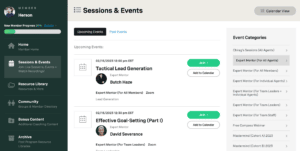 Visit the Chirag Shah Coaching Platform