Effective course design can help your members stay engaged and make the most out of your coaching curriculum.
Well-designed courses help meet the needs of their students by focusing on learning activities that support members goals. By creating clear learning outcomes, you can structure your coaching to guide them to their end goal. In this article, we will highlight several strategies to create effective course curriculum design for your coaching program, membership, or mastermind.
---
1. Start With The End In Mind
As you plan out your lessons and coaching curriculum, consider your audience and their learning needs. Identify the end result your students need to achieve and map out the key building blocks of your course. Once the end goal is clearly defined, you can create a roadmap that supports a member's learning from basic knowledge to higher levels of understanding and application. Consider that each lesson builds off of the previous concepts until you ultimately examine more advanced concepts. 
With member(dev), you can attribute specific course tags such as beginner, intermediate, or advanced to indicate the level of skill or difficulty or organize your courses by topic. This makes learning simple and effective for members to engage with your courses and achieve their goals. Members can also save and favorite specific content so they take action. Sell courses a la carte or bundle them inside of a membership with our sleek and secure cart checkout system. Integrate with Paypal, Stripe, and more within our platform. Take a look at our full breakdown of features and benefits in this review of the Top 5 Online Course Platforms for Coaches. 
---
2. Structure Your Lessons
When creating your lessons, start by identifying the topics that will be covered. Keep lessons to the point and avoid extraneous information. Ideally, your lesson duration should be short to support student's end goals. Try to use a variety of different types of media to support your lesson such as videos, podcasts, and text lessons. For example, a combination of video and an associated activity can be used to demonstrate and reinforce the concepts that are being discussed in the lesson. 
Member(dev) allows you to embed video content, Soundcloud audio clips, text, and photos for your course lessons. Add learning activities like PDF documents, related videos, or other related files for students to engage with the learning material. Members can track lesson progress and admins have the ability to access and review member engagement within the platform. Course lessons can be shared in one click using permalinks making it simple to support student learning. 
---
3. Design for Engagement
Course engagement starts with great membership dashboard design. Avoid overwhelming your members with too much information. Create a way for members to stay engaged with your courses by making it easy to access. With member(dev), members can search for courses with our search bar. Easily allow members to engage with your latest content using the member(dev) dashboard. Once members login, they'll be able to see and access the new content in a click. 
Centralize social conversations with members with associated groups and forums. By adding discussions to your courses, you can help students work through topic related questions or provide additional resources to students. Community groups have long been a pivotal piece for coaching programs. With member(dev), we streamline online communities and courses in one centralized location inside the member dashboard. 
---
Interested to learn more?
Schedule a free platform demo with our team to learn about the member(dev) platform LMS features and our course design offerings!
---
4. Create a Learning Path
Create a comprehensive learning path for members to see success with your course content. When it comes to building long-term growth for your membership or mastermind, it's important to build content that supplies members with a clear path for learning success. Learning paths are as unique and varied as our members, and with member(dev) you can create multiple membership plans associated with different course, content, or event access. 
Imagine organizing your membership content with a clear learning path. Some of our members do this by creating membership plans for different learning groups. For example if your membership focuses on groups at different learning stages, this might look like creating a subscription pricing plan for early stage entrepreneurs and a second or third pricing option for more established business owners. When you expertly guide students to achieve their desired goals, your course reviews will fuel your marketing efforts making your course stand out from the crowd. 
---
5. Accountability
Keeping your members accountable with their goals is an important part of growing your membership. By actively getting members involved, you create a supportive learning environment to support the overall learning goals of the community. One way to keep members accountable is through milestones or checkpoints. Using gamification such as badges or a point system also encourages students to engage with the curriculum. 
Additionally, you can allow students to track their own progress inside of courses and lessons. With member(dev), admins can review analytics including student logins, page and content activity, order history allowing you to support students and create an incredible learning experience. Simple admin needs such as resetting passwords, member upgrades, and course enrollments are easy with our platform. Lastly, there's something incredibly amazing about some 1:1 and community support. Receive feedback from members through our feedback form inside the platform and ask members questions inside our forum or online groups. Accountability is an effective strategy that pays you back with more repeat business.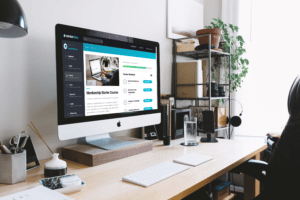 Conclusion
The options are infinite when it comes to designing effective courses that support member learning. At member(dev), we've helped dozens of membership owners create custom membership sites that engage and delight their members for years. Are you our next case study? Get started with a free platform demo – and you'll be quick to see how simple it is to stay in your zone of genius while we develop the membership site you've always wanted. 
Need help with your course design?
Schedule a free platform demo with our team to learn about the member(dev) platform LMS features and our course design offerings!