A critical piece to any digital membership experience is your member dashboard.
At member(dev) we've built a lot of dashboards with unique features and user experiences. We've learned a lot about what works and what doesn't. Here's an overview of some membership dashboard design best practices.
First, what is a membership dashboard?
Membership dashboards are typically the starting point or "home page" for your membership experience. This is where users land after logging in to their membership. This is also arguably the most important page for any membership website or application.
Common examples:
Member Dashboard for online learning site
Member Dashboard for online community site
Starting point for a media app (i.e. Netflix, Disney+, etc.)
Starting point for social media app
Account homepage for online banking
etc.
Best Practices
Now let's discuss some design best practices that help with usability and user experience.
1. Account personalization
One of the simplest and most important design elements is account personalization. This personalizes the experience and helps users identify with your membership. This can also be very subtle in terms of the user experience. It's essential to include account personalization so your members feel recognized.
Common examples:
Welcome back text with first name personalization.
Account dropdown with first name labeling.
2. Key quick links
Another important design element is key quick links. These are important links in the user experience that help users get to where they need to go quickly. By adding these links you save them time and remove potential confusion.
Common examples:
Start Here links
Manage Account links
Explore content links
Popular links
3. New member onboarding
New member onboarding is a critical design element for any online membership or community. This provides clear direction and instructions for new members. A dedicated area for new member onboarding will boost engagement, retention and help new users feel welcome to your membership. This is a must have element for growing online communities.
Common examples:
New Here area
New Member Orientation area
Getting Started area
4. Latest and Greatest
Another helpful design element is showing the latest and greatest content or activity in your user experience. This gives your members quick access to recently published content without them needing to hunt for it. It also reinforces the value you're creating every time they log in. As your community grows you can also start to display the most popular content to encourage engagement.
Common examples:
Latest articles and resources
Latest member activity
Latest videos
Most popular content
5. Easy Access to Help & Support
A final design element is easy access to help and support. This might seem obvious but you'd be surprised how hard some digital experiences make it to find help and support. Give your member a quick and easy way to find help when they need it.
Common examples:
Prominent Help & Support link
Member Feedback form
Chat with Us widget
---
Here are two great examples of Dashboard designs by member(dev) clients.
Piano With Jonny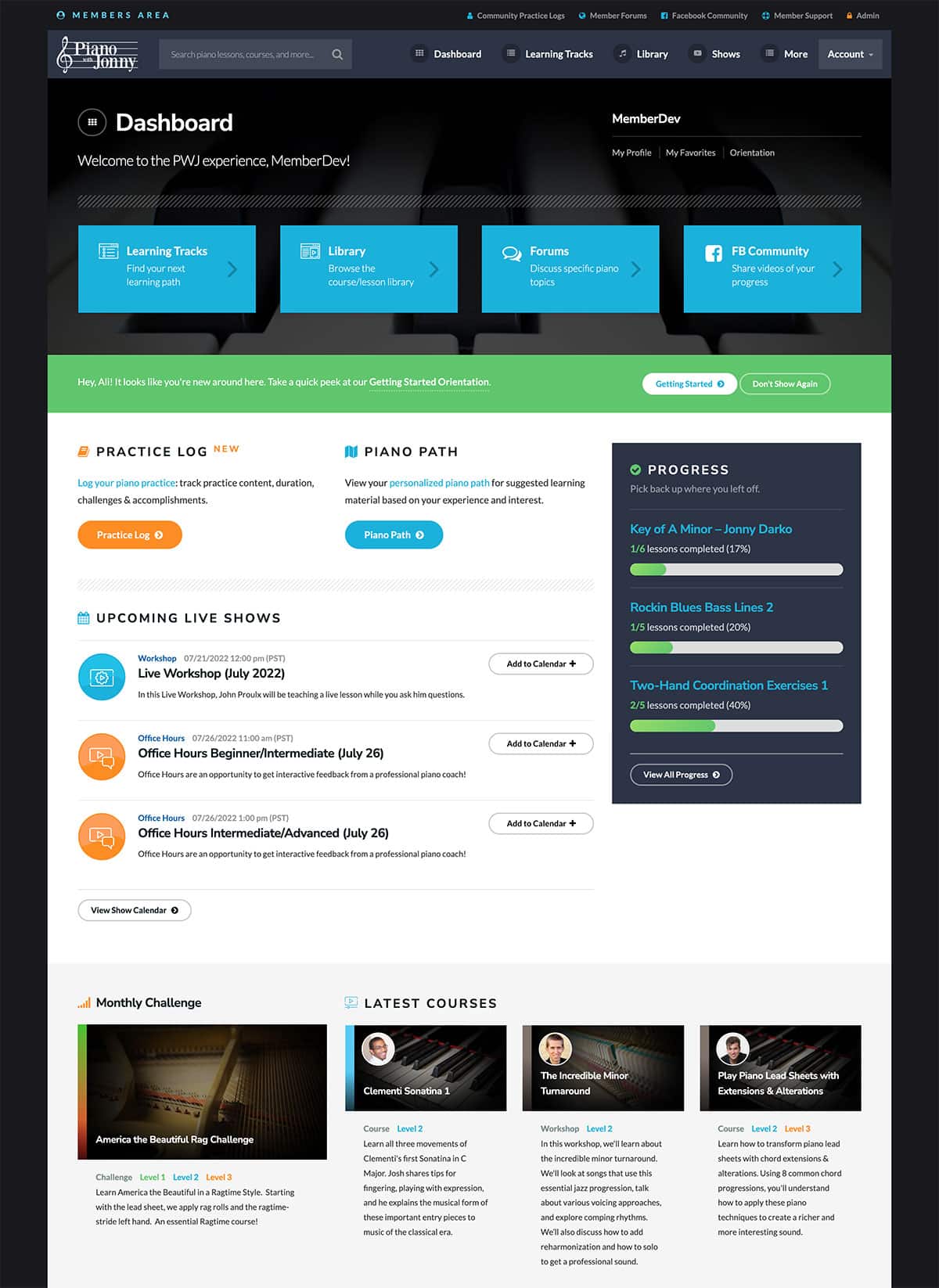 Key Features:
Personalization
Quick links
New here onboarding
User progress (advanced feature)
Upcoming events
Latest content
Backpacking Light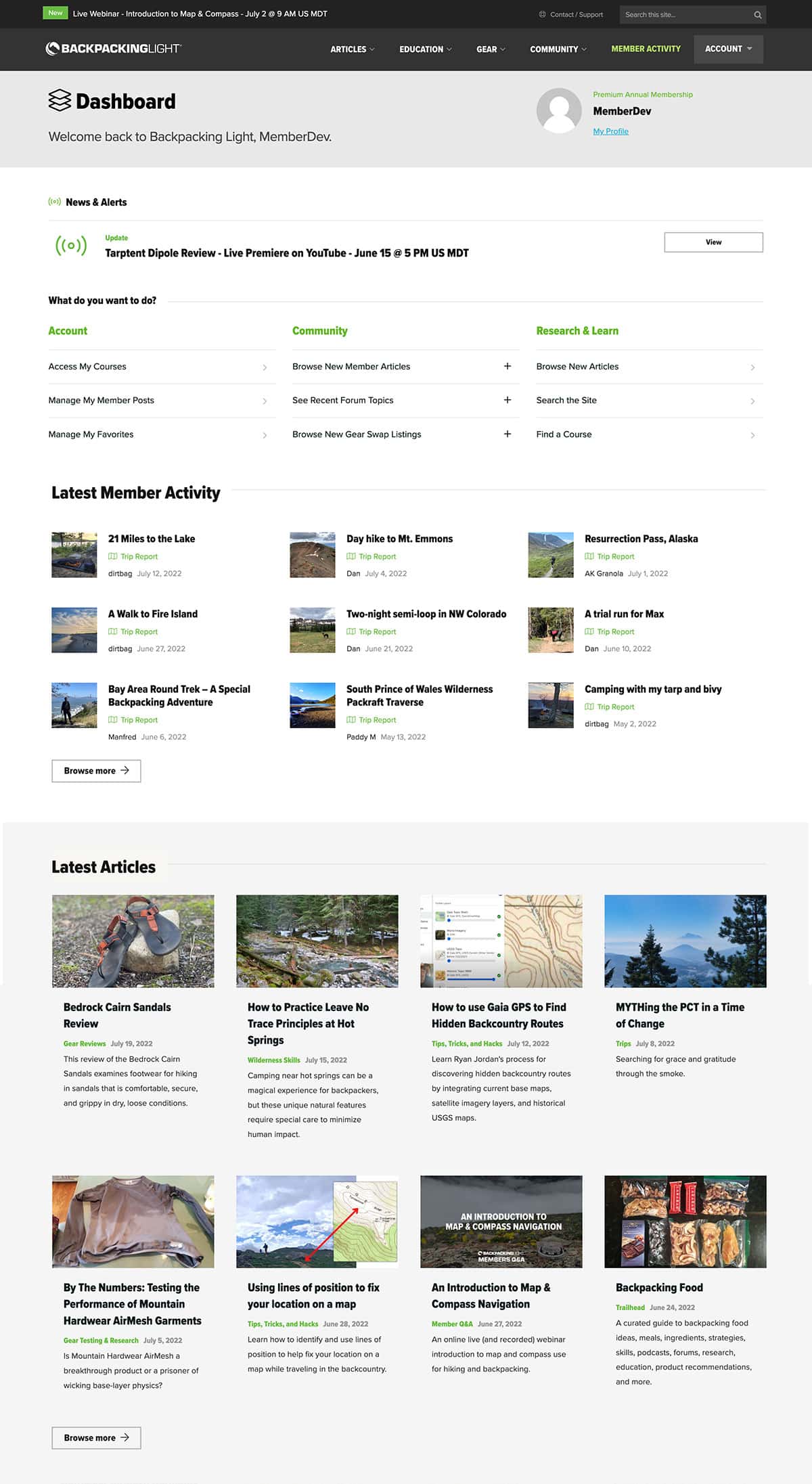 Key Features:
Personalization
Latest news / alerts
Quick links
Latest member activity
Latest content
---
Hopefully that gives you a nice overview of effective membership dashboard designs.
---
Need some help?
Are you designing or creating a dashboard experience for your online membership? If so, check out our platform to get instant access to great design elements in this article!