Creating the right learning experience for your coaching clients is essential when growing your online course business for your mastermind, group coaching program, or membership site.
The challenge can be ensuring your online learning platform provides immediate access to the right learning materials, community, video content, and events to your customers. Fortunately, we've created a review of these top online course platforms for coaches.
Online Learning Platforms for Coaches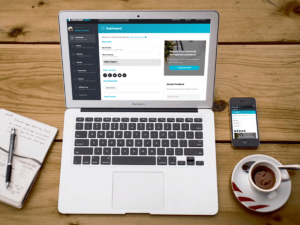 1. member(dev)
Creating and selling online courses is simple and streamlined with our platform. As a customized done with you (or for you – depending on your needs) course website and learning platform, our platform provides the the advanced customization necessary to drive repeat course sales. We also provide some advanced community features that connect natively with your course and content offerings.
Best for Scaling Membership Site Owners & Business Coaches
If you're tired of lackluster basic plans that don't provide the type of customization needed for superior online teaching experiences – then, Member(dev) is the golden child of online course platforms. Here are some of our and our client's favorite features.
Advanced Content Library – Offer your students to search and filter past coaching sessions, handouts, or special sessions with subject matter experts. Your students won't have to worry about where to find your most valuable online training lessons.
Customized Event Access – Host online or in-person events and grant access to the right customers all in one place. If you have multiple tiers in your membership, mastermind, or subscription – you can simplify hosting all your events from one calendar. Limit access to customers based on their membership level or product purchase.
Private Communities Features – If you have been wanting to move your community off of social media platforms like Facebook, you're not alone. In one of our more recent articles, we discuss alternatives to hosting your community on FB groups. Our platform allows you to customize your community groups and topics by membership level or tier. You can even host a free "membership" community and invite your prospective customers to start the conversation and access curriculum all in one place.
Unlimited Courses & Students – Unlike some platforms which stifle creativity and coaches from monetizing their knowledge, we don't charge per student or number of courses. We've helped hundreds of membership site owners scale with unlimited courses and content resulting in thousands of impacted students over the globe. The possibilities are endless with the flexibility of our platform.
Simplified Landing Pages – Our simple salespage templates allow you to plug and play all the features and benefits of your membership site. If you use an external page builder like Clickfunnels, Leadpages, Showit, or Wix, you can easily connect up your funnels to our platform.
Interested to learn more?
Get a free platform quote for your coaching business!
---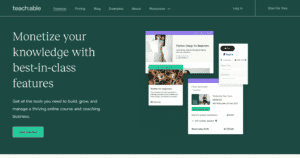 2. Teachable
Best for Beginner Course Creators
On their basic plan, Teachable offers course creators and unlimited courses and students.
Basic course creation – Create courses, basic quizzes, and drip content over time. Teachable also offers course design templates in which you can customize your curriculum onto their platform. Common email integrations (Mailchimp, Sumo, Convertkit,etc.) are native to the platform, however more advanced integrations may require a higher tiered plan or utilizing Zapier.
Premium Course Features – On their higher tiered plans, Teachable offers Zapier and other 3rd party integrations, course completion certificates, and upsells. Plans and pricing may vary based on the features you want to customize to your business. For a full comprehensive view on plans and pricing see Teachable's website.
Seasoned course creators or business owners migrating to this course platform might find some of the advanced features lacking in terms of 1:1 ongoing support. For instance migrating students is only available on the highest tiered plan as well as Public API, advanced reporting, and developer customization.
While these advanced features may not be a large need for beginner course creators, established businesses may want to evaluate their systems and ongoing developer requirements before migrating course platforms or adding new courses into the course platform.
---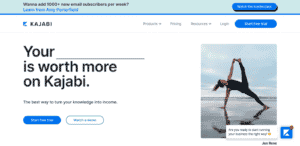 3. Kajabi
Best All-in-One Platform
ajabi's basic plan offers an advanced landing page builder, course hosting platform, and simplistic email marketing options. Mobile apps are frequently a topic of interest for online course consumers and Kajabi does offer a responsive course platform through their marketplace app. Unfortunately, this app is not whitelabeled and you can't utilize a custom domain or logo. Another downside is that each plan has course limitations. When you increase the number of offered courses, the monthly fee increases as you scale.
Basic Course Plan – On Kajabi's basic course plan, you're limited to 3 courses but do have access to unlimited landing page and marketing emails. The number of active members (such as subscribers on a membership, admin, or course) and contacts (such as customers and prospective leads) are limited based on which plan you select.
Landing Page Builder– Kajabi offers a comprehensive landing page builder and website templates for membership site owners. More experienced website designers might find their templates and page builder restrictive, however those without a comprehensive website design or building background will find the the templates helpful to begin the design process. You can review full details about pricing plans on this Kajabi's website.
Some challenges with Kajabi include limitations on products (even the highest tiered plan is limited to 100 products). Contact size is also limited to 100,000- so if you're looking for an enterprise solution this may not be a match for your organization or team. Support for Kajabi at the highest tier only provides 1 "Activation" call which will provide you with an overview of how to find success using their platform and ongoing chat and ticket support after that.
---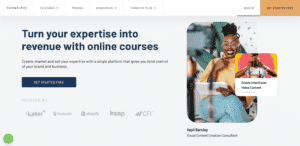 4. Thinkific
Best for Certificate Programs
Thinkific offers some essential core features including unlimited courses, students, and quiz creation. When it comes to creating curriculum and lesson types, Thinkific is a great starting point for providing a unique customer experience.
Basic Course Plan – On their lowest paid plan you can embed video content and text lessons as well as host downloadable content such as PDF files or workbooks. Courses are organized in course library and can be customized based on pre-designed visual templates. The Thinkific Marketplace also offers supplementary 3rd party integrations and subscription services from other softwares that complement Thinkific's subscription.
Course Certificates & SCORM Compliance– On the higher paid plans, Thinkific offers custom certificates based on course, advanced graded quizzes, and legally compliant course hosting or SCORM so you can host curriculum created on Captivate, Articulate, and more.
The con of using Thinkific is that the pricing plans are complex and features are not as clear. For a full breakdown of pricing and plans, see Thinkfic's website. One example of this is "unlimited students". While you may be able to host unlimited students, Thinkific charges a flat fee once you surpass a certain number of students over 1,000 under their "Growth Plan Add-on". Thinkific also charges a sales tax fee based on your existing state or country, which can add up over time.
Thinkific's landing page builder also lacks the type of customization elements that experienced website designers use such as not having Google font integration, limited color palettes, and limited ability to customize the look and feel of the course library and student dashboard.
---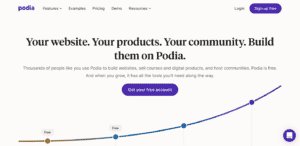 5. Podia
Best for Bloggers & Affiliate Marketing
Podia's simple user interface makes it a popular affordable choice for bloggers and content creators. The biggest benefit for bloggers is the ability to leverage revenue share through their affiliate option (available on their highest paid tier). This makes the most sense for content creators that want to sell simple digital products and online courses to their online audience without the highly advanced features of other platforms.
Basic Course Plan – Sell courses, bundles, and memberships with their basic plan. Though some might find the lesson format and course layout a bit simplistic, if you want to create a new course from scratch quickly Podia makes it easy. While there are some limitations on the look and feel of the lesson structure, you do have options such as video hosting and hosting PDF files, HTML embeds, and PDF downloads. Landing page customizations are more robust including Google Font integration, more customizable color choices, and simplistic block format layouts (if you want to build a landing page from scratch). For a comprehensive pricing breakdown, review Podia's site.
Affiliate marketing– Payout processes can be a pain if you don't have an automated way to send payments to partners, influencers, or affiliates. With the higher tiered plans, you can customize invitations to your affiliates and payouts happen automatically once setup.
If you're looking for a simple setup for your course content or membership site, Podia is a great startup option. Some of the features that Podia is lacking are event hosting, especially for those that offer a large number of virtual or in person events. You may want to consider using a software that allows you to showcase your calendar events all in one place.
---
Conclusion
In conclusion, there are many different considerations to use when it comes to choosing or migrating to a new course platform including pricing, video content hosting options, landing page building design, and community and event access. If you're looking for customized and development support for your membership or coaching program, check out our free content library and signup for quote to determine your needs.