There has never been a better time to create online courses.
With traditional tuition costs at an all-time high and the increasing availability of high-speed internet, high-quality video, and instant streaming, online education is revolutionizing the way we learn. In fact, the EdTech industry is predicted to grow to $325 billion by 2025.
For membership and subscription businesses — a $400+ billion industry in itself — the pairing of online courses is a match made in heaven. Subscription-based online education providers like Coursera are now worth billions, and smaller EdTech startups like Khan Academy still boast over 12 million monthly users with annual revenue of almost $28 million.
Of course, designing an online course is no easy feat. There are hours of planning, implementation, and marketing involved with building a single profitable course, much less an entire online empire. But the good news for even the smallest membership site is that it's not impossible to create a high-performing course (or courses) for your members in a relatively short time.
In fact, many membership sites are finding great success with online education, and with the right knowledge and resources, you can too. Here's what to know.
Grab Our Free Download
Sell Better! 9 Pricing Strategies for Your Online Courses
Planning and Financing Your Online Courses
So, how much time, money, and commitment does it take to build a great course, exactly? According to the EdTech experts over at Racoon Gang, there are three elements to consider:
Research and analytical expenses
Time and money invested in online course design
Time and money invested in content development and implementation.
You may also need the services of subject matter experts (SMEs), a graphic designer and/or videographer, a project manager, and a technical or DevOps person.
All-in-all, you could be looking at roughly 100-160 hours for production and a $7,000-$40,000 investment for 1 hour of online learning.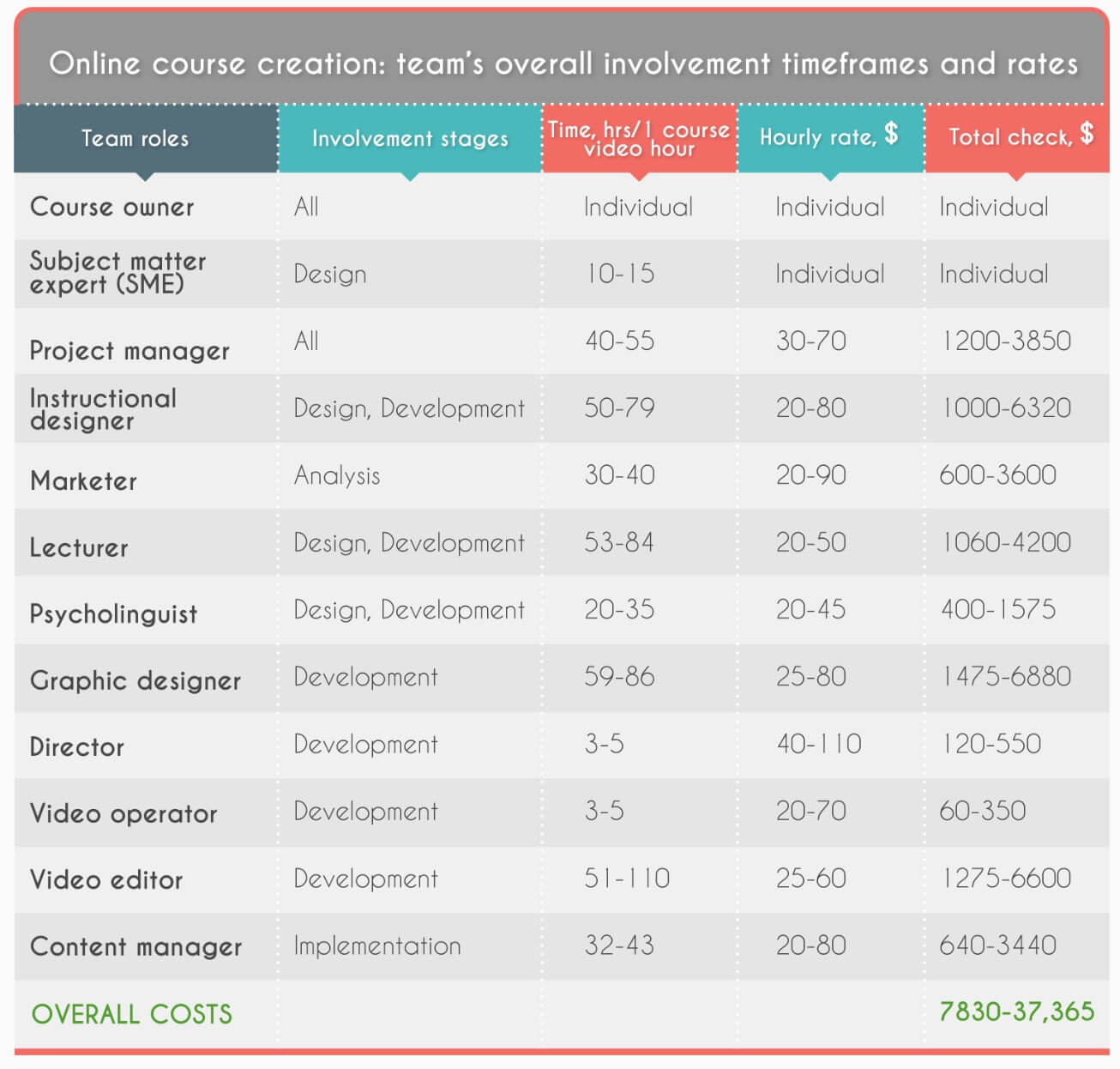 But don't be dissuaded by those numbers! That's not always the case.
For instance, Len Smith, the author of How to Be a Copywriter and Earn Money from Home, only spent about 40 hours developing his course for Udemy with very little expenses and earned between $2,000-$4,000 per month for his effort. The 71-year-old now makes around $8,000 per month from his online courses with a 10 hour-per-week commitment.
Depending on how you set up your courses, you can absolutely utilize cheap or free services or even your own website to save costs. We'll show you how you can keep expenses down and time to a minimum, but plan for at least 50-60 hours for development.
You should also have some funding on hand for building and marketing your course with the understanding that the exact amount will vary.
---
Types of Online Courses to Consider
There are many different types of online courses you can offer depending on your level of expertise (or access to an SME), the length of your material, or your desired interactivity level. Here are a few common examples.
Masterclasses — Masterclasses are online courses that are specifically taught by an SME or prominent figure in a given industry. The style of the Masterclass can vary, but they often include some form of interactive learning like forums, quizzes, and so on. Think MasterClass.

Coaching or training courses — Coaching or training courses are designed to achieve a specific personal or professional goal by providing training and guidance. They can be taught by anyone with the necessary subject knowledge and typically focus on specific tasks or objectives. Think Coursera.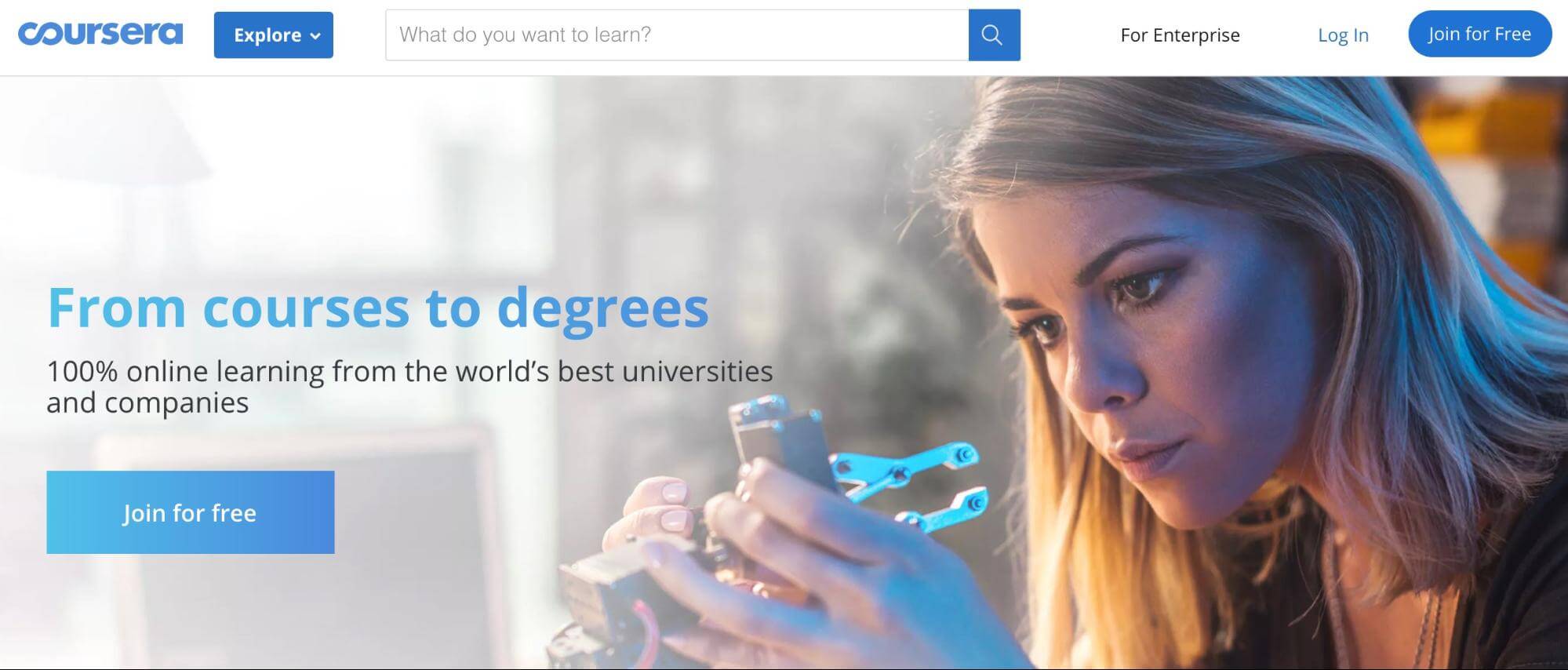 Massive Open Online Courses (MOOCs) — MOOCs are more comprehensive learning programs akin to traditional colleges. They tend to include coursework that is broader, easily repeatable, and typically led by an instructor via lectures and homework. They often focus on technical subjects like STEM, coding/programming, or other business technology. Think Udemy or Lynda.com.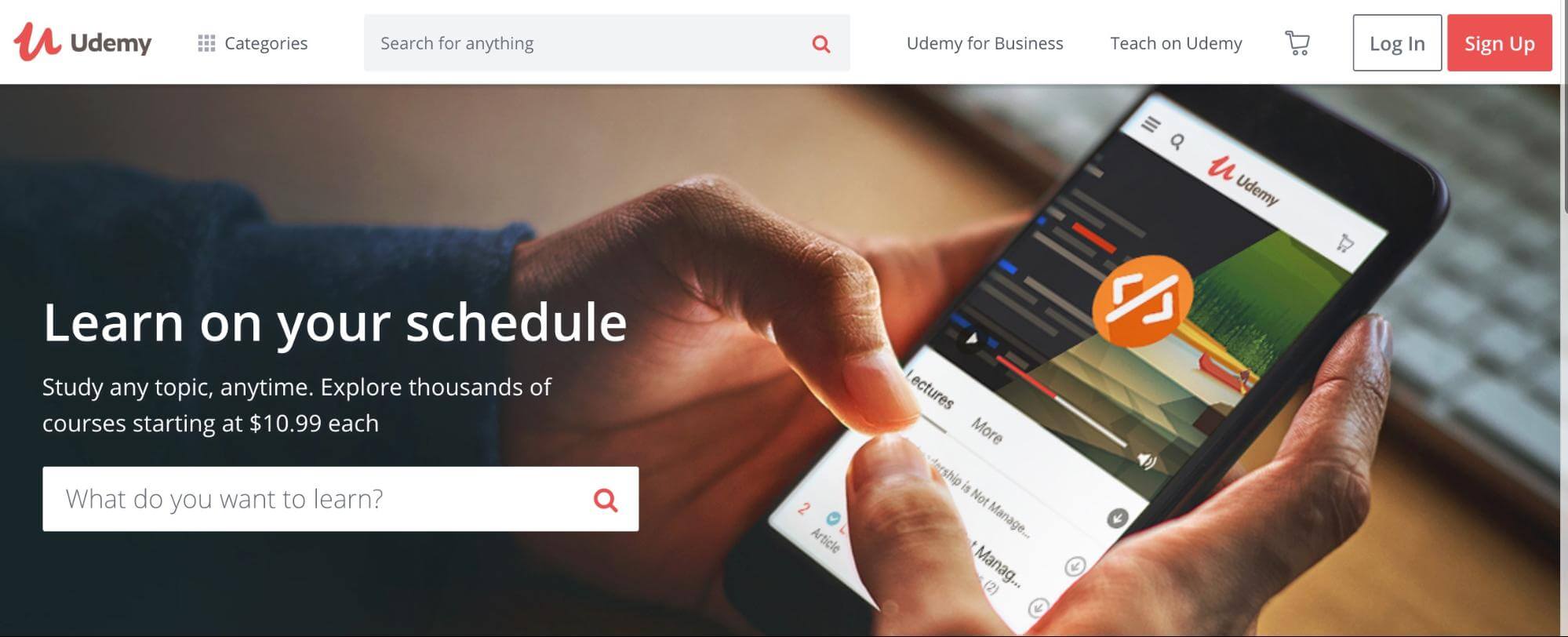 Mini-courses — A mini-course is a bite-sized alternative designed to educate customers, present your skills or knowledge on a given subject, or to test the market's interest in a specific topic. They can also be used to generate leads for your website. Think YouTube tutorials.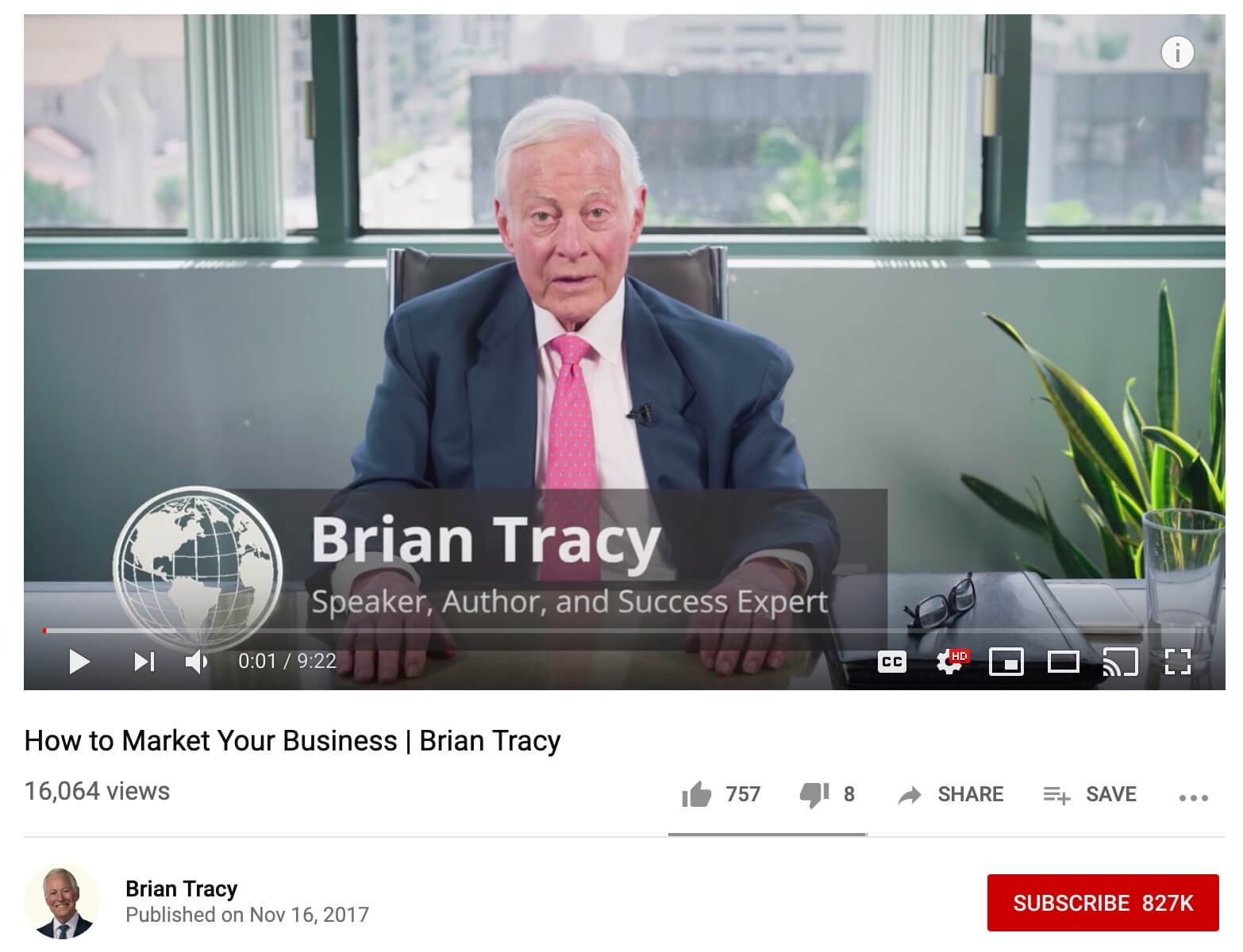 Hybrid courses — Hybrid courses are a combination of online learning and face-to-face or in-person learning. This could include a coaching course paired with a one-on-one Skype call, or an in-classroom experience tied to a MOOC. Hybrid courses are great for those that work with customers in person as well as online. Think Yogis Anonymous.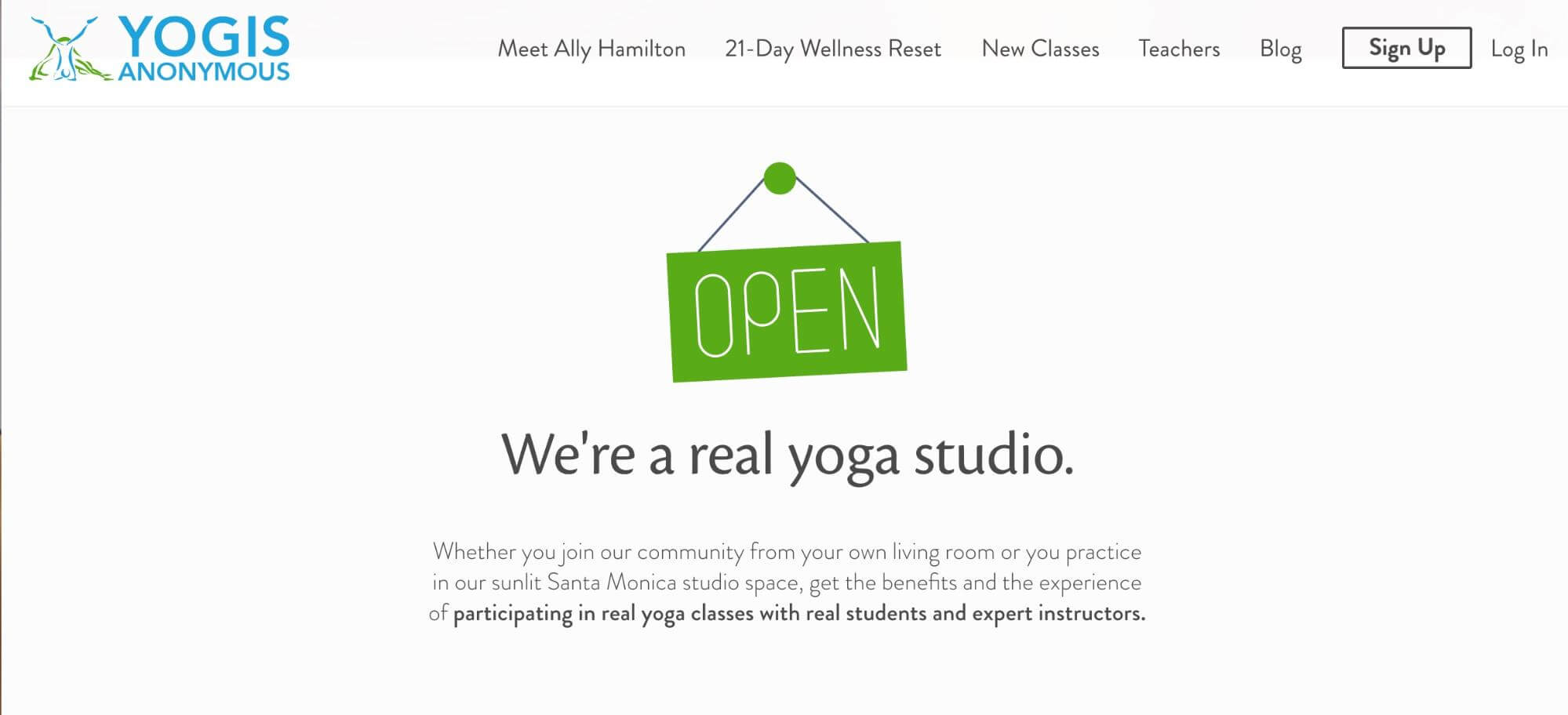 You have complete freedom to explore all the different courses, but remember that certain options will work better for different audiences and business types. Smaller membership sites may not have the bandwidth to build a massive MOOC, for instance, but may have access to a great SME for a MasterClass or YouTube tutorial.
Start with what you have and work your way up from there.
---
Choosing a Home for Your Courses
Once you have an idea for your course, the next step is to determine how you want to sell it.
Yes, before you start writing the content for your course, you need to know the end result. If you choose to sell your course to Udemy, for example, they will have different content and structure requirements than if you were to post it directly to YouTube.
There are three major ways to sell your online courses:
Online course marketplaces (Udemy, Lynda.com, etc.)
Learning management systems (Skillshare, LearnUpon, etc.)
Self-hosted via plugins or software on your site or a third-party video host.
Online course marketplaces — Marketplaces are a great option for those wanting to create and sell online courses who don't have a lot of time or money to invest in marketing and sales.
Think of it like selling bread to your local grocery store. There are many other brands to compete with, sure, but plenty of customers will move through the bread aisles on a given day. Udemy, for example, has 11 million students, so you're bound to find someone who will buy your course. The downside is you don't get to decide which shelf it's on or its sales price (Udemy's courses typically sell between $10-20).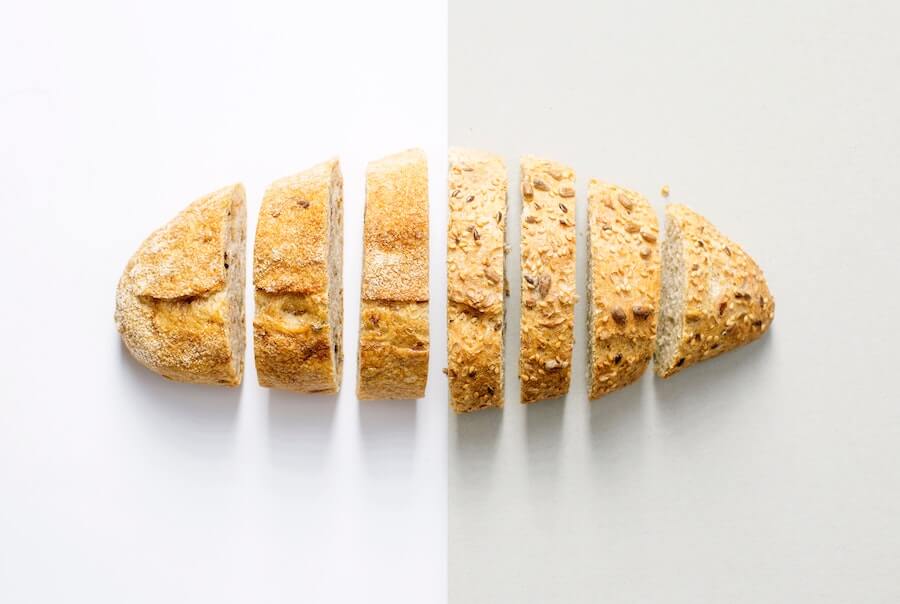 In other words, it's a trade-off — selling to a marketplace is easier, but you don't have as much control over design and marketing.
You also have to find a true marketplace that will actually buy your course, because not every site buys direct. For example, Coursera only collaborates with universities, so in order to become a Coursera instructor, you have to be a part of a university that's already partnered with them.
Similarly, MasterClass recruits instructors out of Hollywood or from the top tiers of each industry. You can try to contact them and sell yourself as an expert (you're selling "you," though, not your course), but there are zero guarantees you'll be given a chance.
Udemy, however, is a marketplace that buys directly from people, so anyone can theoretically become a Udemy instructor. Same for Lynda.com, which pulls instructors from LinkedIn. Although you can't technically sell directly to Lynda, anyone can sign up to be a LinkedIn instructor through a simple form, which allows you to sell through Lynda's site.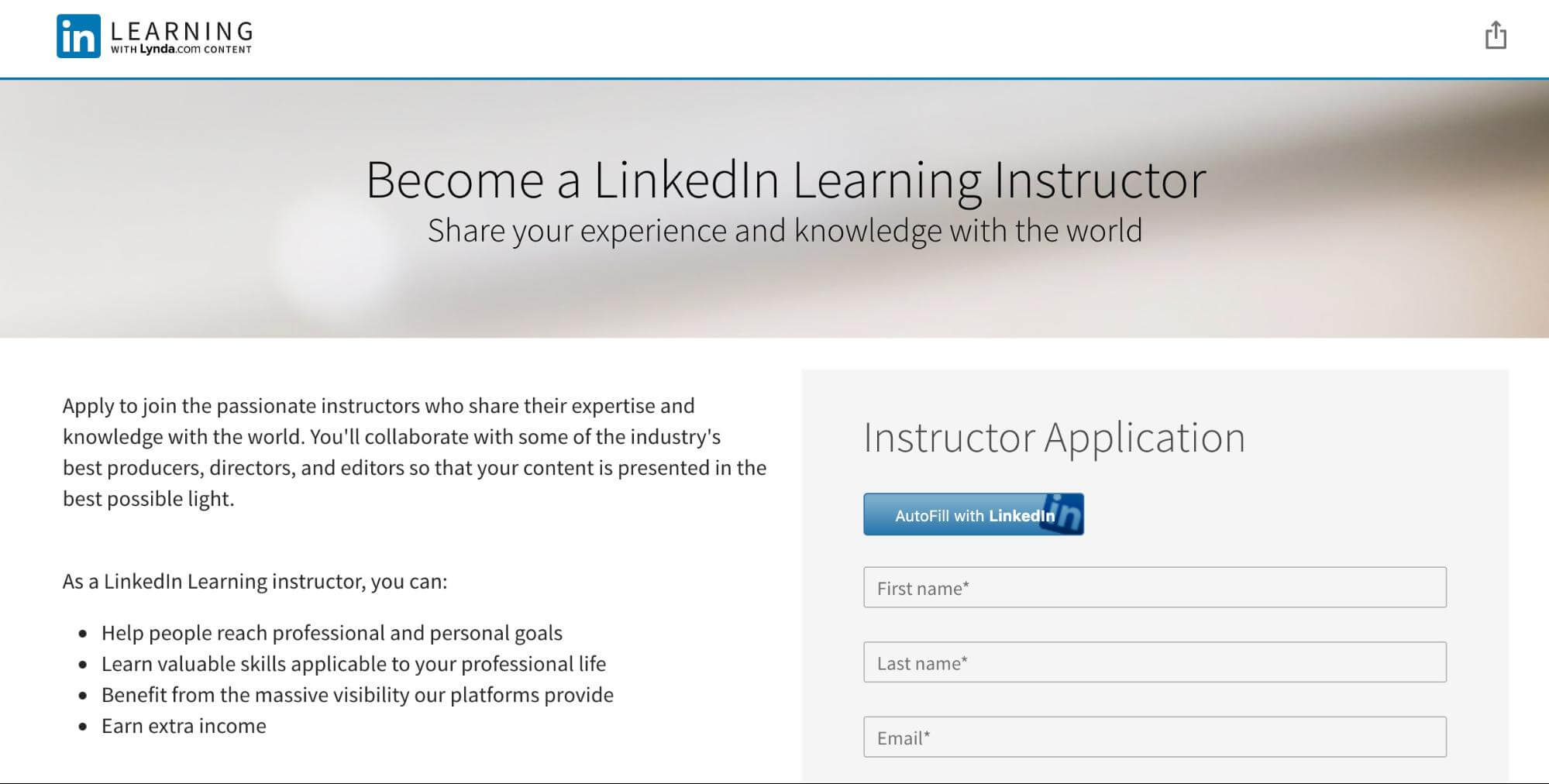 Learning Management Systems (LMS) —  An LMS is a piece of software that houses your course and can be built on a variety of different platforms. There are third-party LMS' that have their own sites, similar to a marketplace, like Skillshare.
With Skillshare, you have a little more control over the design of your courses, and like the ol' grocery store, they'll promote your course for you. It's also fairly easy to become an instructor.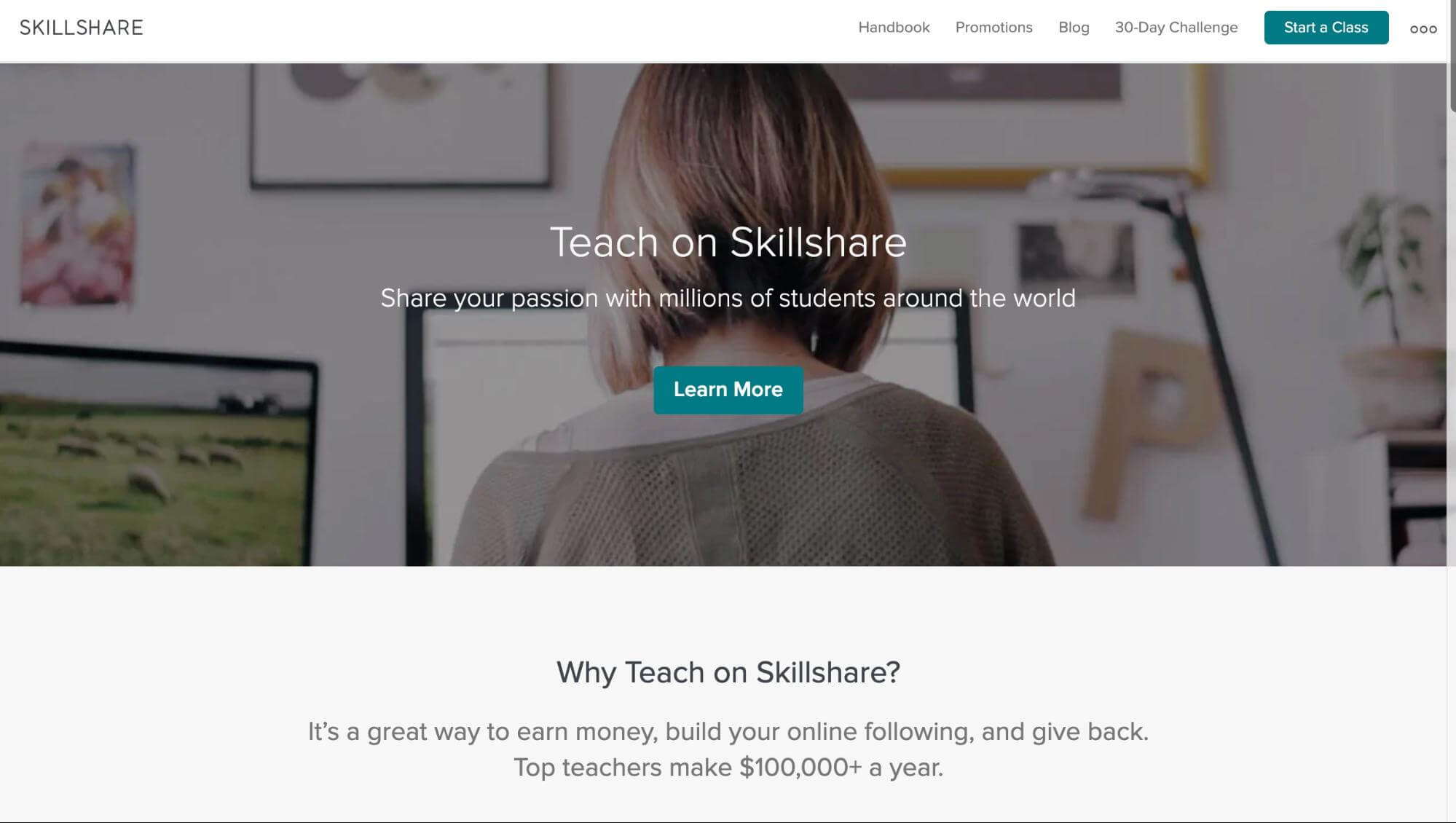 Skillshare also helps you build a course with step-by-step instructions, so if you're new to course-building, you'll have a much easier time.
On the flip side, you won't have as much control over how your course looks and its general functionality. It's also difficult to recruit other SMEs to teach your courses on your behalf, as LMS's like this are geared toward individual instructors.
If you're a sole instructor looking for an easy way to teach a course and you don't care about design, an LMS like Skillshare is a good option.
However, if you need full control and flexibility over your courses, you'll want to use an LMS plugin on your website instead. Here's a list of the top WordPress LMS plugins.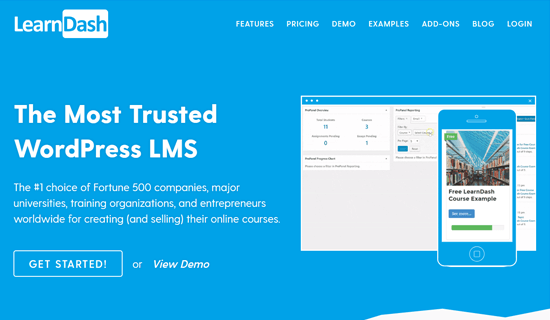 Self-Hosted — The other option is to build a course using WordPress and a few plugins and third-party cloud-based hosting services.
For example, you could film and edit a video course using iMovie or Windows Movie Maker (both free), upload it to YouTube (also free), and then embed those videos on unique landing pages on your WordPress site. Or you can create a course in Google Docs (free) and then host it in Google Cloud (also free).
Then, using a plugin like MemberMouse (which has a sliding fee scale for smaller membership sites), you can create a members-only area of your site where users can log in and access course materials.

With a payment plugin like PayPal (which integrates with MemberMouse and is also free), people will pay you directly for your courses and access them from your site. You keep all of the profits.
You can build and sell your online course using tools you already have for next to nothing.
While this option isn't ideal for everyone, it has a significantly greater range of flexibility and the cost-saving potential is much higher, because you can choose the software you work with and the price of your courses.
If you do have a decent budget for course creation, you can hire other SMEs to teach and/or you can spring for higher-end hosting services. (We reviewed and compared the top video hosting services here.)

Yes, you will have to market your courses yourself. But you have full control over the design of your course, the way you market it, the price you set, how people log in and view your content, and what media hosts you use. And if you already have a decent membership size, you have a built-in audience.
If you want to learn more about building online courses using WordPress, we covered this topic further (and answer the question, "Do I need an LMS?") in this blog post: Want to Become the Next Lynda.com?
---
Choosing the Right Media Format for Your Courses
The final bit of planning will revolve around choosing a media format. Some online marketplaces only offer video courses, for example, so if you choose to sell to a marketplace your options will be obviously limited.
Some popular media formats include:
Video — This includes lectures or "talking head" videos, screencasts, short films, illustrated videos, or even animated slides.
Audio — This includes podcasts, webinars, etc..
PDF — This typically includes interactive PDFs such as forms or worksheets.
Text / Image — This includes documents (worksheets), slides or PowerPoint, written documents, images, books, ebooks, and so on.
Each media format has its pros and cons. Text is often the fastest to create, but may not be the most effective with your audience, for instance. On the other hand, you can always quickly record a talking head video or outsource an animated one, while an ebook might takes months to create.
Here's a great guide for deciding which media type is the best for your course and for your audience and situation.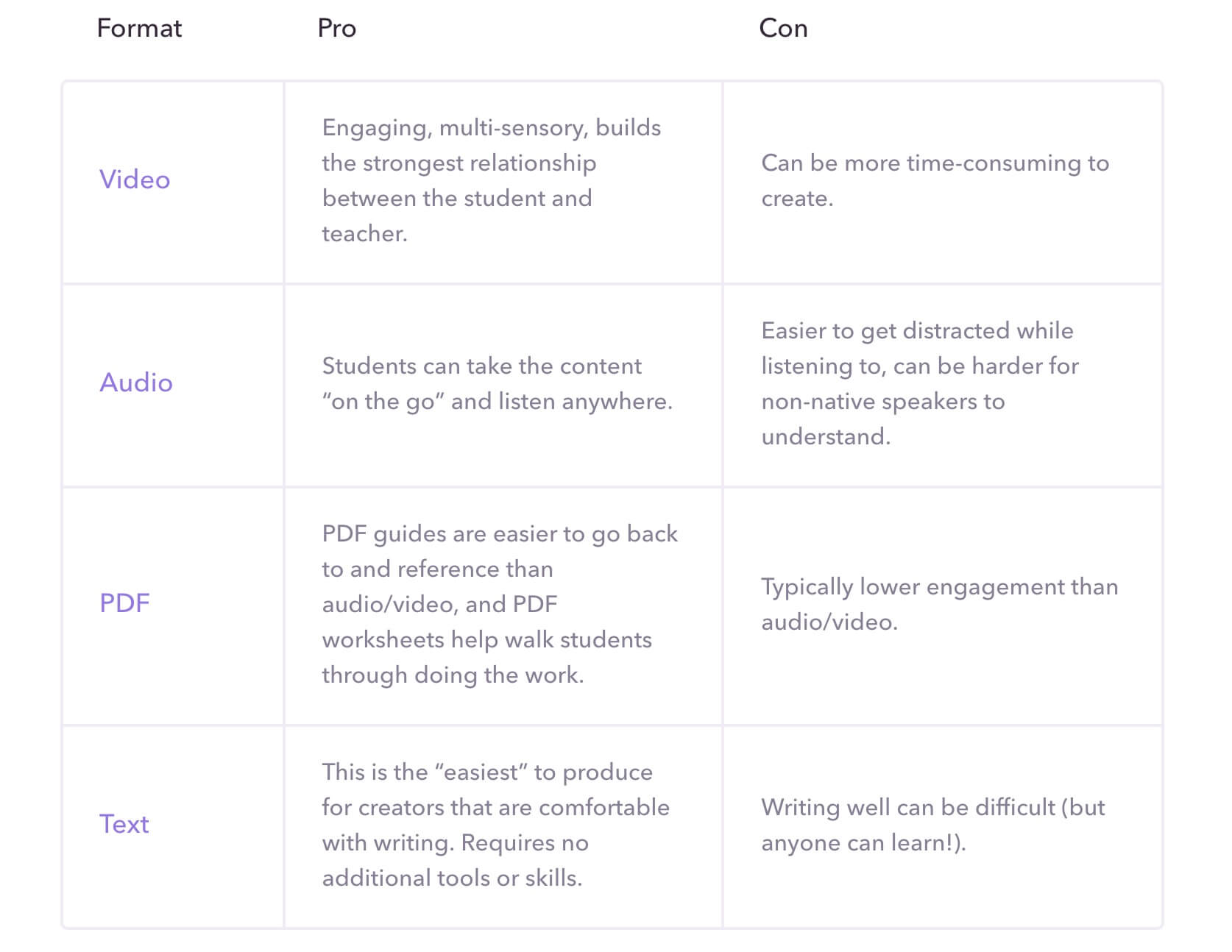 It's important to consider how you're selling your courses when choosing the format. With online course marketplaces, you may be limited in offering only video courses, or video courses with slides and worksheets, etc. The upside is that many marketplaces will help you design your courses in the way that fits their site, minimizing the effort on your end.
With self-hosted courses, you have more choice over the presentation, as you can utilize written or shared documents, forums, and quizzes (via WordPress plugins) and other interactive communities (Facebook, etc.) to engage your audience. Some WordPress LMS plugins also come with built-in features like chatrooms and social sharing for easier integration.
Consider your audience, your technological capabilities (WordPress, coding knowledge, etc.), and your budget when planning out your courses. Once you have that settled, you can begin production.
Grab Our Free Download
Sell Better! 9 Pricing Strategies for Your Online Courses
Final Thoughts
It's essential to take the time to research the above options before creating (writing, filming, editing, etc.) your course. It's entirely possible to create online courses for next to no cost, though you'll have to commit more time if you're DIYing it.
On the other hand, you may find that selling to a third-party marketplace is much easier, especially if you're okay with handing over the reins in terms of design and pricing.
Just remember you can be successful as a course creator either way. Use the tools you have to your advantage and don't be afraid of doing it yourself — there are plenty of resources and experts out there willing to help you out.