When you set out to create a community on WordPress, it's easy to get overwhelmed with the many options for community plugins.
In this article, we highlight the best WordPress community plugins so you can choose the right one for your business.
---
What is a WordPress Community Plugin?
A WordPress community plugin allows members to share content with each other created and hosted on your WordPress website. Many businesses are choosing to use their websites as an alternative to Facebook groups (once the most popular community groups) as a means of communicating with their customers.
Private communities like memberships, masterminds, coaching programs, associations, or even chamber of commerce can benefit from interacting directly with paying customers in an easy to navigate and highly customizable website.

---
1. member(dev)
Member(dev) is an all-in-one platform that offers robust community features and capabilities. It's far more than a plugin, but is built on WordPress and leverages plugin architecture to scale online communities. It's also designed specifically for coaches, educators and thought leaders seeking to grow their online community.
Out of the box, member(dev) creates and hosts your custom membership platform. It incorporates online courses, a private content library, customizable event calendar, and powerful community plugin features, including:
Member Profiles and Directory
Groups and activity feeds
Member Forums and Discussion threads
And more
Member(dev) also comes with flexible customization features and access capabilities to help you grow your group coaching program. For example, if you sell a digital product, you can customize community group access based on product or subscription status. If you sell group coaching packages, you can provide an easy to manage way for members to post topics and ask questions within an online forum. Free and premium members can customize their profile image, name, and can be added to a private member directory.
You can also influence buying decisions by utilizing our restricted access messaging when free members or paying members with a lower paying tier review premium features that require a higher level subscription. For instance, if a free user attempts to access a premium event or community group, they'll receive a customized message which asks them to upgrade their subscription level. Customers can easily upgrade their membership status or subscription level by using our easy to use and secure checkout pages. In short, customizable community forums is of many reasons why over 20+ membership and coaching program owners choose member(dev) to create and host their custom membership site.
Interested to learn more?
Get a free platform demo for your online community!
---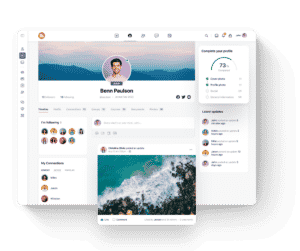 2. BuddyBoss
BuddyBoss is an online community plugin built on WordPress that allows you to host private member content. The community dashboard allows members to customize their profiles, post photos, message members, follow "friends", and like and comment on posts creating a very similar experience to the Facebook newsfeed and groups.
BuddyBoss also allows you to host and sell courses and setup membership and subscription access. The BuddyBoss Platform Pro plugin is sold along with their BuddyBoss website theme and licensing is offered per site. Mobile application is also sold as a separate product subscription.
---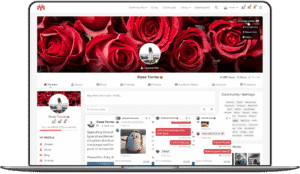 3. Peepso
Peepso is a free and premium WordPress community plugin. Similar to Buddyboss, Peepso's community dashboard is reminiscent of a Facebook newsfeed look and feel. Members can customize their profile and cover photos, customize their notifications, post, comment, and reply to other members. You can also send and receive direct messages. Community topics are also organized by hashtags which you can customize at any time. Wordfilter also allows you to censor or prevent unwanted language within a community. Peepso does not offer course or membership hosting which makes this a primarily social or community based plugin.
---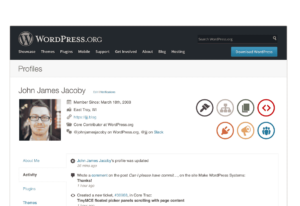 4. BuddyPress
BuddyPress, not to be confused with BuddyBoss, is a community plugin that allows user to create, comment, and reply to posts and topics. BuddyPress's plugin utilizes the bbPress forum features, so you'll see many similarities in terms of the look and feel for community forum posts. Unlike other community plugins, BuddyPress plugin does not offer private course or host content outside of forum posts, so it may not be the right option if you are looking for a customizable course platform.
---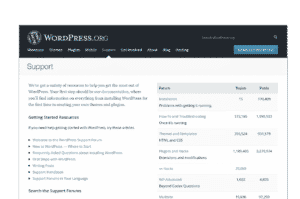 5. bbPress
If you're looking for a free and simple community plugin, bbPress allows members to post, comment and reply to topics. Users can customize their avatar image before publishing topics. While simplicity is key with this open source plugin, the downside is that many of these forum features lack an modern and sleek interface making it appear outdated. bbPress' website also appears to lack recent activity on their own forums so plugins appear less frequent which may be a concern if you need continued plugin support.
---
Conclusion
In conclusion, there are countless WordPress community plugins free and paid. So if you are looking for a plugin that will make your website exactly what you want it to be, then reach out to us and inquire about a custom quote. The benefit of having a custom membership site is to allow you to create the type of online community and content library that drives engagement and an improved customer experience for your online membership, association, or group coaching program.
Need help deciding?
Schedule a free platform demo with our team! We'll discuss your needs and establish if our platform is a good fit. If not, we'll point you in the right direction 🙂