Looking to get your community off Facebook ASAP? You're not alone.
Facebook is becoming less popular due to recent events and arguable ethics. News and documentaries like The Social Dilemma have given many people pause to question Facebook's motives and consider moving their private groups/communities elsewhere.
Some of the common use cases and benefits of leaving Facebook include include:
Having ownership if your user data, instead of letting FB continue to own it.
Providing your users with a distraction free environment.
Giving your users a sense and assurance of privacy.
Gaining more flexibilty to engage your community with 3rd party tools and services (FB is very closed in this sense).
etc.
It's certainly no small feat to move your audience away from Facebook groups, especially if you have deep roots there. However, there are some great alternative options on the rise. We're seeing a lot more interest and momentum with people leaving Facebook groups as well. The move away from Facebook groups can have significant upside if you're moving for the right reasons.
That said, here are 5 alternatives to Facebook groups for your private community:
---
1) MemberDev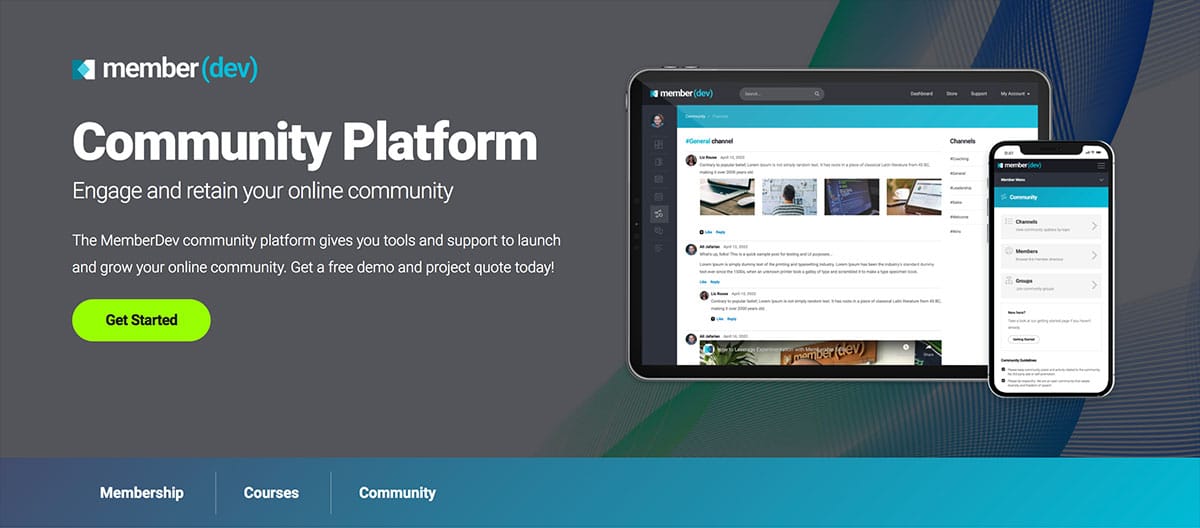 We'll start with our own community platform for two main reasons:
Ownership of your data and user experience
Flexibility and customization
The member(dev) community platform is a solid option if you want a membership platform with flexible social/community features to accompany it. Our platform provides a comprehensive solution for content, courses and community all in one.
We are also one of the few platforms that provide deep customization. In fact, that's why you would choose member(dev) – if you're seeking a highly customized community platform. We help our clients grow their business and online community with strategic features and options.
Pros
Ownership of your data and user experience
Flexible content library, event calendar and community features
Integration with memberships, courses and other revenue channels
Cons
No free plan (sorry, folks!)
No mobile apps
2) Circle.so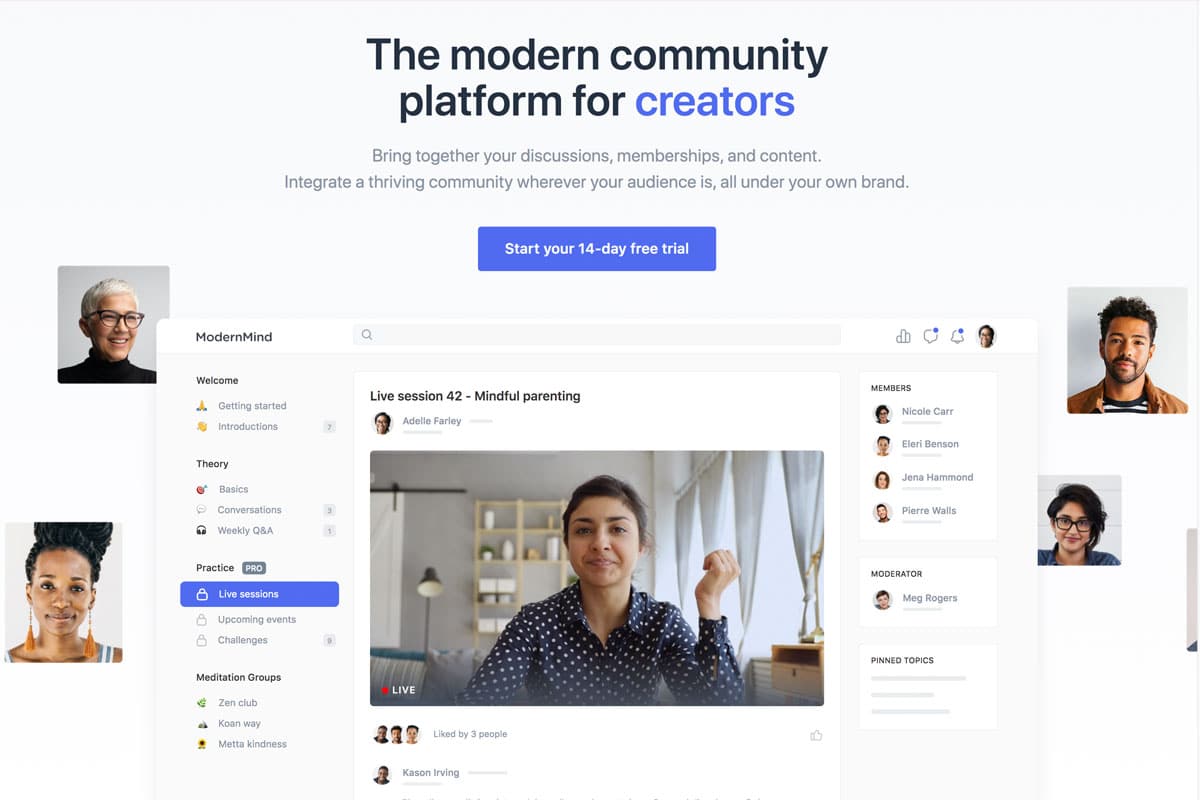 Circle is one of the newer products to market. It provides a simple and easy interface, very similar to Facebook, without all the noise and distractions. We like this option if you're looking for the FB style experience without all the things Facebook has become infamous for.
Pros
Nice set of basic social features
Fair tiered pricing model
Easy to use
Cons
No free plan
No mobile apps
3) MightyNetworks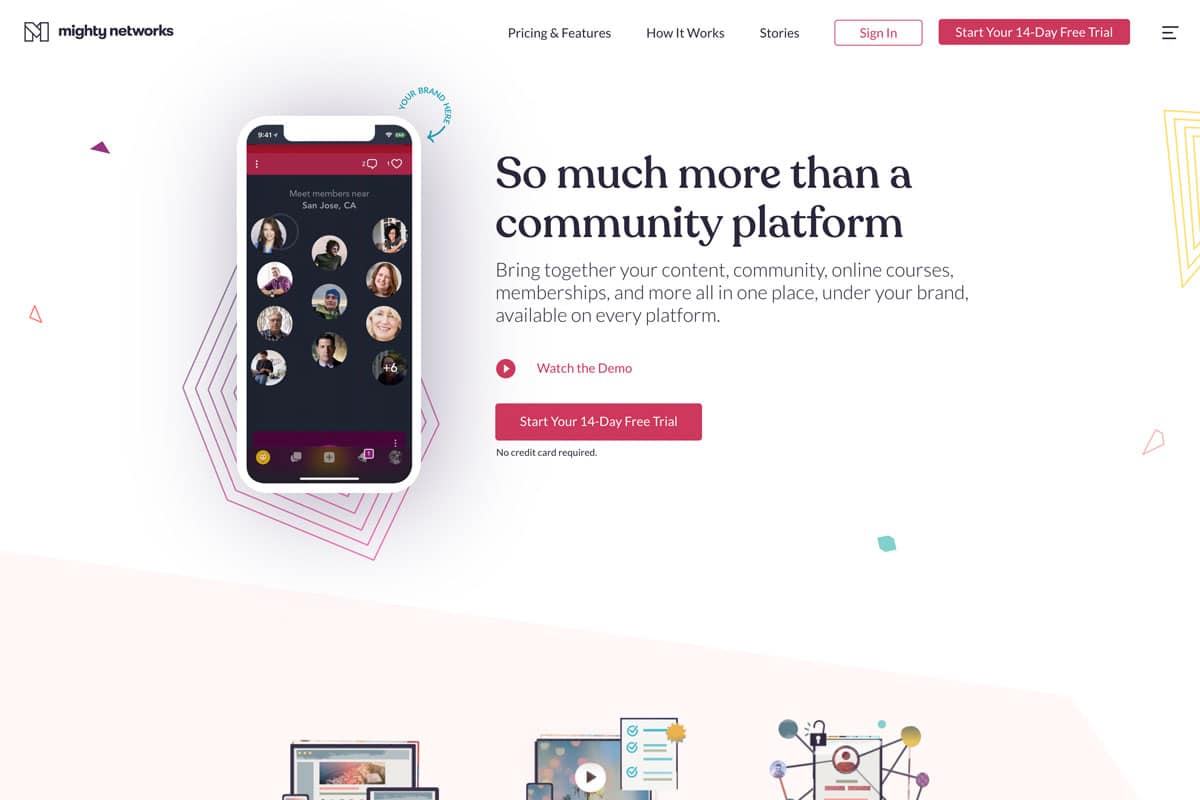 MightyNetworks is another FB groups competitor that has picked up momentum in the last few year. They were founded by a former Facebook executive, so they know a thing or two about building social communities. That said, be cautious with this approach. A business operated by a former FB exec may not fall far from the tree.
Regardless, they are an attractive option if you want your own private social network with some limited flexibility to sell memberships/courses.
Pros
Free plan
Great social features and UX
Mobile app
Cons
Complicated pricing that eats into your margins
No API
4) Tribe.so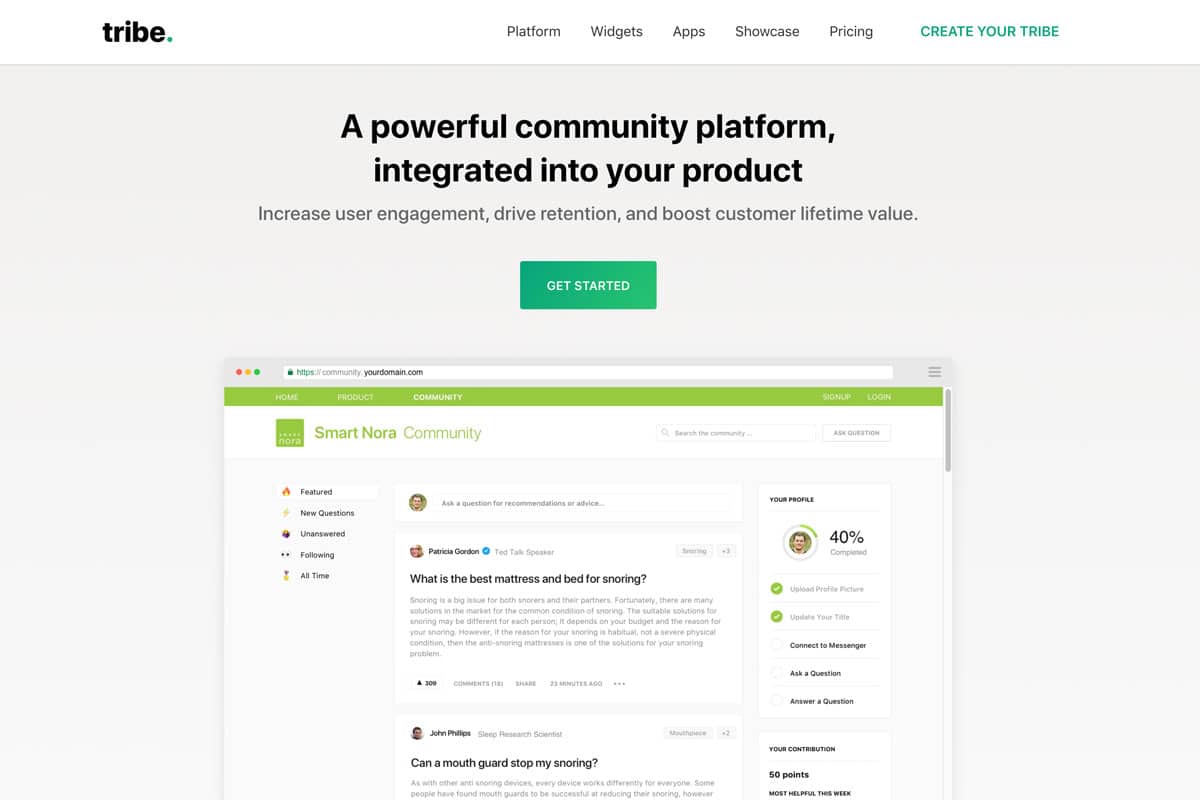 Tribe is another alternative that competes well with Facebook. They offer a wide range of features that provide a white-labeled social network for your brand. They also have some cool features like gamification that other products aren't offering.
Pros
Free plan
Unique features like gamification
Widgets, integrations and API for further extension
Cons
Limited members on free plan
Complicated tiered pricing model
5) WordPress / BuddyPress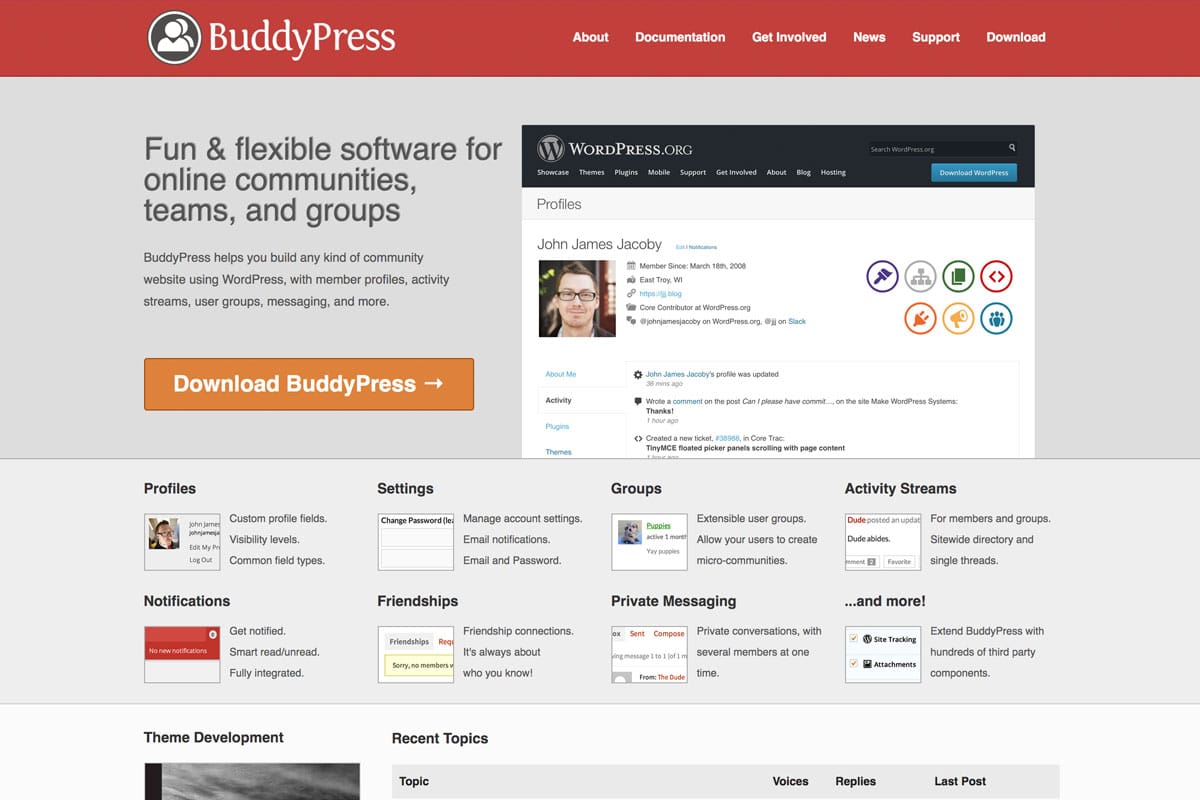 This is at the end of our list because of the DIY (do-it-yourself) factor. However, this is a great option if you want ownership of your data and flexibility to do things yourself. These reasons are paramount, especially today when data is becoming the most valuable asset we can acquire as a businesses. However, data is also becoming a large burden and liability with growing privacy concerns.
Building your own WordPress site with BuddyPress is one of the only ways to replicate a social network experience and still have complete ownership of your data. You also get the power of the WordPress ecosystem, which continues to provide powerful content management tools.
Pros
Complete ownership of data
Tons of features and integrations via WP ecosystem
100% free
Cons
DIY can be challenging for non technical folks
Slow upgrades and product enhancements
No mobile apps
*Note: if you like this option
get in touch
. Our platform is compatible with BuddyPress and a solid alternative if you want the same benefits without the heavy DIY effort.
Which option makes sense for you?
In summary, there are a variety of options to help you get off Facebook groups. This list only covers a select few that we've used or have experience with. The option that serves you best will depend on your needs.
Here are some questions to help you decide:
Do you want a DIY (do-it-yourself) solution or a DFY (done-for-you) solution?
What's more important – sales (revenue) or engagement?
Are you starting fresh or moving an existing community?
Do you need an API for deeper customization and extension?
Do you want fixed pricing or member-based pricing?
As you start to answer these questions you'll make it easier to select a platform.
Need help deciding?
We're here to help! Get in touch if you'd like a deeper opinion and/or insight into what we offer. No sales pressure or pushy tactics. We're on the team that wants people to move away from Facebook 🙂
Use the "Get Started" button below to submit an inquiry and our team will follow-up!