Say you wanted to buy a new washing machine. You go to Google and search, "low-cost washing machines." You click on the first link you find, which takes you to a landing page that asks for your email address—you want to read the article, so you gladly supply it. Then, bam! There's a new email in your inbox with a special offer for a washing machine.
Automated emails like this are fairly common today, and they serve a very important purpose: to cement your relationship with that business. From the business perspective, this is a great way to gain consumer trust, and it's one small example of the true power of marketing automation.
What is marketing automation?
Marketing automation simplifies your efforts to reach customers. Marketing automation software is the tool by which this process is made possible. It's designed to increase your ability to connect and interact with customers and prospective customers. When effectively leveraged, marketing automation tools can be a game-changer for small businesses, especially when it comes to personalizing messaging, increasing lead generation, boosting conversions and ramping up sales opportunities. Simply put, the right marketing automation software can help you turn window shoppers into loyal customers.
Here's how HubSpot describes what marketing automation is, and how it can help your small business:

How effective is marketing automation?
Imagine being able to respond automatically, without human intervention, and in real-time to a host of relevant actions prospective customers for your business take, things like filling out a contact form, visiting key product pages, downloading important content or interacting with your company on a social media site. Think of it like a little robot salesman who does nothing but evangelize your business, only most marketing automation software is much cheaper than hiring a full-time salesman (or actual robot, for that matter).
There's a good chance that prospective customers will go to your product page because the email you sent is both timely and directly related to what he's looking for—and that's what makes marketing automation so powerful.
Consider for example these impressive marketing automation stats:
75% of marketers across all industries are now using some form of marketing automation software
Almost 70% of marketers say automation tools improve message targeting, half say automation improves customer experience and almost 40% say it increases the quality of leads
The biggest benefit of marketing automation software is "saving time"
On average, marketing automation increases revenues by almost 15%
Almost 65% of businesses that say they're "outgrowing their competitors" are using marketing automation software.
What are the best marketing automation tools for small businesses?
The effectiveness of marketing automation means that there are plenty of products on the market to fit your needs—which has the unfortunate downside of making the choice between solutions confusing. What's more, every small business is different, with different customers and different marketing challenges.
That said, some marketing automation tools work a lot better for most small businesses than others, including the following 5 below:
1.  Taking Lead Generation to the Next Level: 
OptinMonster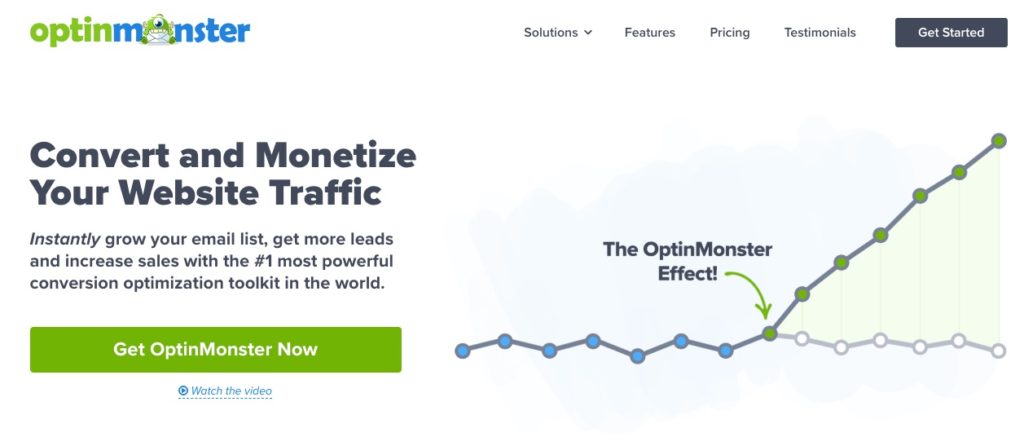 If your business operates on a subscription model—that is, a recurring revenue model— you need a continual stream of new subscribers. That's where OptinMonster can help.
This is a flexible and versatile tool that makes it easy to create powerful lead magnets, landing pages, and lightboxes to increase both the number of new leads you generate and the quality of those generated leads.  OptinMonster makes it easy to segment your leads with its behavior personalization tool. And it's affordable, with a base price of just $9 a month.
2.  Optimize Your Email Marketing Automation: 
ActiveCampaign
You've probably read or heard about the utility and effectiveness of ActiveCampaign for email marketing. This is a case where what you've heard is more heft than hype. This powerful automation tool enables compelling welcome emails, email list segmentation, targeted messaging and smart lead nurturing features.
Equally important, the company's reputation for thought leadership is well deserved and includes both online training and instructive webinars to answer all your questions. The $9/month starting cost includes automated marketing—which is hard to beat in the world of email marketing automation.
3.  Helping eCommerce Sites Hit the Sweet Spot: 
Klaviyo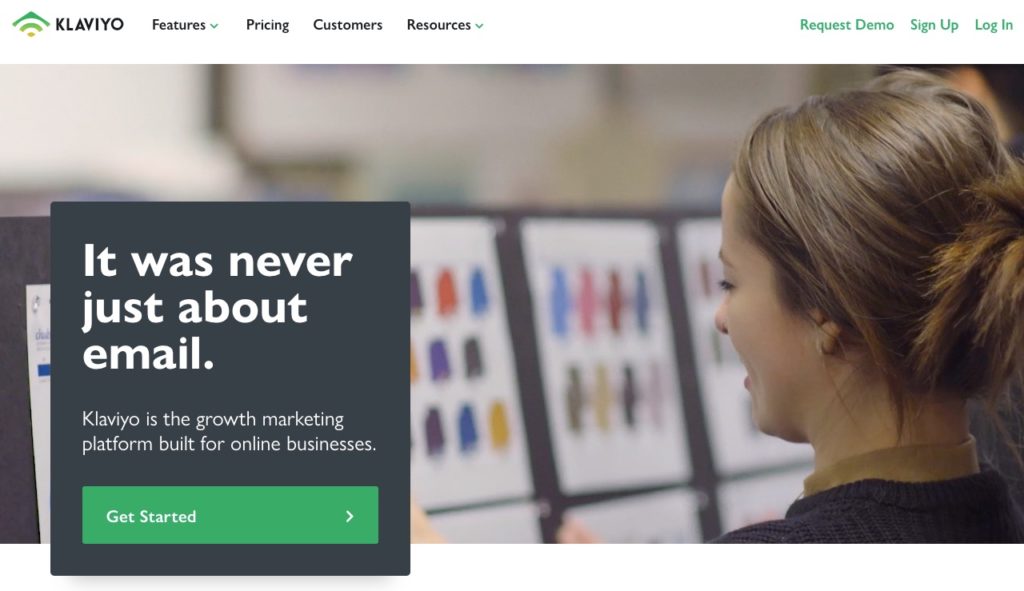 Online stores have special automation needs and considerations, this is because their websites are so laser-focused on communicating the value of products and on moving site visitors to product pages and shopping carts. Klaviyo is among the most effective ecommerce automation tools to help online stores achieve that focus and realize their key marketing objectives.
Offering a powerful email marketing platform, automated workflows, personalized messaging and targeted email campaigns, Klaviyo could be an essential tool for ecommerce businesses with their sights set on increased growth and sales. One of their core differences from other platforms is their reporting and analytics features, which give you powerful insight into your customer metrics. They also have a very fair pricing model which grows with your contact list size.
Given those strengths—and Klaviyo's robust analytics dashboard—the monthly cost of $49 reflects a sound marketing investment.
4.  Connect Tools & Services for Deeper Integrations:
Zapier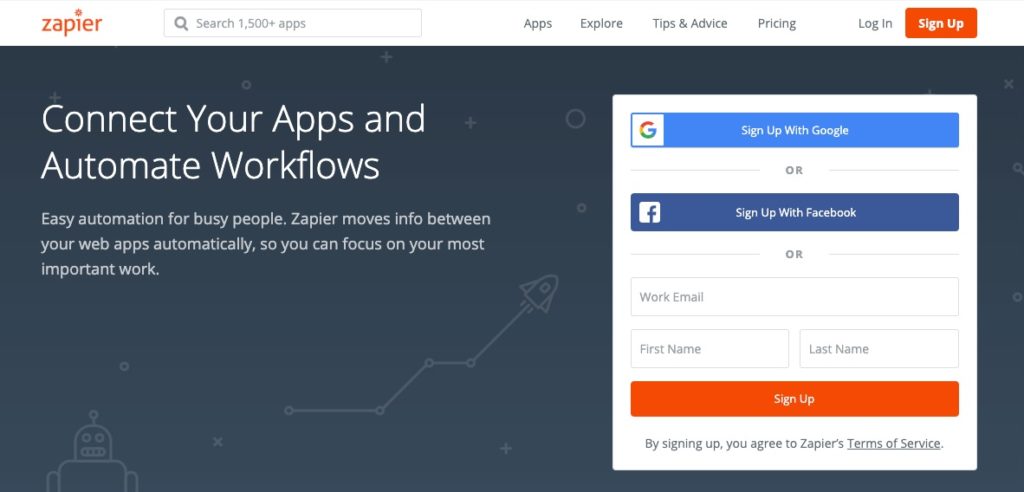 If you haven't heard of Zapier by now you're going to have your mind blown. This automation platform allows you to connect different tools and services without any code or programming. For example, you can create "zaps" to make OptinMonster and ActiveCampaign communicate with each other—i.e. pass data back and forth.
Zapier has revolutionized the way websites and apps integrate. They support thousands, if not millions, of potential integrations with most major platforms. From Google Drive to enterprise software, Zapier usually has a "zap for that."
The best part is that you can automate up to 100 zaps for free, with a Starter account (750 zaps) starting at only $19/month. They also have Professional, Team, and Company accounts which allow you to automate thousands of zaps.
5.  Lead Gen, Live Chat and Customer Support:
Intercom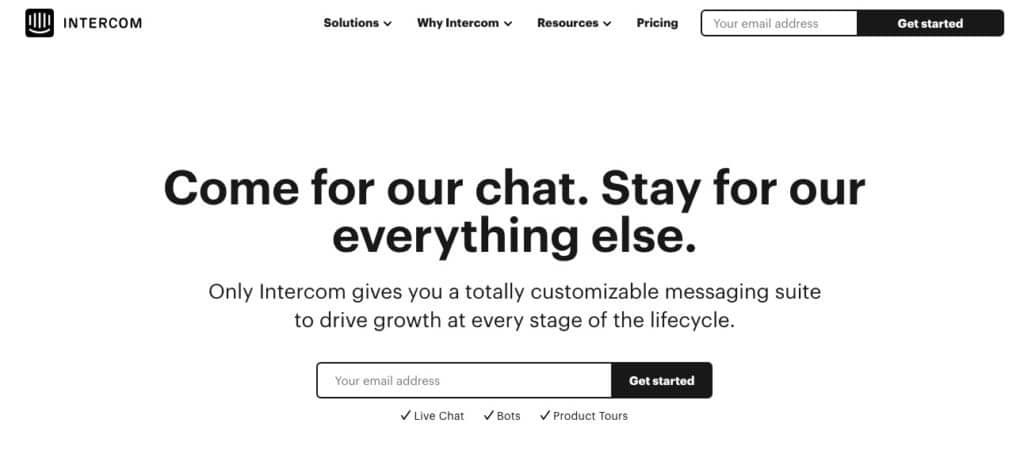 If you're looking for the complete automation package you can't go wrong with Intercom. This tool allows you to cover the entire customer journey, which is essential for membership sites.
Initially known for their live chat, Intercom has grown into a full-fledged automation platform.  Their suite of features gives you a centralized source to attract new leads, engage new customers, and support your existing customers.
The only downside of Intercom is its pricing model. It's certainly on the steeper end in comparison to other platforms, but if your business is at a point where you can leverage their entire stack of features, it's well worth the money.
Conclusion
Making your membership website as effective as possible is critically important for the success of your business—but it can also be both complicated and confusing. That's where we can help. Check this post to learn how to create an effective marketing strategy and don't miss our guide to the best tools to track user engagement.