Choosing the right WordPress plugin is an essential step in creating a fully functional ecommerce website.
However, there are many different plugins on the market with different features and capabilities. Some are designed to add basic checkout functionality, while others will give you robust membership management features.
Deciding on a membership vs shopping cart plugin is a key decision.  This article aims to help you understand their differences and make the right choice for your needs!
But first, why do you need plugins?
Intro to eCommerce plugins
Plugins are extensions you can add to an existing WordPress site. Plugins allow you to extend and expand the functionality of your WordPress site. To get the most out of your membership WordPress site, we recommend, at a minimum, adding these types of plugins – a membership plugin and a shopping cart plugin.
A membership plugin is designed to help you start registering members and give them access to various pages and features on your website. With a membership plugin, you can protect content behind a gateway and reserve it for your members, rather than the general public. Also, you'll have the ability to sell digital content, offer courses, build community and more.
You should choose a membership plugin if:
You plan to sell mostly digital products and content
You are focused on a recurring revenue model (i.e. monthly/annual subscriptions)
You want to build a highly engaged community
On its own, a WordPress site cannot sell items online. That's where shopping cart plugins come in! Shopping cart plugins can add this functionality to your website. With a shopping cart plugin, you can start selling multiple products and services on your website. They make it easier to process payments, shipping rates, and taxes.
You should choose a shopping cart plugin if:
You plan to sell mostly physical products
You are focused on a single checkout model (i.e. one-time purchases)
You want to manage inventory and optimize SKUs
Now let's discuss each type in further detail.
---
Membership Plugins
What should you look for in a Membership plugin?
There are many membership plugins to choose from. A quick internet search will return plenty of plugins great for building a membership website. To help you narrow down the options and find the best fit for your membership business, there are three key areas to consider: features, ease of use, and costs.
Let's discuss each of these areas.
1. Features
You need to decide what type of features you want for your membership website. Some things to consider:
How many membership tiers do you need?
Will you offer a trial period?
What payment provider do you want to use?
What email provider do you want to use?
Will your content be made available all at once, or will you drip content over time?
Do you want to integrate a social forum or other community-building tools?
2. Ease of use
Do you need a plugin that is quick and easy to setup? Do you consider yourself non-techy? That's okay. There are user-friendly options available.
Also, take into consideration if a plugin provides access to online documentation or support via phone or live chat if you need help.
3. Cost
It's always smart to factor in your budget and how much you are willing to spend. When determining your plugin budget, remember to add your total cost to include extension costs, support costs, and other fees.
Let's take a look at our top WordPress membership plugins.
MemberMouse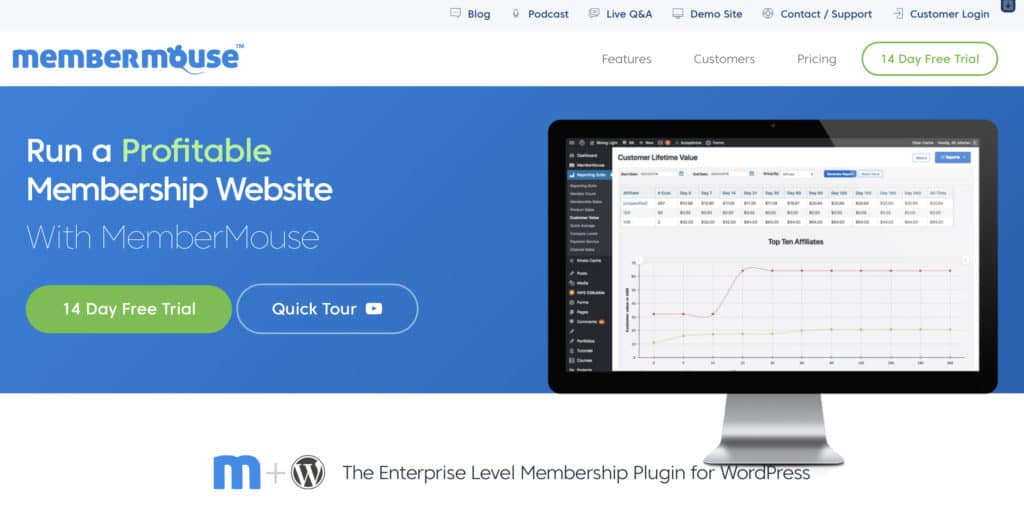 MemberMouse comes with many great features and it's user friendly. It lets you sell memberships and products. You can also set up a member's only area that's gated. Different levels of membership can be created, as well as free trails. MemberMouse makes it easy to sell any kind of product on your site, from memberships to physical goods. It also has amazing CRM tools to track member activity and transaction history.
Restrict Content Pro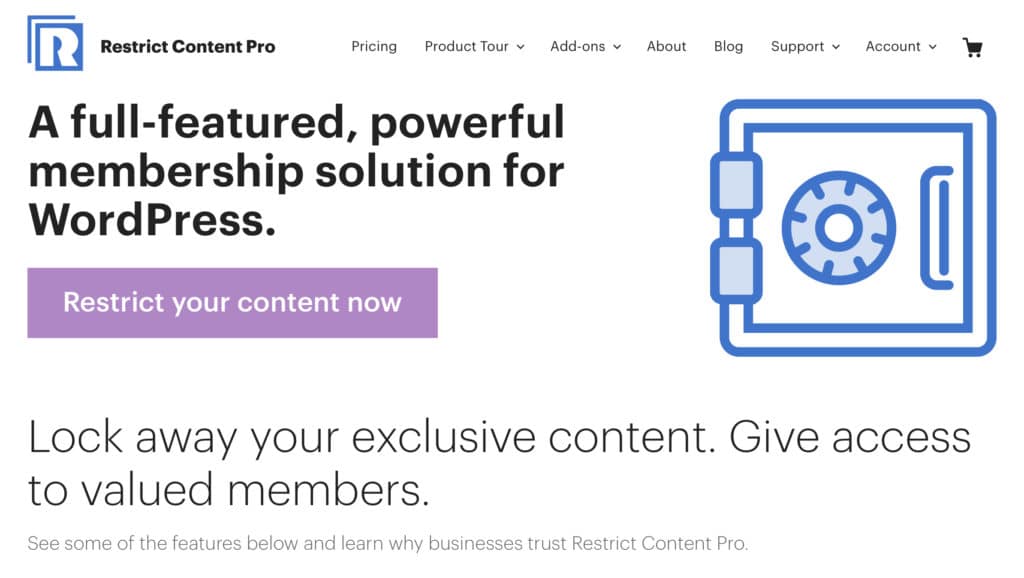 Restrict Content Pro is powerful and easy to use. It allows you to lock your exclusive content and give access to valued members only. Restrict Content Pro allows you to create an unlimited number of subscription packages, including free, trial, and premium subscriptions.
Paid Memberships Pro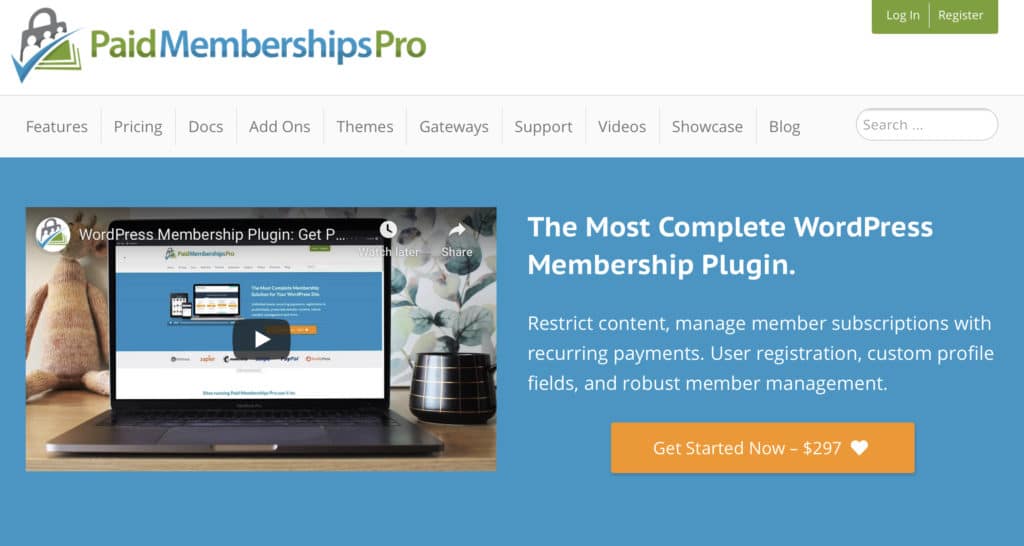 Paid Memberships Pro restricts content and manages member subscriptions with recurring payments. You can also offer a robust member management with user registration and custom profile fields.
We recommend MemberMouse's membership plugin
MemberMouse powers all of our membership sites. It's an excellent option for those looking for a complete membership tool (out-of-the-box) that has added features not found in other plugins.
MemberMouse is a WordPress membership plugin that's user friendly. You don't have to be a tech wiz to use it. With MemberMouse, you can create membership levels and also create trial offers and coupons. Added bonus, MemberMouse integrates with most payment and email marketing providers.
Pricing starts at $33.17/month for up to 5,000 members.
---
Shopping Cart Plugins
What should you look for in a Shopping Cart plugin?
As with membership plugins, you also have many shopping cart plugins to choose from. To help you narrow down the options you need to determine if you will be selling just digital products or shipping physical products.
Membership businesses that need to ship merchandise and other physical products will have a certain set of shopping cart plugin needs. Likewise, membership businesses that only offer digital products like eBooks, apps, or video and audio files have a different set of needs.
Let's take a look at our top WordPress shopping cart plugins.
WooCommerce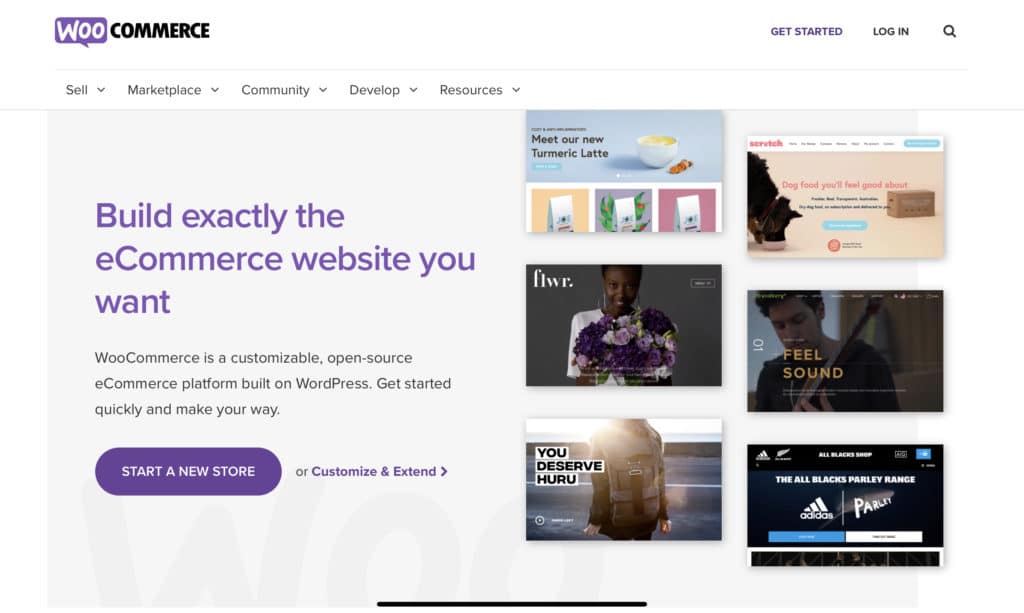 WooCommerce is a customizable, open-source eCommerce plugin that can be used on any WordPress site. You can get secure payments and configurable shipping options. WooCommerce also has an active online community with a wealth of resources.
BigCommerce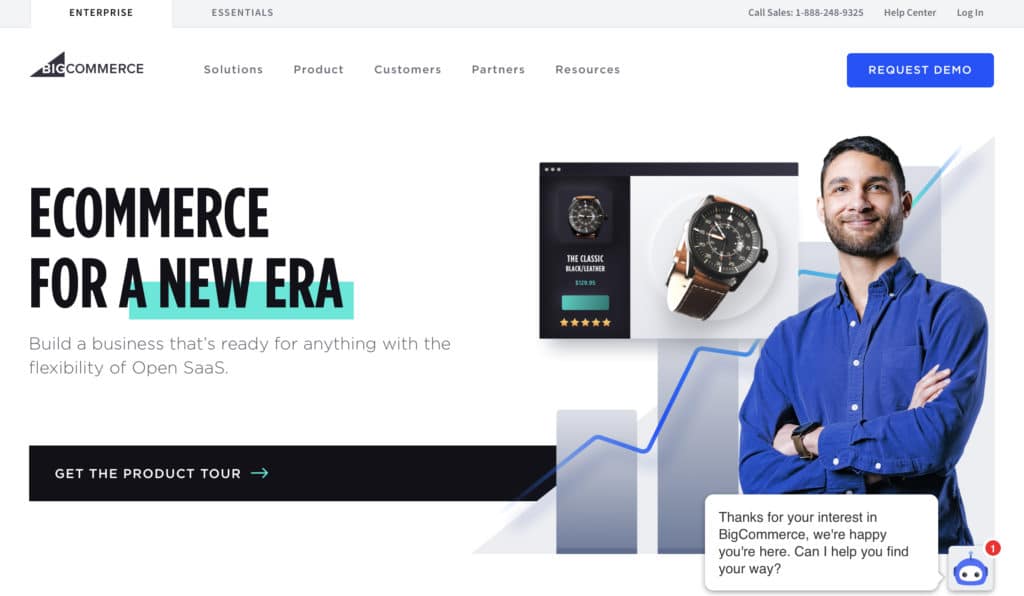 BigCommerce allows you to create a powerful online store with ease. It is an all-in-one solution that can provide you with everything you will need to create and run an online store, including hosting, design, content, payment solutions, and marketing tools.
WP EasyCart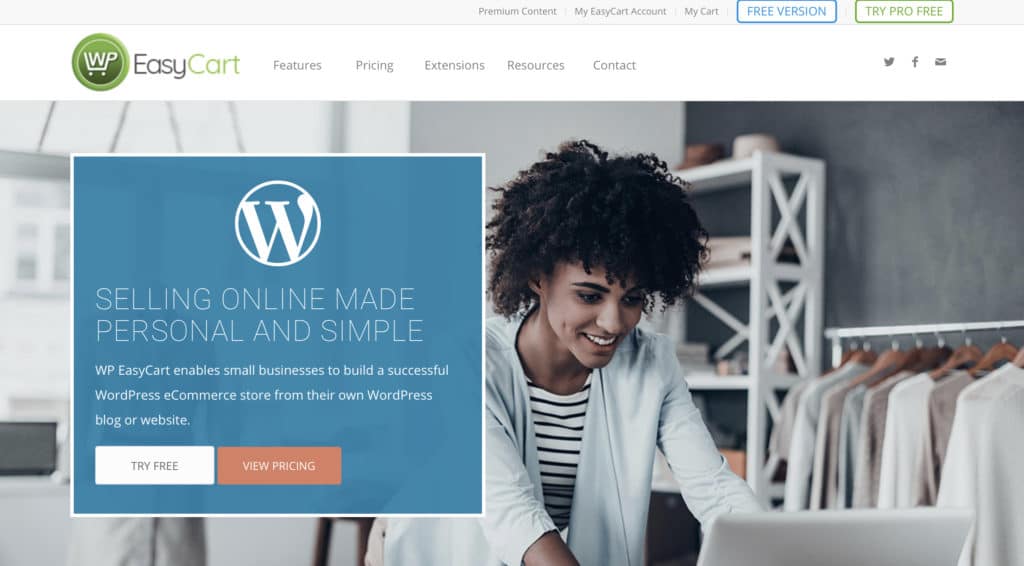 WP EasyCart let's you sell retail goods, downloads, memberships, subscriptions, gift cards, and services. Also, WP EasyCart offers a leading edge administrative console and provides personalized support.
We recommend WooCommerce's shopping cart plugin
WooCommerce is great for selling ALL kinds of products – physical, digital or memberships. This plugin can be installed in any online store that sells digital or physical goods and services. Plus, it integrates well with other plugins like MemberMouse.
WooCommerce offers secure payment gateways that will let your customers pay with credit cards or other popular methods. It also calculates taxes and shipping. With a lot more powerful features, out of the box for FREE!
Also, it's worth mentioning that WooCommerce provides customer support, including documentation, a help desk, and community forums.
---
Final Thoughts
The best plugins for your membership business will depend on your specific business needs. Great plugins will go a long way toward creating a sustainable membership website without having to spend a considerable amount of time and effort.
MemberMouse and WooCommerce are plugins that we use and recommend. They are user-friendly and are robust in features. With these tools you'll have the ability to build and manage your memberships, and grow an e-commerce business.
Are you ready to jump in and build your membership website? If so, read our quick guide to create your first membership website.