Content is a highly effective marketing tool when used correctly.
Last year alone, over 70% of marketers said they were putting more time and energy into creating high-quality content, and 75% admitted to investing more of their marketing budget into content marketing.
There's a pretty good reason for using it, too, as content can generate 9x more leads on average compared to other forms of advertising.
Content can be especially effective for membership or subscription businesses since most have a built-in audience that already has a "buy-in" to the brand. They know you exist, they trust you, and they want to engage with you.
Making sure you're producing engaging content over the long-haul is easier said than done.
Grab Our Free Download
Content Marketing Kickstart Guide for Membership Sites
What Types of Content Will Engage Members?
You need to be producing content you know your members will love. But what does that mean, exactly?
For one, content needs to be relevant.
Some membership and subscription sites revolve entirely around content curation. Lynda.com's membership model, for example, is completely content based (with educational videos).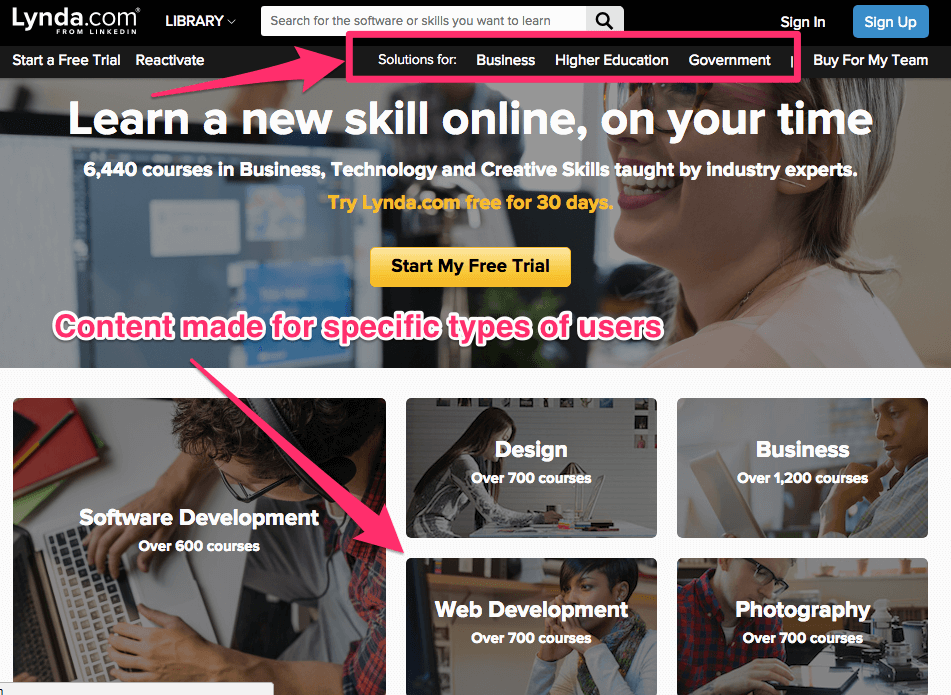 If you sign up for a Lynda.com membership, you expect to get content that helps you grow in a certain area — developers can learn code, web designers can learn Photoshop, and so on.
That can be easier to do when your entire site revolves around member-specific content.
Membership businesses that don't revolve around content, on the other hand — like SaaS companies or an ecommerce site with a subscription service — should still focus on relevant content that educates and engages members.
What makes it relevant? It has to answer questions and resolve problems.
As long as it's practically helping your members in some way, it should succeed.
The other thing to consider when creating content is the buyer's journey, or where members might fall in the sales funnel (remember, it's a marketing tool).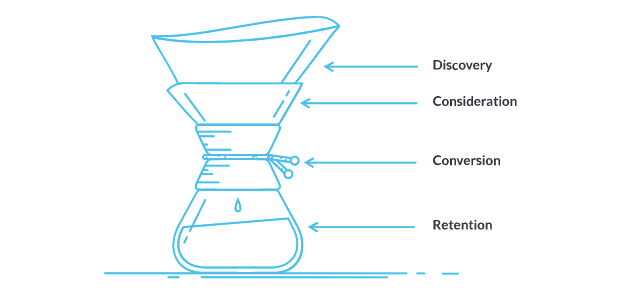 The type of content you create will be impacted by the relationship between your members and your business.
Are they top-of-the-funnel prospective members who want to learn more about your product or industry? They might be more interested in blogs or testimonials rather than a 20-page case study.
But a long case study might appeal to someone at the bottom of the funnel that wants to know about the new and innovative ways you're still improving your product.
So there are no hard and fast rules for "best content."
It all comes down to what members want and where they are in the funnel.
With that in mind, here are 7 types of content that members will find the most engaging, no matter where they are in relation to your business.
---
1. "How-To" Blog Posts
Blog posts are incredibly effective as a marketing tool for a couple of reasons.
First, in terms of time and cost, blogs don't take as long to create compared to other types of advertising, like Pay-Per-Click (PPC) ads.
A single PPC ad campaign, for example, can take around 15+ hours to set up, while the average blog post takes an average of 2 hours to write, depending on the length.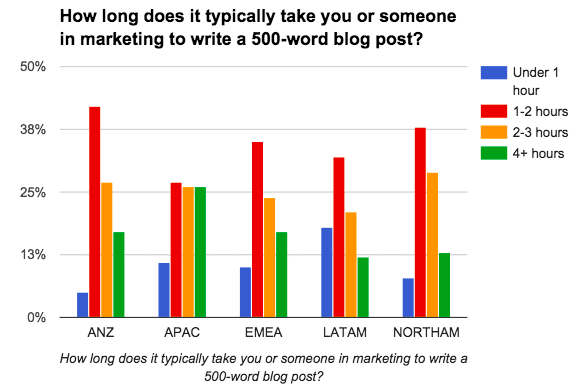 Second, blogs are great for both brand awareness and SEO.
According to HubSpot, 53% of marketers say that they prioritize blogging for its effectiveness as an SEO booster and that 10% of blog posts can generate 38% of a site's overall traffic (the more blog posts, the more site traffic).
The nice thing about blogs is that they can peak interest for both top and middle-of-the-funnel members, while still engaging long-time members.
Audience engagement just depends on the types of blogs you're creating.
Enter: How-to posts.
How-to posts are designed to help people in highly practical ways, making them perfect for building trust and loyalty.
Freshbooks, for instance, has content on their blog geared toward specific types businesses owners, from large corporations to freelancers.
If you look at their blog you'll notice that they feature a lot of how-to posts as featured content.
Here's an example: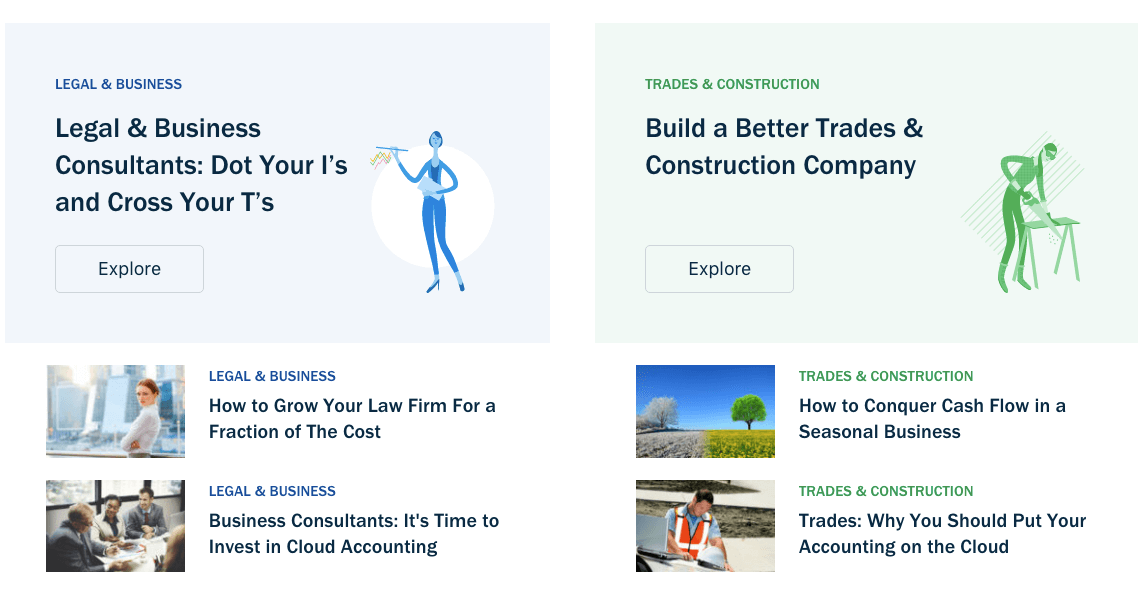 How-to posts like this work because they add real, measurable value to the reader, and often provide step-by-step instructions for accomplishing a specific goal.
Research shows that 94% of people who share posts do so because they think it might be helpful to others, which demonstrates the importance of creating blog content that is actually useful to your members.
If you're not sure where to start when it comes to creating engaging content, start with a how-to post (or several).
---
2. Email Newsletters
We've written before about the benefits of email marketing.
Email subscribers are three times more likely to engage with and share content than non-subscribers, which makes it one of the best tools for sustainable growth and retention.
One type of email that's especially effective for membership businesses is the email newsletter.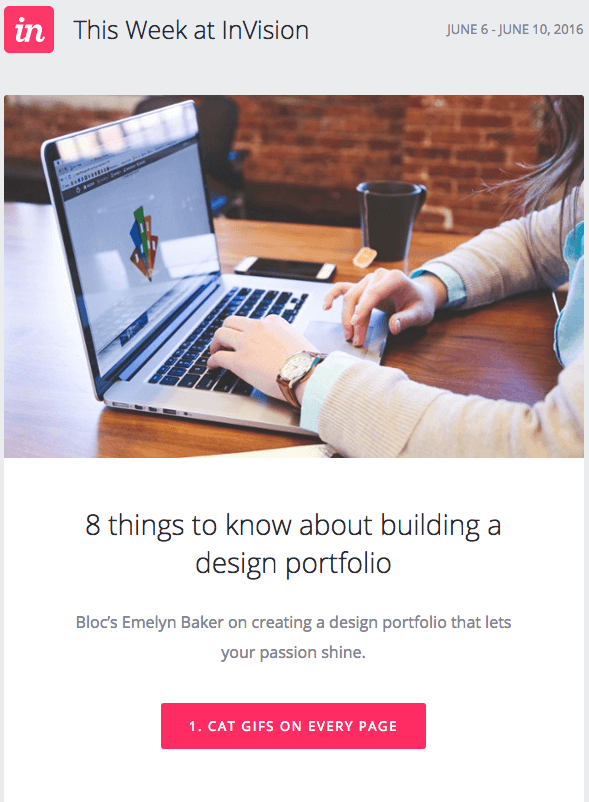 While email newsletters saw a dip in popularity a few years ago, many marketers have been praising the "rise of the email newsletter" over the last year or so.
This rise in popularity is likely due to the increase in subscription-based businesses and the addition of automation, which allows for better segmentation and personalization of curated content.
Email newsletters are different than regular marketing emails.
Instead of being "salesy," they primarily include a roundup of content that lets readers browse at their leisure.
Here's an example of an email newsletter that Vox sends to their members: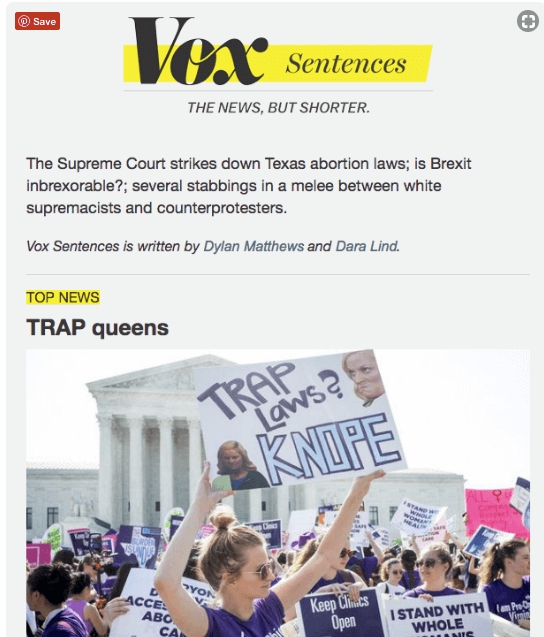 There's no "hard sell" necessary with a newsletter like this, so readers feel less pressure to "buy in" to something once they open it.
They simply read the content they want, ignore the content they don't want.
It's a perfectly tailored experience.
It's a near-perfect solution for engaging your audience with helpful content in a way that doesn't feel invasive or boring (as long as you don't make it boring, that is).
If you want to learn how to create engaging email newsletters, check out SendGrid's recent 4-part series on the subject.
---
3. Video, Webinar or Podcast Transcripts
Multimedia content like videos, webinars, and podcasts can be powerful tools for attracting and retaining members.
Just look at the stats.
96% of B2B organizations use multimedia in their marketing campaigns.

Over 500 million hours of videos are watched on YouTube every single day, and it's predicted that by next year, video traffic will account for 80% of all Internet traffic.

Podcasts are one of the top content formats among 18-34 year-olds.
Here's the caveat: Not everyone has the ability to watch videos, sit through webinars or take time out of their day to listen to a 2+ hour podcast (the average podcast length).
While multimedia is popular, it's not always practical.
One way around this issue is by adding transcripts to your multimedia content.
Moz does this for their Whiteboard Friday videos and podcasts: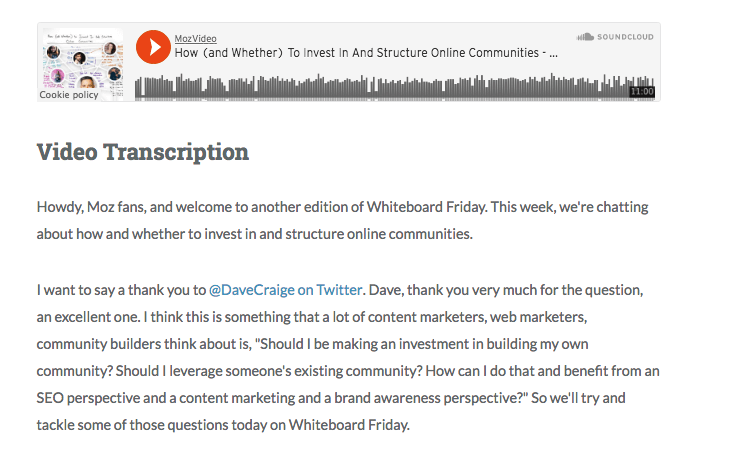 If you have longer videos in which many words are spoken, like webinar recordings, transcripts offer a lot of the same benefits as long-form blog posts.
They're also easier to engage with for those who have hearing impairments, making them a more inclusive format than just using video or podcasts alone.
Transcripts also add a big boost to your SEO.
Pages with over 2,000 words are more likely to show up in the first 10 search results on Google.
When you add transcripts or recaps of your video or podcast online, you increase its chances of appearing in an online search.
So while multimedia content is great, having text alongside your content is even better for engagement.
---
4. Members-Only (Gated) Content
"Gated content" — content that can be accessed only after you've given your email or signed up for a membership — can be an excellent way to generate leads.
You'll most often see this is the form of lead magnets or downloadable content.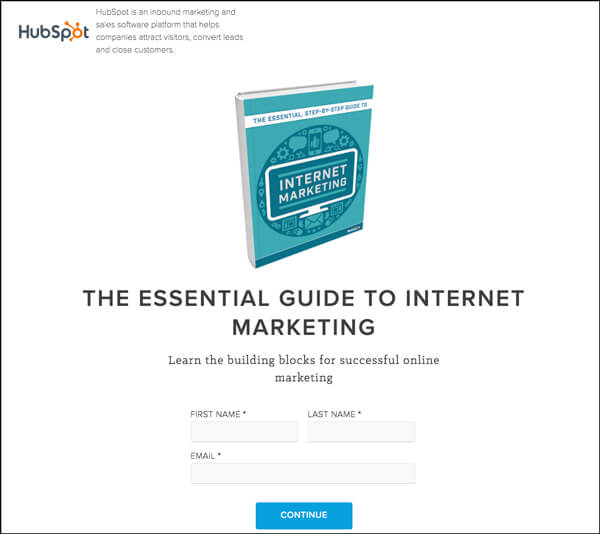 But for those who are already "in" (members who are already subscribed to your email list or have an account), this type of content can actually be used for a different purpose.
Downloadable content can be used as a thank-you for member loyalty.
If you're a member of Statista, for example, you get access to specialized research reports not available to non-members.

HubSpot members get access to their annual conference ("INBOUND") materials, like videos and other downloadables.
There are plenty of options when it comes to creating "members-only" content.
It could be something like a free monthly webinar, a specialized sales or marketing report, an online training course, or access to resources and post archives not available to site visitors.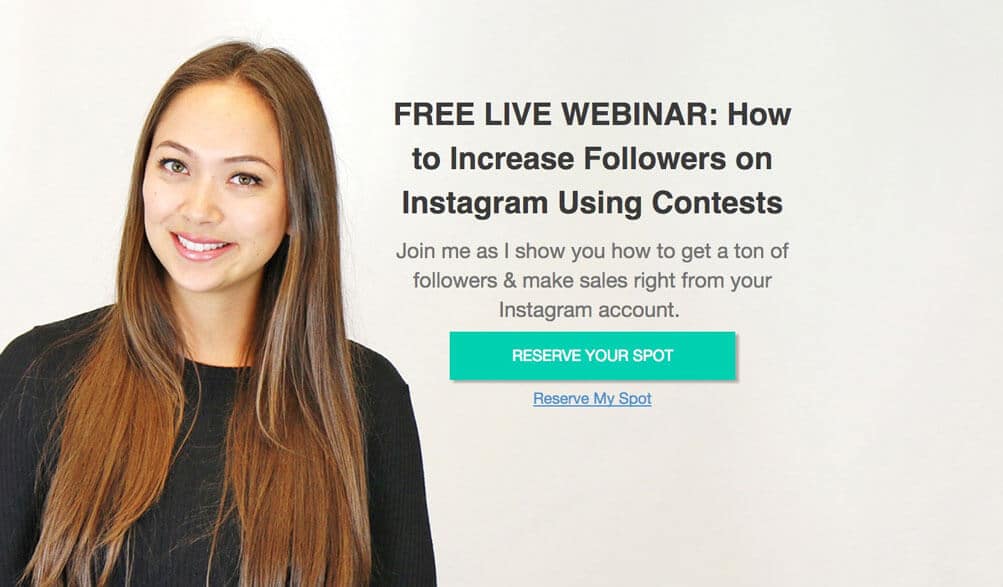 The goal is to incentivize members with something that's "just for them."
If they can see that there's added benefit to staying a member of your business (in addition to your amazing product or services, of course), it can increase their longevity with you.
And we all know that member retention is huge.
---
5. Case Studies
If you did nothing else on this list, you should still create case studies.
Why?
Case studies show your members why your business is worth it.
It's not just about telling members why they should stick around or why your product or service is so great.
Case studies give them real, tangible proof that what you're doing for them matters.
And they can be relatively easy to create compared to other types of content.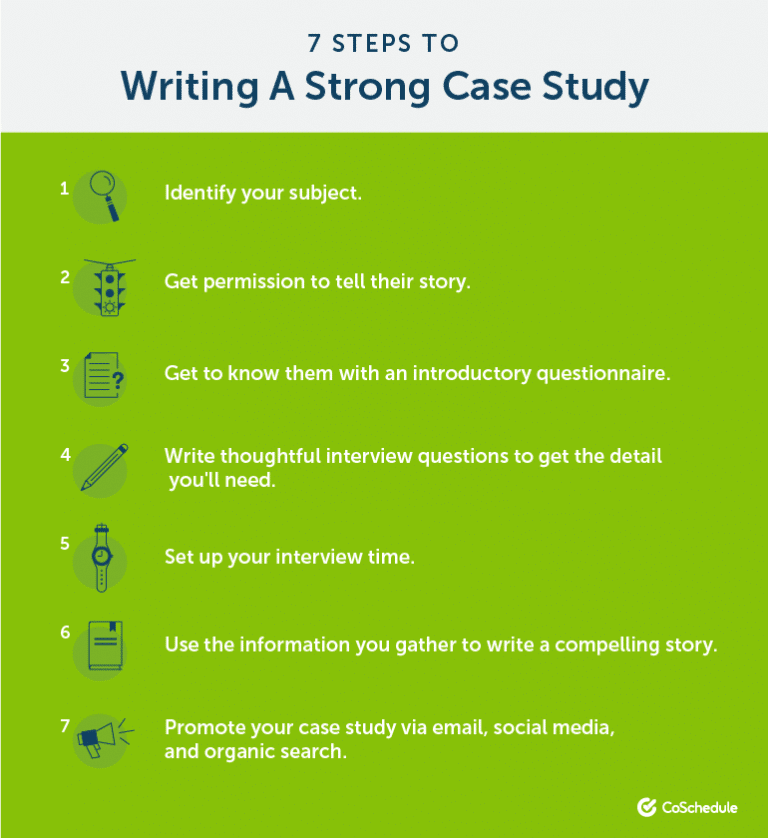 They also have a few added benefits that make them enticing for members:
They're niche specific (they relate to a very specific problem or goal that a member already has)
They position your business as an authority (they show that being a member or subscriber is actually worthwhile)
They explain exactly how a problem was solved (this builds confidence and trust)
They offer social proof (people are more willing to trust success stories than marketing materials)
They lead to more content (you can easily turn a case study into a blog post, ebook or webinar)
In terms of content that members want to read, they're massively persuasive.
If you've never created a case study before, you want to brush up on the process since it's often a little different than creating a standard blog post or email.
Make a list of all the questions your prospects are asking and see if there is content there that members might be interested in, and go from there.
Just remember to showcase how you solve real problems.
Members will know if you're all show and no substance.
---
Final Thoughts
When it comes to making members happy, the type of content you create does matter.
Focus on content that is relevant to their needs and meets them wherever they are at in the buyer's journey.
This might mean creating some how-to blog posts that tell them how to resolve a common problem with their business, or it might mean a case study that shows them how you've already done it.
It could also mean creating content that keeps them engaged in other ways, like using video transcripts or email newsletters.
The bottom line is this: Members don't want to be "sold" to; they want practical, helpful information.
If you can give them that, you've succeeded.
Grab Our Free Download
Content Marketing Kickstart Guide for Membership Sites