Successfully marketing your membership business requires 1,000 smart decisions every day.  You not only need to find smart ways to generate new, quality leads, you also you need to effectively nurture those leads through the entire buyer's journey, and to retain the new customers you acquire. It's no small feat.
One of the most effective ways to meet those challenges is through email marketing. If you've done any research on growing your membership business, you probably understand the importance of email marketing. On average, email marketing delivers an impressive 4,300% return on investment (ROI).  That means for every dollar you spend, your business makes $43. Impressive potential, to be sure.
But knowing that email marketing could net you better ROI is only half the battle. The other half is sitting down and creating an effective email marketing strategy, and a major part of that process includes researching email automation tools.
After all, more than 68% of marketers say email automation substantially improves message targeting. What's more:
45% of marketers say automation enhances the customer experience
35% of marketers say email automation generates more leads
38% of marketers say automation improves the quality of generated leads
The bottom line is that email marketing remains one of the best and most cost-effective ways to acquire and retain new members for your business. But with so many options on the market, which one is right for you?
Let's look at some of the best email marketing tools for membership and subscription businesses.
What is the Best Automated Email Marketing Tool for Your Membership Business?
It's important to remember that your membership or subscription business is unique, and some email marketing tools are decidedly more effective than others for the lion's share, including some on this list. However, the following tools have track records of positive customer reviews and support, as well as a history of delivering ROI.
---
1.  Best of Email Marketing Automation for Small Business: Mailchimp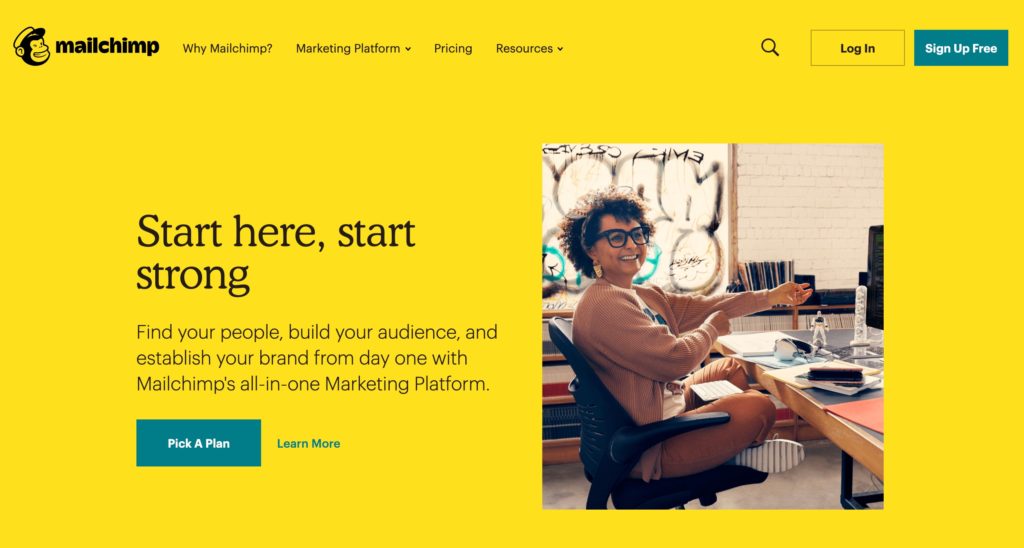 Simply put, Mailchimp is one of the top automated email marketing services, especially for small membership businesses and startups.
Mailchimp is beloved for being a low cost, versatile, and highly flexible option. They provide a wealth of customized templates and powerful event management and social media tools. Need to set up a simple welcome message or create an elaborate marketing campaign for a new SaaS feature rollout? You can do both for next to nothing.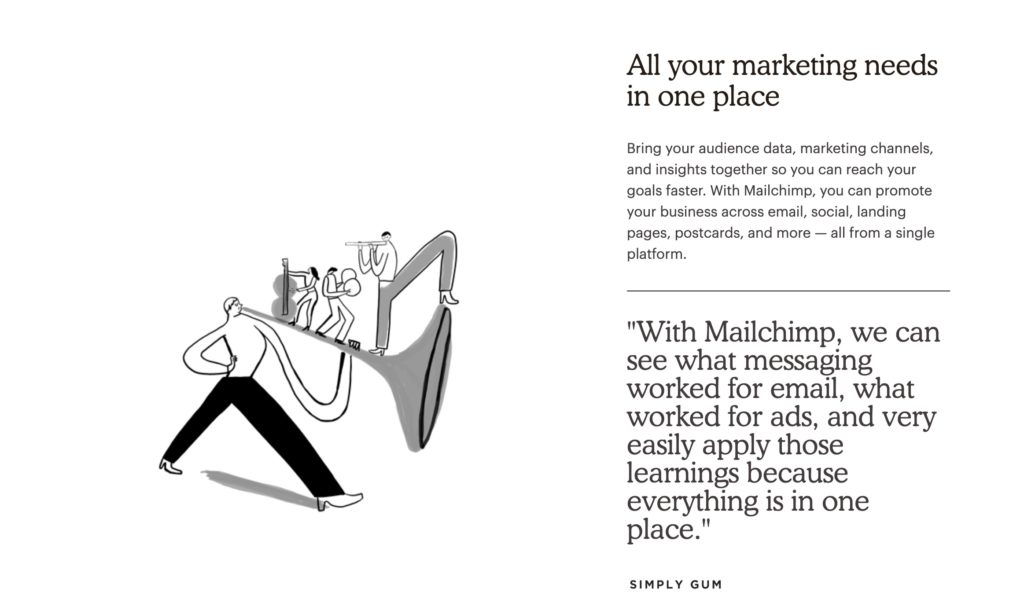 Mailchimp is also extremely easy to integrate any third-party apps through Zapier (another free/inexpensive service for creating new automations).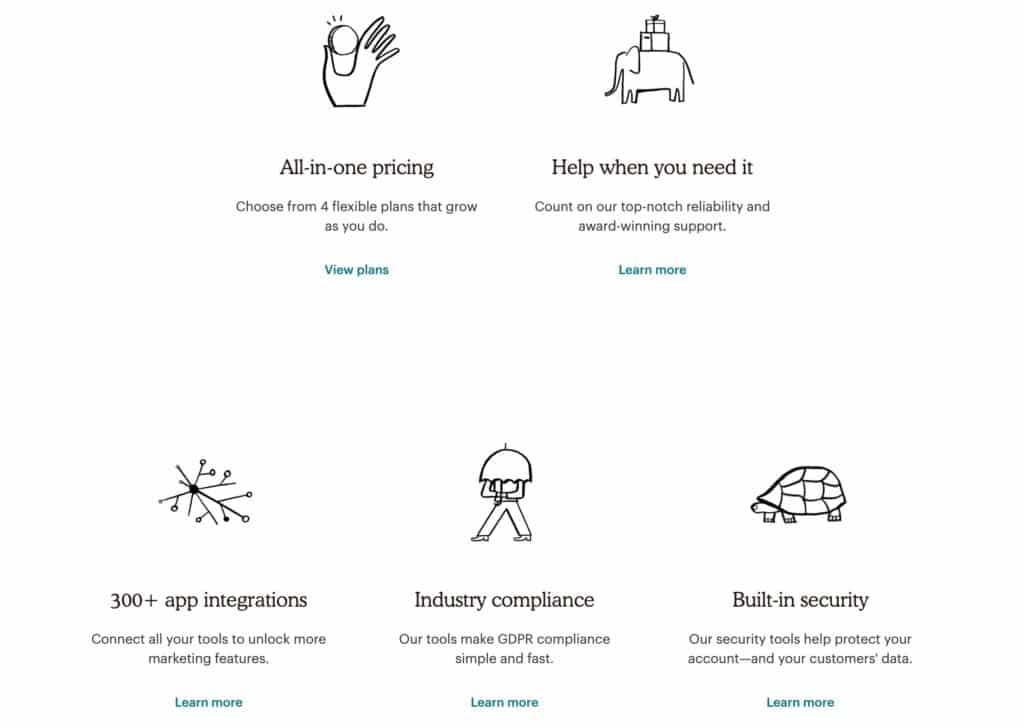 What's more, you will get both outstanding customer service (including live chat and phone support) and a powerful analytics platform to enable continual improvement.
The monthly cost varies based on your number of email subscribers—up to 500 subscribers will run you just $20 a month.  If you have 10,000 subscribers, it's $95 a month, and there are several cost levels in between.  You can even start with a 60-day free trial (for which they won't request credit card information).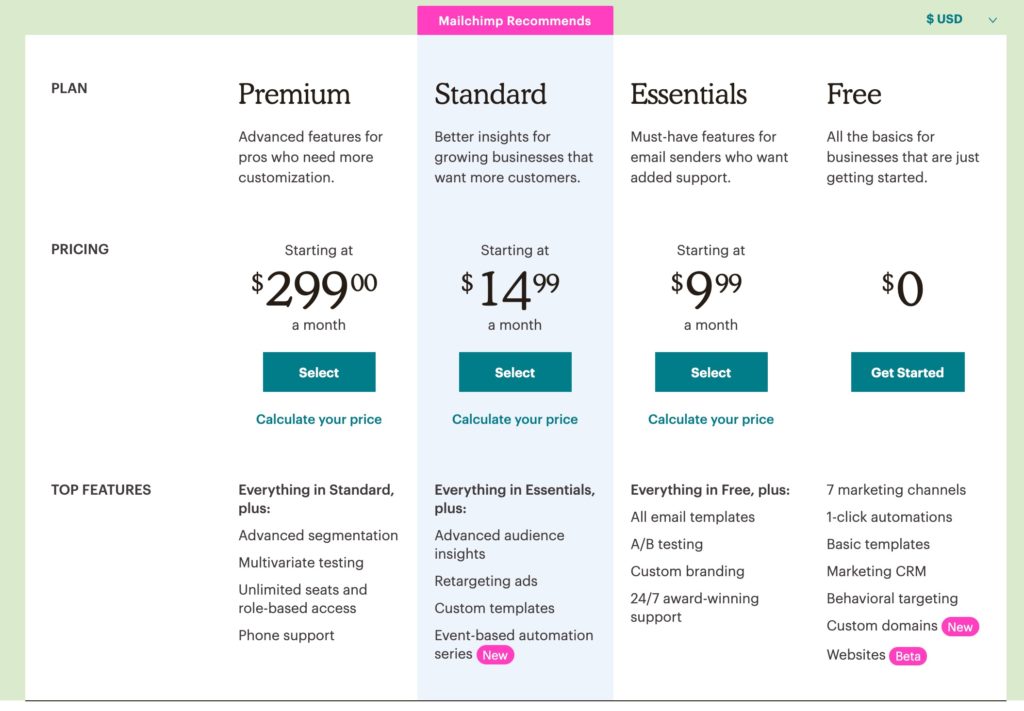 ---
2.  Best of Email Automation with Conversion Optimization:  Get Response
If your membership business is looking for an effective email marketing platform that also helps you convert email subscribers when they arrive on your website, you might want to check out Get Response.
In addition to giving you many of the features offered by Mailchimp, Get Response will help you create customized landing pages and even design compelling webinars to educate prospects about your business and build trust and loyalty.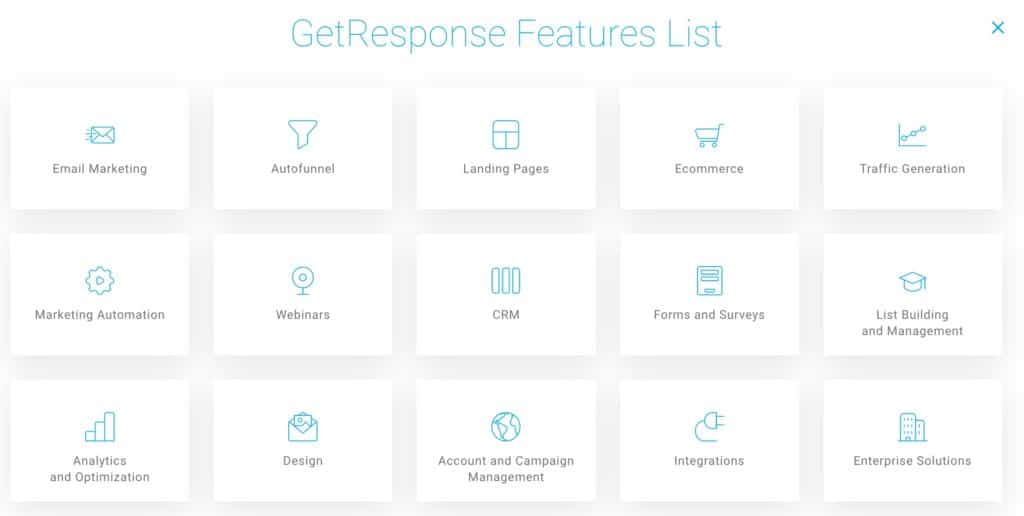 That's not to take away from its email marketing capabilities.  You'll have access to subscriber segmentation, A/B testing and autoresponders, not to mention a comprehensive library of helpful guides, but it's a great option for businesses that are looking for the "next step" beyond email and want to focus on conversions and traffic.
The good news is that Get Response is also cost-effective for small businesses, although plan prices jump up after the basic plan. Basic tier pricing runs from $15 a month for 1,000 subscribers, then leaps to $65 a month for 10,000 subscribers.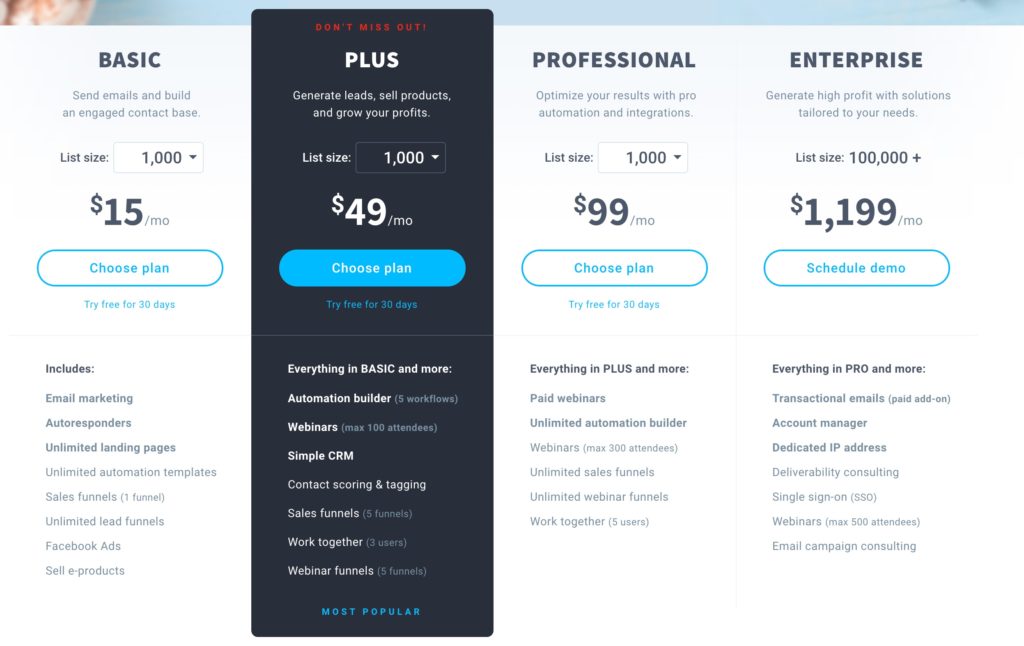 ---
3.  Best of Comprehensive Email Marketing Solutions and SaaS:  Active Campaign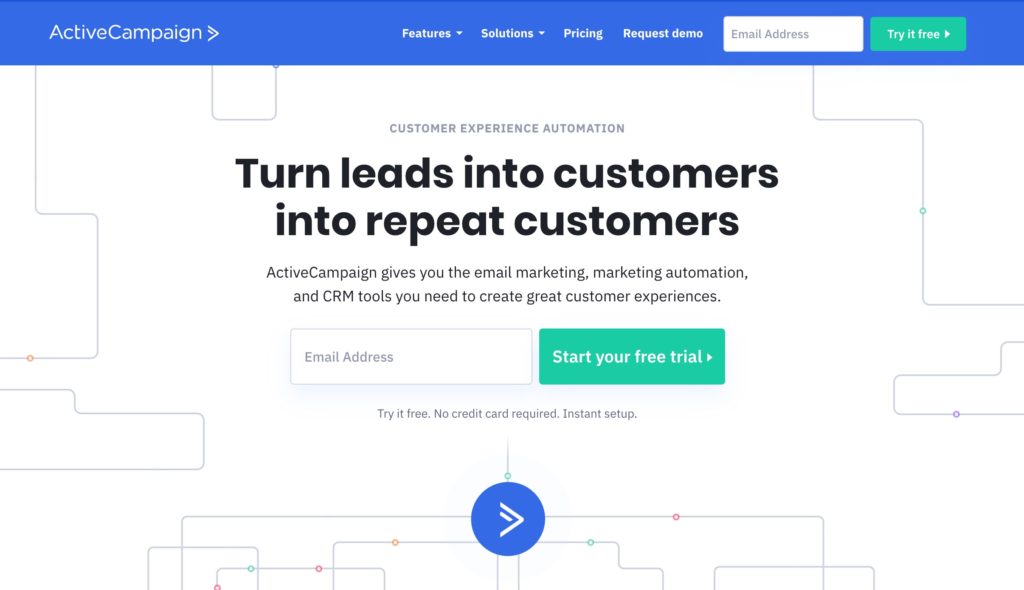 Active Campaign's brand promise to "put the right emails in front of the right people" is more heft than hype.  And that's only part of what this comprehensive marketing solution can do for your membership business.
This nimble platform will let you send emails for a variety of email campaigns and marketing purposes, from broadcast emails to triggered emails to targeted, autoresponder and scheduled emails, all personalized to enable a more robust customer interaction.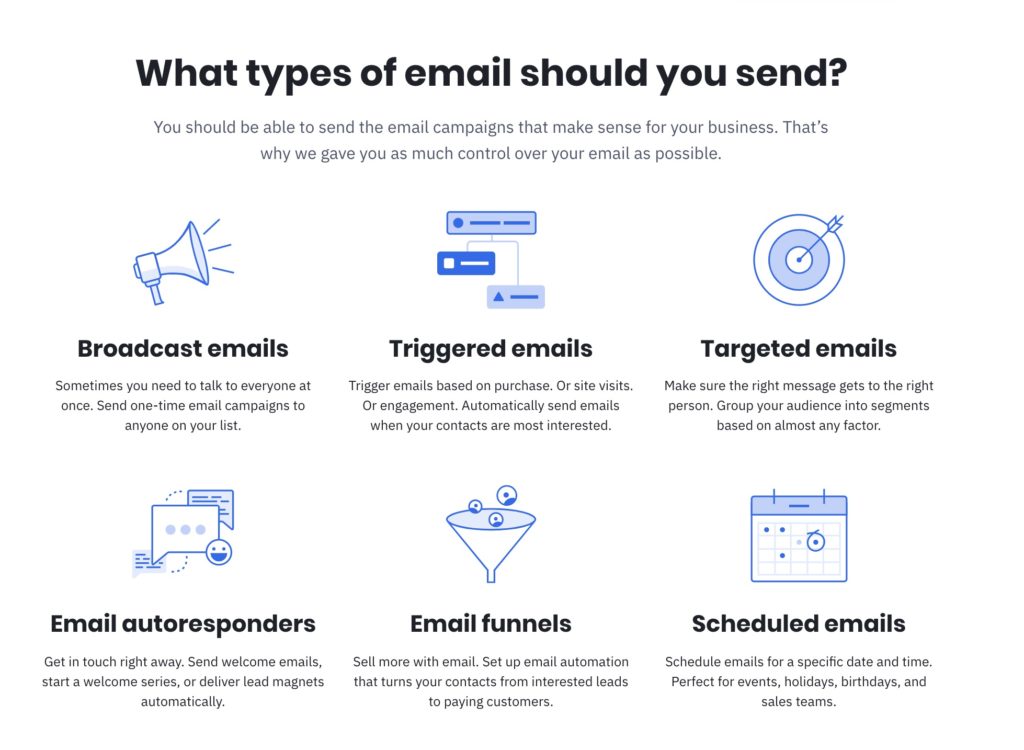 Active Campaign will also help you create powerful newsletters to inform your subscribers, disseminate information about your business in an attractive format and build trust.  It's also user-friendly and has among the most attractive (and customized) templates on the market, especially for SaaS. In fact, they have special onboarding and sales funnel tools geared toward SaaS companies.

Although it's the least cost-effective tool on this list, Active Campaign is one of the most robust and overall helpful tools, particularly for SaaS. Their most popular "Plus" plan is $49 a month and includes unlimited sending, CRM with sales automation, contact and lead scoring, one-on-one training and custom branding.  You can also opt for their "Lite" plan at just $9 a month, or upgrade to the Professional or Enterprise Plans, at $129 and $229 a month, respectively.
---
Final Thoughts
Each of these email marketing tools will help your membership business get and keep new customers, and each can be part of a comprehensive marketing solution to take that business to the next level.  A key piece of that solution is a membership website that does all the things you need it to do—like grow sales and revenue and drive engagement with powerful reporting and custom analytics.
Get started by checking out our guide to email marketing or learning how to create an effective membership marketing strategy.  To learn more about the ways our powerful membership platform can be a game-changer for your business, contact us today for a free quote.