What are the best WordPress membership plugins for creating and running a membership site?
Whether you're developing your WordPress membership site yourself or you're sourcing it through another developer or agency, it's crucial that you choose the right plugins to give you the best support and functionality.
The good news is that we've put together a quick list of the top three membership plugins we use and recommend, all of which are user-friendly (for the DIYers) and robust in features for maximum usability.
Here are our recommendations for the best WordPress membership plugins.
Grab Our Free Download
The Basic Membership Toolkit for WordPress Users
1. MemberMouse
WordPress is a fairly robust tool all on its own, but most membership sites require functionality and features that don't come out-of-the-box.
You'll need to sell membership and subscriptions, for one, as well as create member sign-in pages and members-only areas, produce various forms of content (that may or may not be member-specific), and in some cases sell products or other services.
Even the most experienced developers might struggle to incorporate these features in WordPress, even if they've been building traditional sites for years. It's a lot to do.
That's where a plugin like MemberMouse comes in.
What is MemberMouse?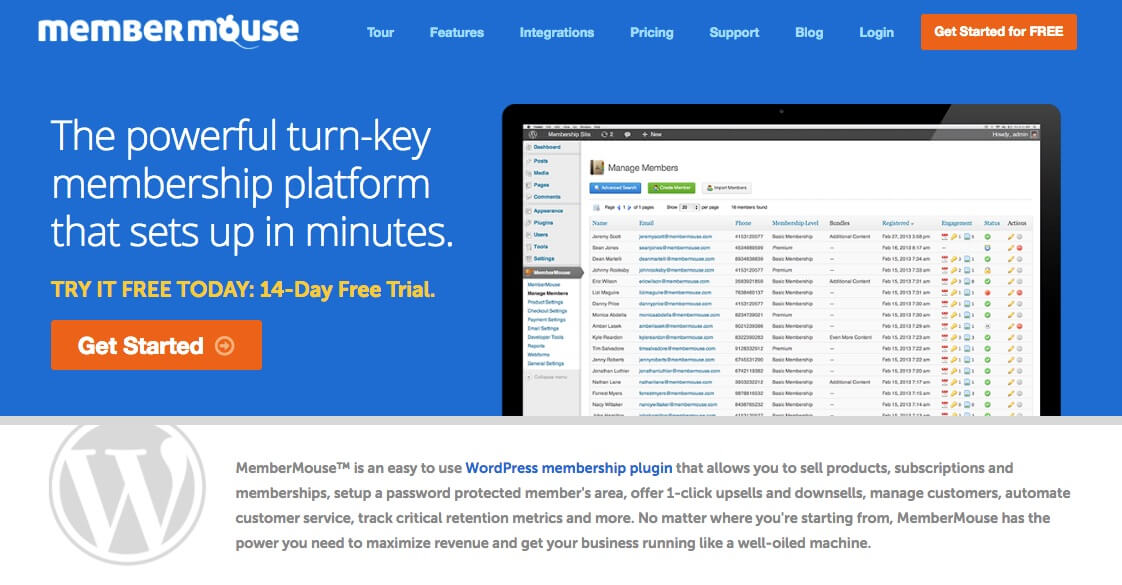 MemberMouse is a complete membership management solution that allows you to sell subscriptions and memberships directly from your site, as well as quickly set up password protected member areas with little programming knowledge.
You can also do things like:
Register both free and paid members with tiered pricing structures
Create and fully customize product checkout pages
Integrate with your billing provider (PayPal, Stripe, Braintree, Clickbank, Authorize.net, etc.)
Enable member self-service (updating profile information, etc.)
Refund and cancel memberships
Generate reports that include engagement statistics and retention rates
Create and schedule member email campaigns (MailChimp, ActiveCampaign, etc.)
MemberMouse turns WordPress into a robust membership platform.
Most Important Features
We recommend MemberMouse because it provides support in four key areas: member management, membership areas, member support, and reporting and analytics.
When you're running a membership business, it's essential to have a handle on all of these areas.
You need to be able to attract and retain members, give them access to the right content, protect their sensitive information (credit cards, billing addresses, etc.), and give them the freedom to manage their own accounts.
If they have questions or run into trouble, you need to be able to respond quickly.
And if you want to grow, you need to know where members are coming from, why they're staying (or leaving), and which content and marketing strategies will grow your membership over time.
If you're not sure how to do that with WordPress (or even if you know your way around), you need a tool like MemberMouse.
Cost and Setup
One of the best things about MemberMouse is their sliding fee scale.
Prices are based on the number of members you have, which is especially great if you're just starting out or you're working hard to increase your membership but you're on a strict budget.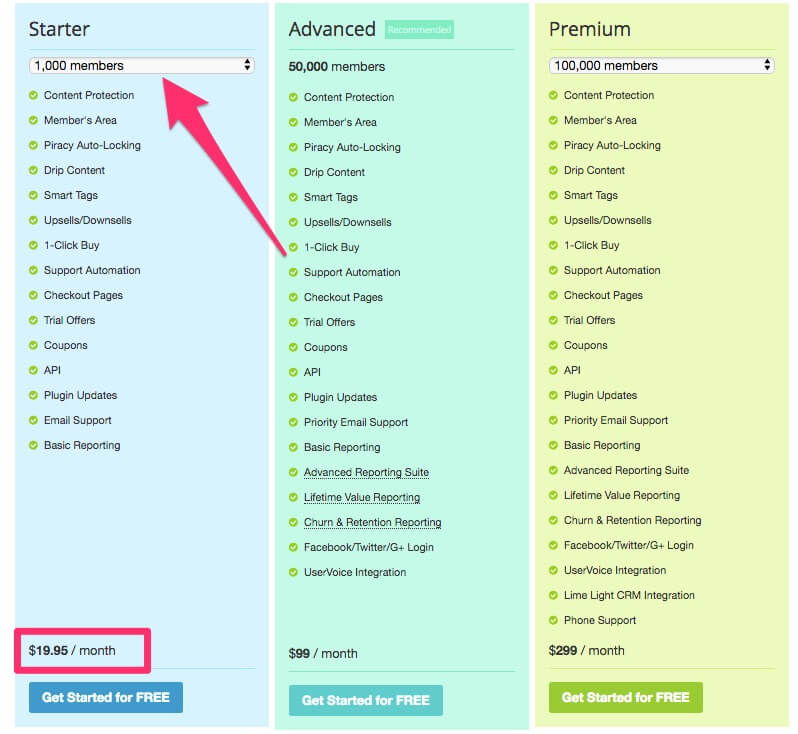 Bottom line: MemberMouse will grow with your business without costing you an arm and a leg.
They also give you a 14-day free trial to test out the features, in case you're not quite convinced.
In terms of setup, MemberMouse is just like any other WordPress plugin. Simply download it from their site and upload it to your WordPress installation, and voila — instant access to their feature-rich platform.
Here's how to install MemberMouse in WordPress.
---
2. Gravity Forms
One thing that your membership site will need that traditional sites don't bother with is custom forms.
Because membership sign-ups are a bit more complex than opting-in to an email newsletter or submitting a contact form (though you might have those on your site, too), you need a flexible form solution.
You might need to manage things like file uploads or user-generated content, PDF creations, payment integrations and much, much more.
For complex form building, we recommend Gravity Forms.
What is Gravity Forms?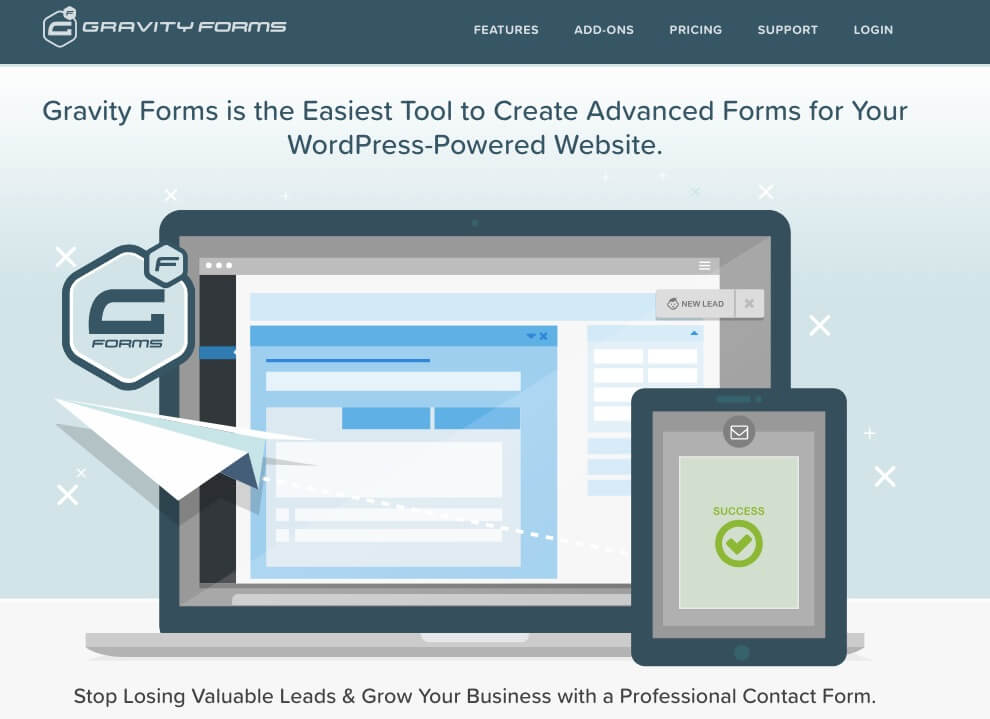 Gravity Forms is a powerful form plugin for WordPress that can be used to create and customize any number of form types.
Some of its best out-of-the-box features include:
Fully customizable drag-and-drop form creation
Email auto-responders for form submissions
File upload fields
Payment integrations (PayPal, Stripe, etc.)
"Save and Continue" features for every form
Calculations and conditional logic
WordPress post creation for user-submitted content
Spam protection
Responsive, mobile-friendly design
Add-ons for email marketing, workflow management, accounting, and more
100+ integrations with other apps using Zapier
Whether you're creating a basic opt-in form or something unique for your membership, Gravity Forms — and its add-ons, extensions and integrations — can handle it.
Most Important Features
One of the biggest reasons we recommend Gravity Forms over other form builders is the almost limitless possibilities for form creation.
If you have a tiered membership, for example, which includes specific benefits for certain member types, then your member sign-ups forms might require conditional logic to ensure that you're giving them the content they need after signing up.
You would need a form that could capture custom fields based on the user registering. Gravity Forms can do that with their user registration add-on.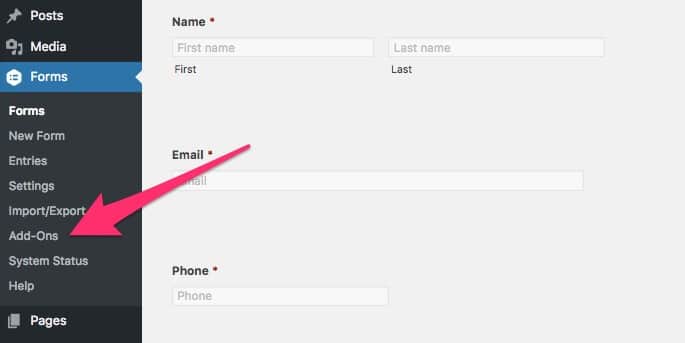 If you want to craft a survey or do something totally unique, you can use Gravity Forms to add hidden fields or create drop down menus based on certain responses (they have some cool examples of this here).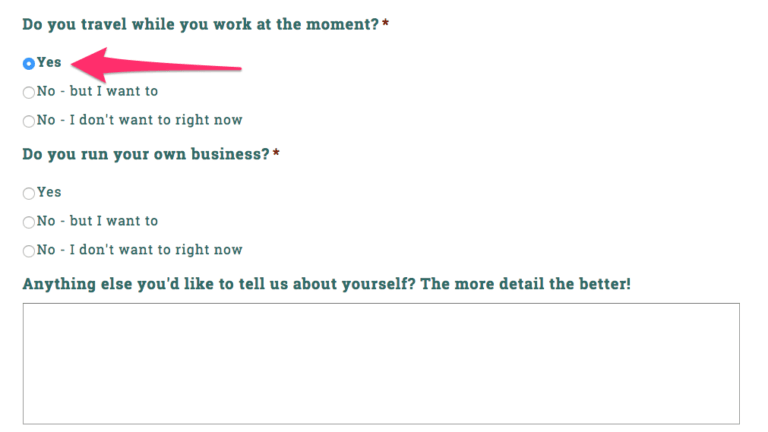 If you need to manage your lead generation process by creating workflows based on specific actions, you can pair Gravity Forms with Gravity Flow to quickly generate workflows in WordPress.
Even if you just want to make it easier for members to fill out surveys or save and update their registration later, Gravity Forms gives you the most flexibility.
Not to mention that all your forms are secure, so when members share sensitive information, you don't have to worry about it getting hacked.
Cost and Setup
For how much you get out of it, Gravity Forms is one of the best deals out there.
Basic access starts at $59/year and includes all of their email marketing add-ons, like ActiveCampaign, MailChimp, and so on, as well as the use of conditional logic, file uploads and more.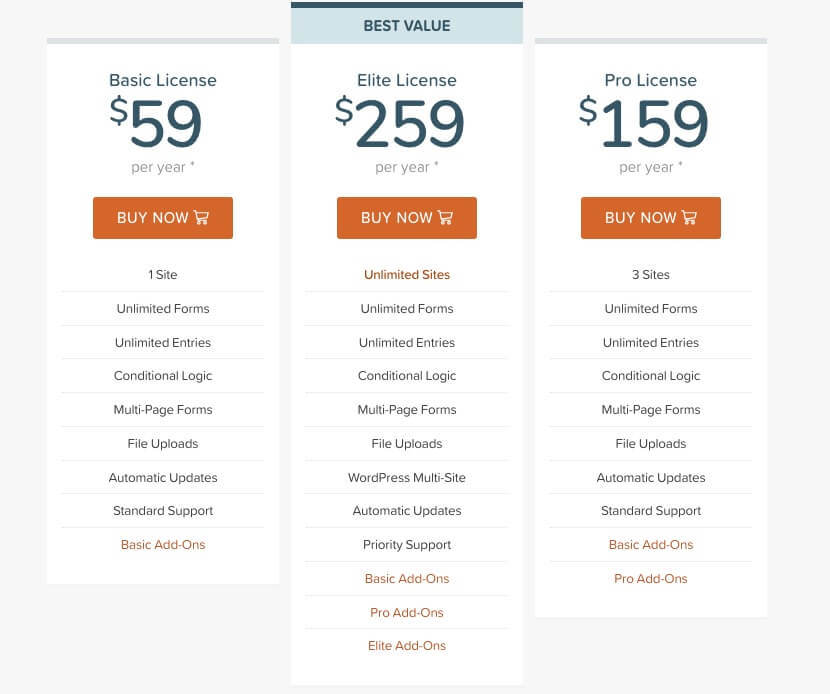 Setup and management of WordPress forms is also pretty easy. Simply install the plugin like you would any other, and all forms are managed under the "Forms" tab in your WordPress admin dashboard.
If you get stuck, Gravity Forms has plenty of documentation and tutorials to help even the most novice WordPress user navigate like a pro (which is another thing we love about it).
Here's how to install Gravity Forms in WordPress.
---
3. Sucuri Security
Membership sites inevitably handle a lot of sensitive data — names, emails, credit card numbers, contact information, billing details, etc. — sometimes for hundreds of thousands of members.
Data trading is a $160 Billion industry.
In other words, your membership website and all its data is a great target for cybercrime. That's a big reason to install security measures on your WordPress website.
What is Sucuri Security?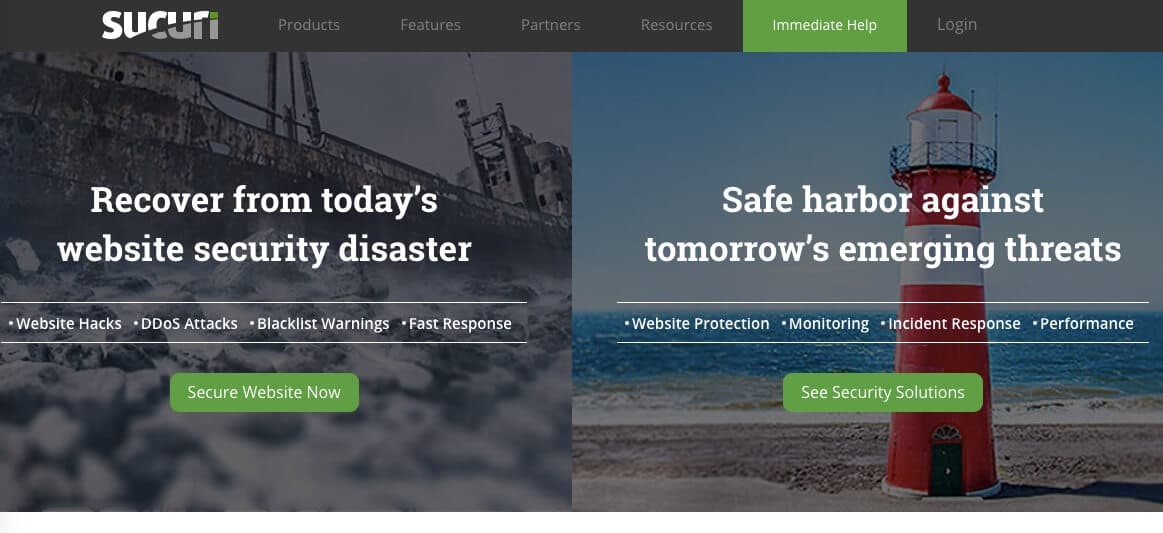 Sucuri Security is a WordPress security platform that provides website monitoring and alerts as well as safety backups and security response.
They offer features such as:
Malware scanning and detection
Unlimited malware removal
Blocking suspicious sites and other malicious traffic sources
Alerts for suspicious activity via email, SMS, Slack and more
DDoS (HTTP flooding) attacks mitigation
Automated login prevention
Site speed and performance monitoring
Disaster recovery plans
Sucuri Security is basically a watchdog in a plugin, and it's particularly important for sites that carry member data.
Most Important Features
While there's always a chance your site could be hit with a DDoS attack or brute force logins from some hacker, you're more likely to experience data loss from things like lags and crashes.
That's why one of the things we love about Sucuri Security is that they offer disaster recovery and prevention measures, like backing up your files to a secure cloud platform.

In most cases, you won't know that your website is under attack or that you've lost data until it's too late.
Sucuri Security will absolutely alert you when things are happening, but even in cases where it's hard to know that things have gone wrong, your data is protected.
Considering that something as simple as an email address is worth money to a potential cybercriminal, it's worth the peace of mind for both you and your members to know that your database is safe.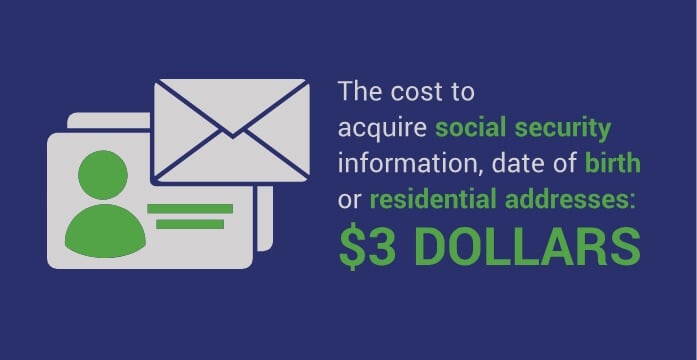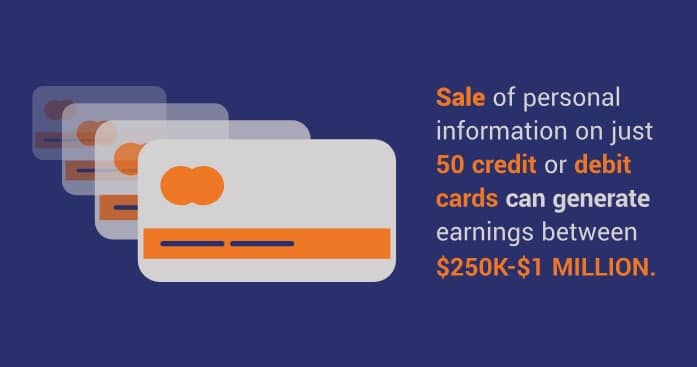 They also have a security guide that will ensure every section of your WordPress site safe.
Cost and Setup
Sucuri Security starts at $199/year (or a little over $16/month) for their basic plan but included with that price you get malware scanning, site encryption, protection against DDoS attacks, firewall protection and much more.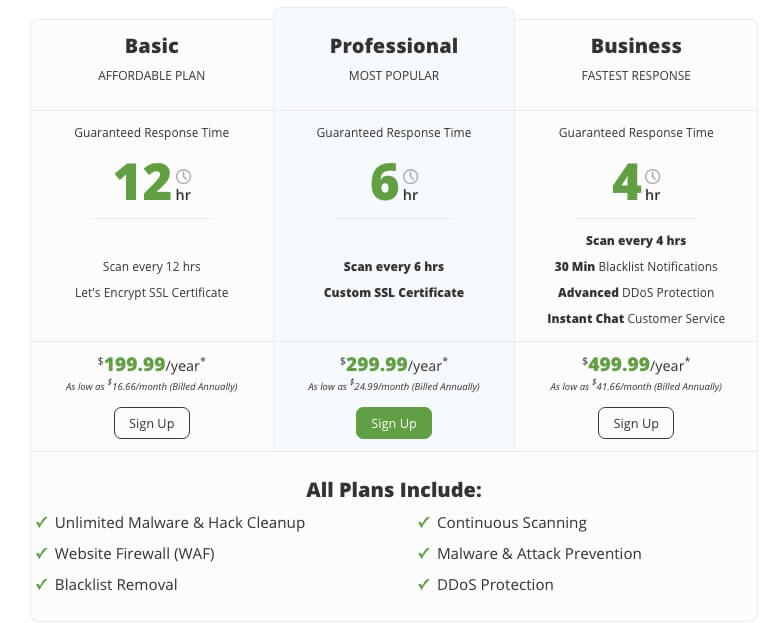 Considering that the cybercrime industry generates trillions of dollars off of user data, the cost for this service is worth every penny.
Here's how to install Sucuri Security in WordPress.
Grab Our Free Download
The Basic Membership Toolkit for WordPress Users
Final Thoughts
There are plenty of tools and plugins available for WordPress sites that can boost functionality, but there are three that we recommend most often: MemberMouse, Gravity Forms, and Sucuri Security.
With all of these combined, you have the ability to build, manage, monitor and protect any membership or subscription site, regardless of the size of your membership.
We also use every single one of them to protect our sites, so we know that they work.