Case Study: How REAL Flipped the Coaching Model and Doubled their Growth
This is a 75-minute video chat with Isaac Kuhlman, co-founder of REAL Coaching. REAL is one of our oldest and most successful platform clients, and we're honored to share their story. We cover a variety of topics from how they got started to systems, culture, their unique coaching model and much more.
Here's a summary of the case study –
---
Background
Isaac started his career in retail but eventually got a taste of ecommerce, which led to lots of online success. Fast forward to today – he runs REAL Coaching with his business partner, Kirsty, helping Amazon sellers grow their businesses.
Isaac started in retail as Operations Manager at go kart business. Learned business metrics / KPIs, which are the lifeblood of any business.
Then he got involved in online/ecommerce businesses. This involved starting from zero. He built this business up to $500k+/month and then it led into education/coaching for people who wanted to do the same business model.
Isaac went off on his own Amazon brands and Founded REAL Coaching with his business partner (Kirsty) in 2016.
Metrics
The REAL coaching business currently has:
2,000+ clients coached
$18M+ total Amazon sales generated
7-figure business
Coaching Model
REAL offers Business coaching for Amazon.com sellers.
They started with quarterly cohorts – 90 day program that starts fresh every 3 months. This was segmented by client needs and experience level.
They've since transitioned to an evergreen model without cohorts – people can now jump into coaching at any time and the business meets them where they're at. This doubled revenue!
Isaac and Kirsty separated their business into two core groups – Coaching vs Sales & Marketing. Isaac runs the coaching, Kirsty runs sales and marketing.
Culture
REAL's culture is a huge part of their success. They are intentional about putting people first.
REAL puts people first in their business. Clients and team members always come before money.
Serve your clients and customers and the money will figure itself out.
Give your team members a specific role that they can own and evolve into.
Create a work schedule that aligns with your lifestyle. Isaac works from 10am-3pm most days. This allows him to do focused work while maintaining healthy boundaries between his personal life.
The companies that care more about their clients and customers than they do about money will usually be the most successful.
Systems & Processes
You have to systematize your processes if you wish to grow your business.
REAL created SOPs and documentation for their clients to follow. These are the same processes that Isaac learned while growing his own Amazon businesses.
REAL also has 100's of internal SOPs for their own business processes.
The hardest things to systematize are tasks that require creative thinking.
Key = figure out the simplest way to do something, so that everyone can understand and implement it.
The hardest things to systematize are things that require creativity.
Challenges
On sales and marketing side, REAL's biggest challenge was finding the people they wanted to coach. You first have to know who your customer is, but then you have to go find them. This took REAL a while to figure out (almost 5 years).
On the coaching side, REAL's biggest challenge was managing their 90-day cohorts. This limited how many people could run through their coaching program and how much revenue the business could generate. They cracked this by moving to an evergreen model that allows their clients to jump in at any time regardless of their current coaching needs.
Online Platform
REAL has been a member(dev) platform customer for over 3 years. Here are some key points on how they use our online platform to grow their business.
REAL found member(dev) from a search for a [customizable] platform that could match their coaching workflow.
They use the member(dev) platform to supplement their coaching with training (DIY resources).

Courses for client coaching programs.
Library for client SOPs and templates.
Forums for client discussion and engagement.

Enables one-to-many distribution of content, training and coaching.
Technology business with an online platform allows Isaac and the REAL team to scale impact. This is the main differentiator between in-person vs online business.
Having an online platform allows you to scale your impact.
Key Insights
Start with a Business Dashboard, if you don't already have one.
Avoid "singular" product offer focus. Instead, create a mindset where your customers know you have multiple offers and upsells available.
Don't focus on money or transactions. Instead, focus on offering a solution to a problem.
Start with simple SOPs. Then battle test them to see where they break or fail. Now you can fill in the blanks and refine them.
Experiment with sales and marketing until you find your true customer. The business becomes much easier once you know where to find your customer.
Coaching is a results based business. As a coach, your clients' results are your results.
Their is a key difference between coaching and training. Coaching involves human connection while training can be self-consumed education. DIY courses and resoures are training, for example.
Amazon is taking over the world 🙂
Coaching vs Training – Coaching is personal and intimate. Training is DIY learning or broad teaching.
Final Thought
Isaac had some final thoughts around creating a vision for yourself and your business. His advice is simple –
Create a vision for yourself that defines success. Write this (vivid vision) out – what your life looks like 3 years from now. With this, you will have something to track against. Without this, you will have a hard time reaching your goals.
Don't chase money, chase the vision.
The lesson here is to establish your ideal life and then go after it.
---
We hope you enjoyed this case study. If you've like to learn more about REAL you can visit their site at: https://goteamreal.com
---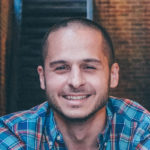 Ali Jafarian
Ali is the founder of MemberDev. He's a serial entrepreneur and software engineer with over 15 years of experience building technology. Ali's spent the last decade focusing on membership websites and the subscription business model. He enjoys helping small businesses with early stage development and growth.