Happy New Year (2020)
Happy holidays from Ali and the member(dev) team!
I just wanted to pop in and say hello with a couple updates before we close out 2020.
First, a quick note on support
Our support will be closed from tomorrow (12/24) through next week. We will re-open normal support on 1/4/2020. You may still submit tickets during this time but please expect a response when we return in the new year.
Don't panic… we will keep an eye out for any critical tickets next week, but otherwise, all tickets and inquiries will be handled the first week of January.
To that point, I encourage you to use this time to rest and reset. That's exactly what we're doing over here at member(dev). It's an important time to be with family/friends while letting your business mind rest. All your tasks and initiatives will be here when you get back. Trust me 🙂
Looking towards 2021
Looking ahead, we're very excited for 2021! We have some some cool things in store for the platform and our Insider community. We are equally excited to see how you all grow your businesses. I think you all have a unique opportunity to embrace and adapt to the COVID situation. If anything, people will continue to seek online solutions.
Lastly, I want to honor everyone who stepped up this year and took a risk with a new business or venture. It was a courageous time to take such risks, and I'm optimistic that things will start yielding dividends for you later in 2021. It will be a year of rebound and growth. We're committed to giving you new resources and tools in 2021.
That's all for now. Again, wishing you a happy holidays and I look forward to catching up with you in the new year!
---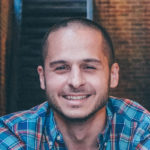 Ali Jafarian
Ali is the founder of MemberDev. He's a serial entrepreneur and software engineer with over 15 years of experience building technology. Ali's spent the last decade focusing on membership websites and the subscription business model. He enjoys helping small businesses with early stage development and growth.