Case Study: How Compass Fitness Transitioned Online During COVID-19
This is a 30-minute video chat with Taylor Ames, co-owner of Compass Fitness Denver. Compass is a special client of ours that runs an amazing gym business here in Denver, Colorado. In addition to running a successful gym, they also have some key insights on how they handled an online transition during the pandemic.
Here's a summary of the case study –
---
Background
Compass is a local group fitness gym in Denver with 2 locations. They also offer personal training and online classes through the member(dev) platform.
Business launched in May 2018
Founded by 3 people
4 active owners who are also trainers
3 silent partners
Business Model
Compass has 3 lines of business that they support.
1) Group Fitness
Primary offering
The business was built around this offering and still makes up the majority of revenue
2) Personal Training
Secondary offering
This made sense for Compass since all of the instructors had experience and interest of offering some personal training
3) Online Classes
Last offering established
This was planned before the pandemic, but it was accelerated once the pandemic started
Culture
One of the things that sets Compass apart from other gyms is their intentionality around maintaining a strong culture.
They focused on building culture from the start.
Knew members would value and stay for the culture, so they created a safe space for both members and instructors to connect.
Compass maintains a very authentic culture of confidence, transparency and trust. Their instructors are open and vulnerable, which inspires their members to be the same.
They developed creative and unique names for classes and workouts (i.e. Buns & Guns), which matches the culture they've built.
Community has developed organically from the culture they've created. For example, their members hang out and engage with each other offline / outside of fitness.
How can we meet the needs of our community in a physical and emotional sense?
Challenges
Compass has been a healthy and successful business since its inception back in 2018. However the pandemic threw some big challenges at them and even today they still have strategic decisions to navigate.
The business was a thriving heading into 2020 with healthy revenue, profitability and member metrics. However, the pandemic created some big challenges right as they signed a lease on their 2nd physical location.
They were forced to figure out how to maintain healthy revenue.
They were also challenged to figure out how to create the same in-person culture virtually.
Now their main challenge is deciding on the future growth/scale strategy going forward. As a healthy business they have different options to consider (i.e. invest more in online, franchise, etc.).
Online Transition / Pandemic
Compass was very intentional about their online transition during the early pandemic. The lock-down forced them to make decisions quickly with the resources they had.
Didn't waste any time / partners came together and decided to take action
Leveraged their FB group of 2,000 members
Hosted first online class via FB live within 24-hours of first lock-down
Then moved to the member(dev) platform shortly after
Their foundational culture allowed them to transition their content and members online quickly and efficiently
Online Platform
Compass has been a member(dev) platform customer for 2 years now. Here are some key points on how they use our online platform to grow their business.
They leverage their

Content Library

for:

Recorded online classes
Instructor bios
Equipment and gear recommendations
Other "fun" videos!

They leverage their

Event Calendar

for weekly LIVE online classes
They use Vimeo LIVE + member(dev) to livestream virtual classes
They encourage their members to comment and engage with online content
Having an online platform allows you to scale your impact.
Key Insights
Create trust, love and alignment amongst business partners. Having a shared vision is key.
Decide which offerings, and how many, you want to support to avoid wasted effort and energy.
Be intentional about the community you're serving and the culture that inspires with them.
Leverage your team's unique personalities and culture to build product offerings that create value.
Take action in critical moments and rally your team around the strategy.
Find community businesses and organizations to partner with.
Final Thoughts
Taylor shared some awesome insights around the Compass Fitness story. They are a clear example of a small business that stepped up during the pandemic with odds stacked against them. Their partnership dynamic and culture are beyond inspiring.
If there's anything that was clear from this case study it's this:
Be intentional about the culture you want to create.
They created a vision from the start, which included a strong emphasis on culture. This vision and culture guided them through the pandemic and continues to guide them as they grow their business and community.
---
We hope you enjoyed this case study. If you've like to learn more about Compass Fitness you can visit their site at: https://online.compassfitnessdenver.com
---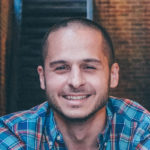 Ali Jafarian
Ali is the founder of MemberDev. He's a serial entrepreneur and software engineer with over 15 years of experience building technology. Ali's spent the last decade focusing on membership websites and the subscription business model. He enjoys helping small businesses with early stage development and growth.